1:00 P.M.  Saturday November 16, 2014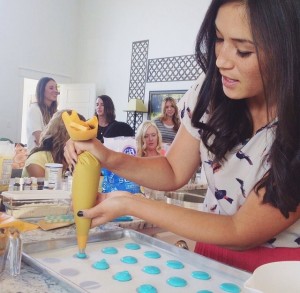 Caroline Armelle Drake is a lover of good food with quality ingredients. With a French father, and Vietnamese mother, Caroline has been exposed to international cuisine from a very young age as she learned to cook along side her talented mother. She has traveled France many times over the years, living in Paris a few times in college, where she really fell hard for all things food! She has blogged about food for several years on her blog , Armelleblog.com, and for Zupas the restaurant, where they recently published a cookbook with several of her favorite recipes.
.
Description: Learn how to perfect the delicate French cookie: the macaron.  Caroline will go through each step of the process to show how to create a delectable classic cookie with salted caramel buttercream.
*Please bring your own notepad & pen to take notes and a warm jacket, as the air conditioner will be on for all chocolate demonstrations.
** All of our demonstrations for the Chocolate Extravaganza in 2014 are absolutely FREE to registrants. Space is limited.  We would kindly ask you to remember the contribution Orson H. Gygi is making to our beloved culinary community and ask you to be respectful to our staff and guest chefs as well as leaving great reviews for us on Facebook, Google+, Pinterest, Instagram, Twitter, and subscribe
Orson H. Gygi Company
3500 South 300 West
Salt Lake City, Utah 84115
Store Phone: (801) 268.3316