Frying is not the only way to make delicious donuts at home. With a few simple ingredients and some of the best kitchen tools, you can use this recipe for baked cinnamon donuts that are ready in just 45 minutes. What a great way to enjoy a delicious treat without having to haul out the frying oil. And they make the house smell amazing!
The first thing you absolutely need is a donut pan (or two). We used the NorPro Non-Stick donut pan that has six spots for standard-sized donuts (3.5"). It's made of stainless steel with a durable non-stick coating for effortless release and clean-up.
The next thing you will want is Baker's Joy. This non-stick spray goes above and beyond when it comes to providing a clean release on all cakes, brownies, and baked donuts. It has the flour already mixed in, so you are all ready to go with just one step. But like with a Bundt pan, you don't want to prepare your pan too far in advance. Wait until your batter is ready to pour, then prepare the pan with the spray. That way it doesn't slip down the sides and pool in the bottom of each donut cavity. We also used some disposable piping bags for the batter for a little less mess.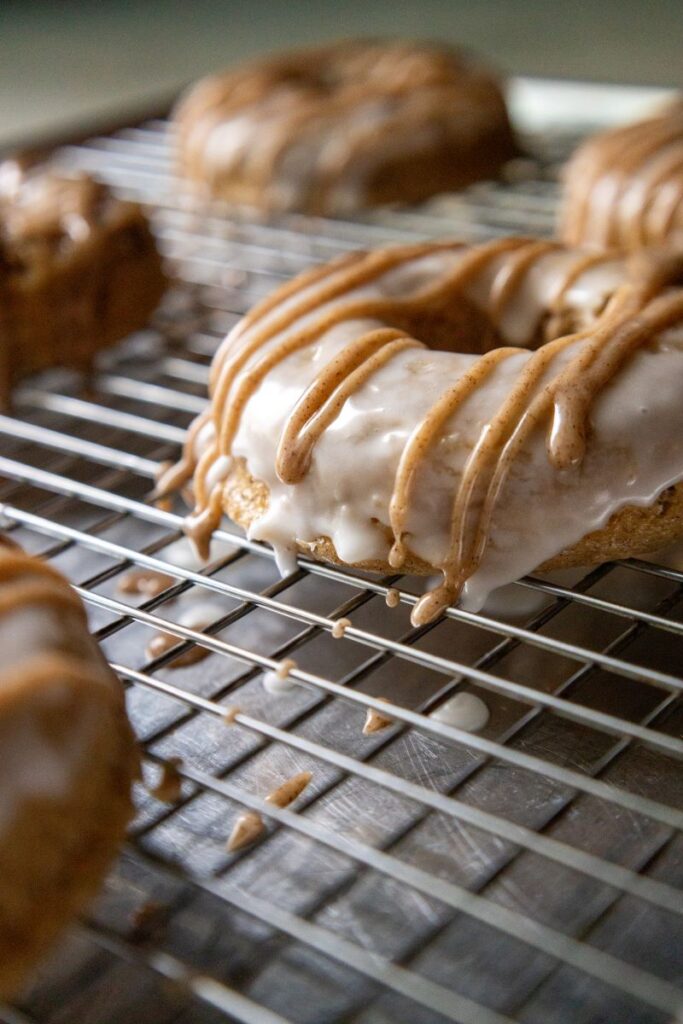 The last thing we would definitely recommend for these baked cinnamon donuts is the Gygi Cinnamon Chips. You can add them to the batter for flavor throughout. Or you can simply melt them as your donut glaze. The flavor is perfectly warm and bright, and not too sweet. They make for the perfect topping or mix-in if cinnamon is your favorite flavor.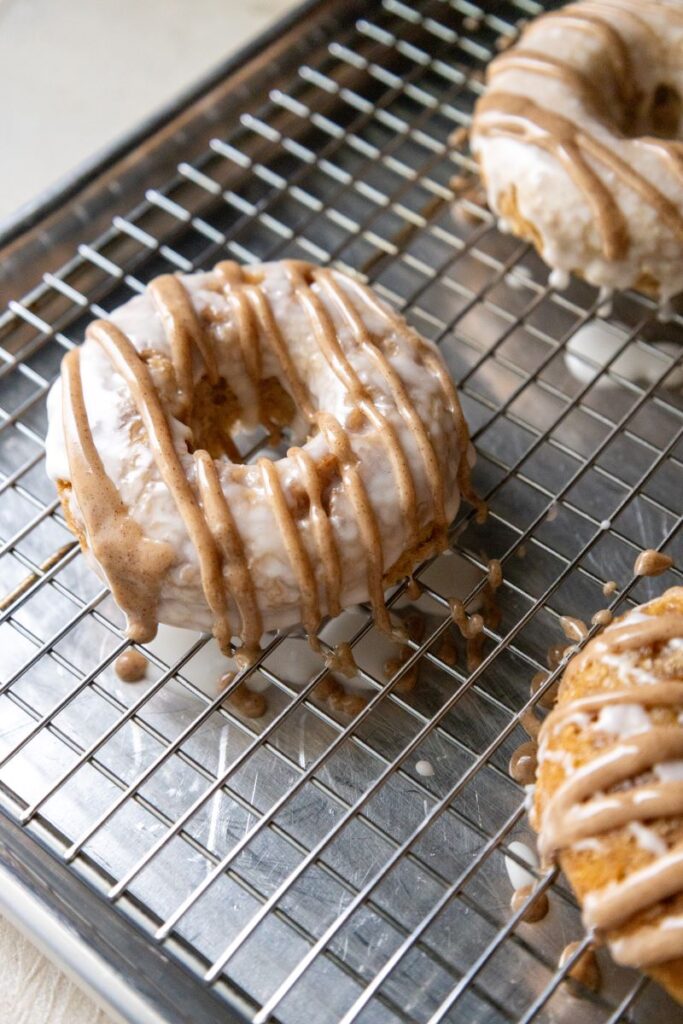 These baked cinnamon donuts surprised us! We weren't sure what to expect, but the texture was light and the flavor was delicious. They warmed us all the way through from the inside out. And we can't wait to see what you think.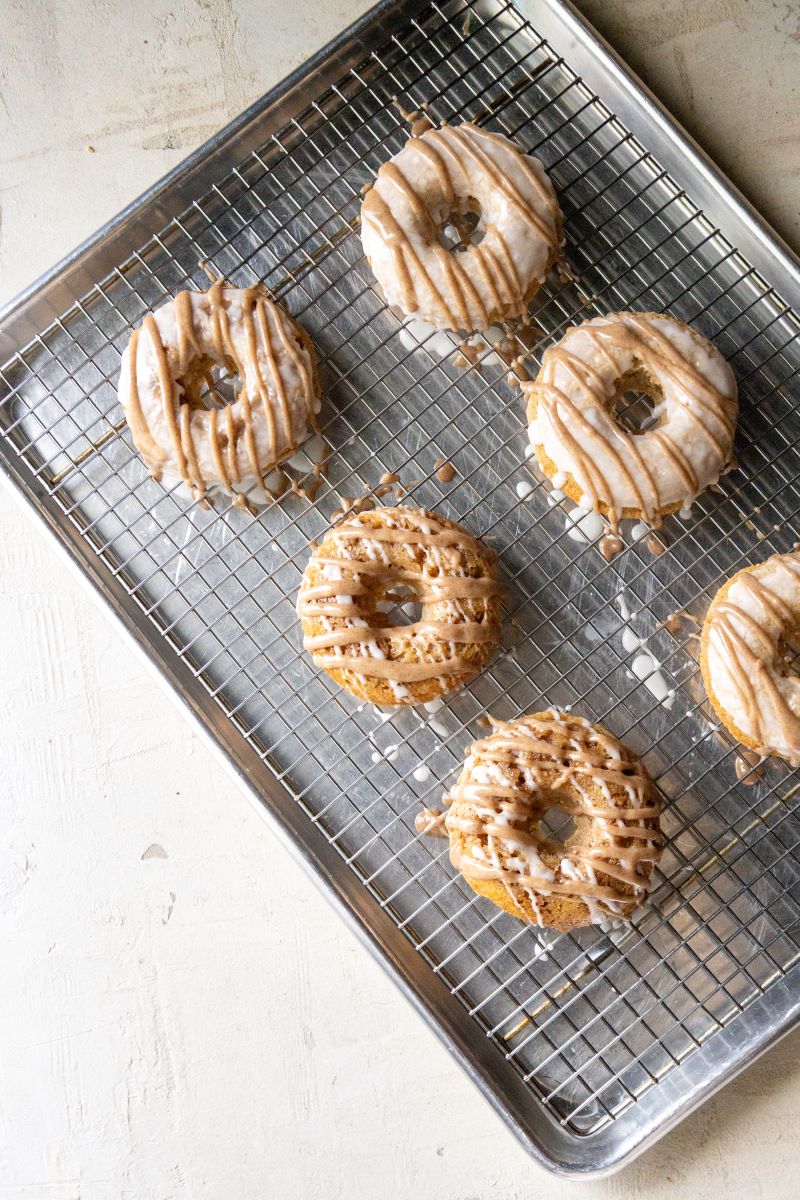 Print Recipe
Ingredients
For the donuts
2 ½ cups flour
1 ½ cups sugar
2 tsp baking powder
2 tsp ground cinnamon
½ tsp ground nutmeg
1 tsp Kosher salt
2 large eggs lightly beaten (room temperature)
1 cup whole milk (room temperature)
2 Tbsp unsalted butter (melted)
2 Tbsp sour cream (optional for smoothness)
2 tsp pure vanilla extract
For the glaze
1 cup powdered sugar
1 Tbsp butter (softened)
1 tsp vanilla extract
2 Tbsp milk (to thin)
1 ½ cups cinnamon chips (melted)
Instructions
1

For the donuts: Preheat the oven to 350℉.

2

In a large bowl, sift flour, sugar, baking powder, cinnamon, nutmeg and salt. Set aside.

3

In a smaller bowl, whisk together eggs, milk, melted butter, sour cream, and vanilla.

4

Stir the wet ingredients into the dry ingredients until just combined. Transfer batter to a piping bag.

5

Prepare donut pans with Baker's Joy. Immediately pipe the batter into the pans, filling each to just below the top of the rim. Bake for 20-25 minutes until a toothpick comes out clean.

6

Remove from oven and allow to cool 5 minutes in the pan. Turn out on a cooling rack and allow to cool completely (about 10 minutes).

7

For the glaze: Whisk together powdered sugar, softened butter, and vanilla.

8

Slowly pour in milk while whisking to reach desired consistency. Dip cooled donuts in the glaze or drizzle over the top.

9

Melt cinnamon chips and drizzle over the top of cooled donuts to finish. Allow the glaze to se up. Serve and enjoy.