Here are some of our favorite Christmas gift ideas.
---
Fast and Easy Peppermint Bark
All you need is: Milk Chocolate, White Chocolate, Peppermint Flavoring, Peppermint sticks, foil, ziplock bag and a baking tray.
How To: First, line baking tray completely with foil. Then place peppermint sticks in a ziplock bag and crush by beating with a rolling pin.
Next, melt milk chocolate in microwave stirring every 30 seconds about 1 1/2 minutes total, then spread chocolate evenly covering whole pan. Place in fridge for 15 – 30 minutes. (Note: Placing chocolate in the fridge will help it to set up faster, but it may cause the chocolate to bloom).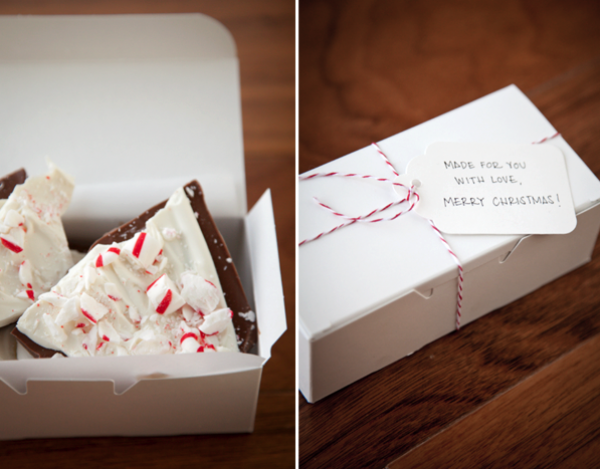 Meanwhile, melt white chocolate the same way but note it melts in slightly less time. Then add peppermint flavoring to taste, about 2-3 drops. Spread white chocolate over hardened milk chocolate, and immediately sprinkle crushed peppermint sticks on top.
Once set, cut or break into triangle pieces and package. We used these adorable boxes (lined with parchment paper), and wrapped in our favorite twine found here.
By Boxwood Clippings
---
Homemade Chocolate Mints
We have featured these before, but they do make a quick, delicious neighbor gift. After you get them all made and cut, fill up a small candy box to deliver to your friends. Get the recipe by clicking here.
---
Chocolate Covered Pretzles
Items Needed:
Caramel
Pretzel Rods
Milk Chocolate
White Chocolate
Directions:
Melting Caramel:
Suggested Method: Place caramel in oven safe pot place in 200 degree oven. Depending on
the amount you are melting will determine the time in the oven, the whole brick of caramel will
take about an hour and half. The oven is the safest and easiest way to prevent burned chocolate.
Stove top: Place desired amount of caramel in heavy-bottomed stock pot or sauce pan, place
on medium heat. Stir constantly and watch closely not to let the bottom burn.
Melting Chocolate:
In a metal or glass bowl set over saucepan of barely simmering water, do not allow bottom of
bowl to touch the water, and stir until chocolate is smooth and melted. Keep chocolate on top
of water pot and turn back on if chocolate starts to harden.
Holding the pretzel rod on the end of the rod, dip into caramel about 3/4th of the way. Use a
spoon to help cover the pretzel smoothly. Hold pretzel rod and let cool slightly before placing
on a parchment lined cookie sheet. Repeat until desired amount of caramel coated pretzels.
Let cool.
Once they have cooled and hardened, dip into milk or dark chocolate. It works best if you can
dip this completely, it will appear smoother and cleaner. Let harden slightly then place back on
the parchment sheet.
After the chocolate has cooled, you can then drizzle with contrasting color. Using a fork or
spoon slowly shake over the pretzel rods on the cookie sheet. Repeat until desired colors.
Let cool and once they have hardened, place in cellophane bag and they are ready to be
given!
One caramel loaf, one 5 pound bag of milk apeels, and one 2.5 pound white apeels- will cover
about 150 pretzel rods.
---
Chocolate Covered Popcorn
Items Needed:
Guittard White Ribbon Coating
Popcorn Kernels
Colored Chocolate
Cellophane Bags
Directions:
Place the popcorn kernels in the basin of the hot air popper, pop the popcorn and watch to
make sure that the un-popped kernels are kept out. Pop the desired amount popcorn and place
in a metal or glass mixing bowl large enough to mix the popcorn and chocolate together. While
popping the corn, start melting the white ribbon coating in a metal or glass bowl set over
saucepan of barely simmering water, do not allow bottom of bowl to touch the water, and stir
until chocolate is smooth and melted. Remove from over water, wipe the bottom of the bowl
making sure to keep the chocolate clear of water.
Slowly pour melted white ribbon coating over the bowl of popped kernels, while stirring gently
to coat and cover the popcorn kernels. Once all chocolate is poured in and the popcorn is covered,
pour onto a cookie sheet in a single layer, allow to dry.
While the popcorn is drying, start melting your additional chocolate to color. Melt colored chocolate the as mentioned above in small bowls and use a fork to drizzle the colored chocolate over the covered popcorn.
After the popcorn has dried, using a fork or slotted spoon, scoop chocolate and slowly shake
over the popcorn creating colored lines on the popcorn, allow to dry in between different
colors. Once the layers have all dried, using a spatula carefully scrape the bottom of the cookie
sheet and sift through the popcorn, if you want you can then repeat the drizzled effect to give
it more color.
Once all the popcorn has dried, scoop in to cellophane bags and tie with ribbon!
---
Christmas Gumballs
Items Needed:
Gygi Christmas Gumball Mix
Cellophane Bags
Directions:
This is a very simple gift. Just fill the cellophane bags with the Christmas Gumball Mix and tie a ribbon at the top.
---