We are excited this week to bring the winners of the Gygi Guest Post Contest. All week long, we'll be bringing you some of the best recipes and ideas for your Halloween parties!
First up: Emily Loria of Little Momma & Co. Find out how you can make your own chocolatey disguises…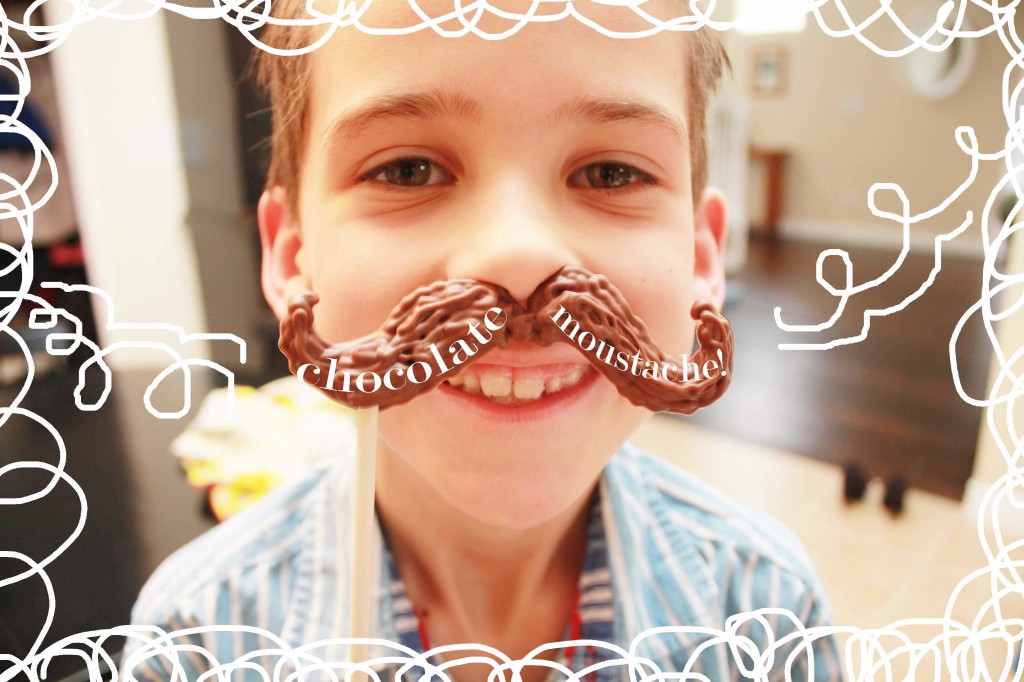 Who doesn't love a mustache? Especially one made from chocolate?
Making chocolate mustaches are so very fun, and so very easy! Just think, you could be channeling your inner macho man in a matter of minutes! And, they only require a few simple items! Before you begin, you'll need to gather these things:
First, line your cookie sheet with a layer of parchment paper. If you are nervous about free stylin' it, you can pre-trace a mustache pattern straight onto the foil using your fingernail.
Second, place about 6 to 8 ounces of the Guittard Apeels into the bowl and microwave in 20 second increments until melted, stirring between each 20 seconds. When they are sufficiently melted, transfer the chocolate into the large zip top bag or a pastry bag and squeeze to one corner. Twist the top of the bag (like a cake decorating bag) to keep adequate pressure on the chocolate. Snip the corner of the bag with the scissors so the chocolate can be piped out onto the foil.
Third, pipe the chocolate onto the foil creating a mustache shape. Remember, there are many different kinds of mustaches! Get creative! The thicker you pipe your chocolate, the stronger your mustache will be.
Last, gently set the end of the stick onto one side of the mustache, and roll to coat. You might have to re-pipe the chocolate over the stick for coverage. I Allow time to dry- and before I know it–I've got a mustache even Tom Selleck would be jealous of.
You can get creative with color and shapes! We've created horn rimmed and cats eye glasses in an array of colors, big pucker-worthy lips, and mustaches in all shapes and sizes. Who wouldn't want an edible disguise fit for Halloween trickery? Even better, let your kids take over and see what they come up with!
Get what you need for Chocolate Disguises now!
. . . . . . . . . . . . . . . . . . . . . . . . . . . . . . . . . . . . . . .
Emily Loria is a mamma and blogger of Little Mama & Co. She also runs creative cooking courses for your little chefs. You can find more information at Little Chef Cooking Classes.