We congratulated one of our amazing Chefs back in September on our Facebook page for taking 2nd place in Ocean Spray's Cooking Competition. But we thought we'd share it on our blog too.
Get the recipe now for the Holiday Caprese Salad!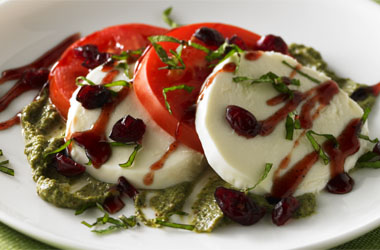 The beautiful image is from Ocean Spray's website, where you can also find this delicious recipe.
Ingredients
Pesto
1 cup olive oil
1 cup Ocean Spray® 100% Juice Cranberry Juice Blend
1/2 cup Ocean Spray® Craisins® Original Dried Cranberries
2 tablespoons fresh lemon juice
2 1/2 ounces fresh basil, 2 leaves set aside for garnish
2 ounces sliced almonds 1/2 ounce fresh mint, 3 leaves set aside for garnish
1 dash salt and pepper
Cranberry-Nutmeg Reduction
3 cups Ocean Spray® 100% Juice Cranberry Juice
1 teaspoon ground nutmeg
1 large beefsteak tomato
1 8-ounce ball fresh mozzarella cheese
1/4 cup Ocean Spray® Craisins® Original Dried Cranberries
Reserved basil and mint leaves, garnish
Directions
To Make Pesto:
Combine all pesto ingredients in food processor. Process on high speed for 2 minutes or until smooth.
To Make Cranberry-Nutmeg Reduction:
Pour cranberry juice into medium saucepan; bring to a boil over high heat. Reduce heat and simmer for 1 hour or until reduced to thin syrup consistency. Add nutmeg; stir until blended.
Slice tomato into 4 or 5 even slices; cut each slice in half. Slice cheese the same way. Stack basil and mint leaves together; roll tightly into a cylinder and thinly slice.
Spoon about 1/2 cup pesto onto each serving plate, spreading to cover. Top each with alternating slices tomato and cheese. Garnish with dried cranberries, basil and mint. Drizzle Cranberry-Nutmeg Reduction evenly over each serving.
Makes 4 servings.
2011 Ocean Spray Foodservice Ultimate Cranberry Recipe Contest Finalist Shawn Bucher
Congrats again Shawn Bucher!
And if you can, be sure to sign up for one of our cooking classes! We promise you won't be sorry.
Happy Thanksgiving to all of our wonderful readers! We hope you enjoy this delicious recipe!