Caramel color has been flying off our shelves! When I asked one of our customers what it was they were doing with it, she mentioned that Frieda Loves Bread had a really yummy bread recipe that calls for it. I checked it out and thanks to Frieda, we get to share it with you today! Take it away Frieda:
"I first had this bread at the Outback restaurant. I was stunned when they told me that it was honey whole wheat bread….hmmmm. Then I had this bread at the Cheesecake Factory. I found a copycat recipe and made some changes by taking out the coffee, reducing the honey and sugar. I saw some recipes that had 25 drops of red, blue food color. YUCK! I did not want that much food coloring in my bread. Cocoa, instant coffee, molasses or carob powder may be substituted, but it won't be as dark as the bread you see here and may lend a bitter taste to the bread.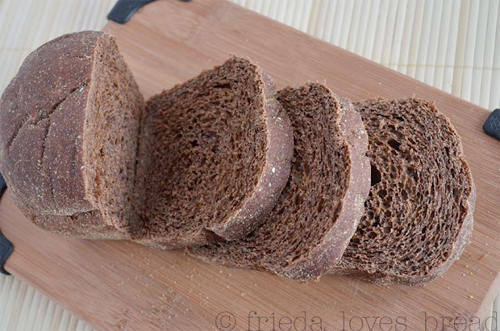 The secret to this dark colored bread is caramel color. I found McCormick caramel color at Orson Gygi, a restaurant supply store in Salt Lake City. Caramel color is NOT a food coloring in the chemical sense; it is simply burnt sugar. Restaurants use caramel color to tint desserts, candy, cakes, cookies, frosting, darken sauces, gravies, soups, marinades, and brush on meats to add more roasted color."
. . . . . . . . . . . . . . . . . . . . . . . . . . . . . . . . . . . . . . . . . . . . . . . . . . . . . . . . . . . . . .
-To get this recipe, please visit Frieda's site and click on the link at the bottom of the post.
-You can also get step-by-step instructions by clicking here.