It's time to fire up the grill and barbecue! When the flames start flying, so do the questions. We get asked every year, "What kind of beef is best for cooking outside?" The answer has so many parts to it, and we wanted to give it the right attention so the next time you're shopping you can buy your beef with confidence.
We're back with Chef Todd, our dear friend! If you haven't met Todd before, you're in a for a treat. Grab some popcorn, and a notebook because you're going to be equal parts entertained and educated! Todd's whole goal is to empower every cook with the skills to create restaurant quality food in their own kitchens. We've been lucky enough to have him teaching in our kitchen for over eight years now. He is a wealth of knowledge, but we love that his goal is to empower YOU with that same knowledge. We've been waiting for the perfect opportunity to take a deep dive into different cuts of beef, and the time is now!
Interested in other kinds of meat (chicken, pork, fish)? Check out this virtual class too!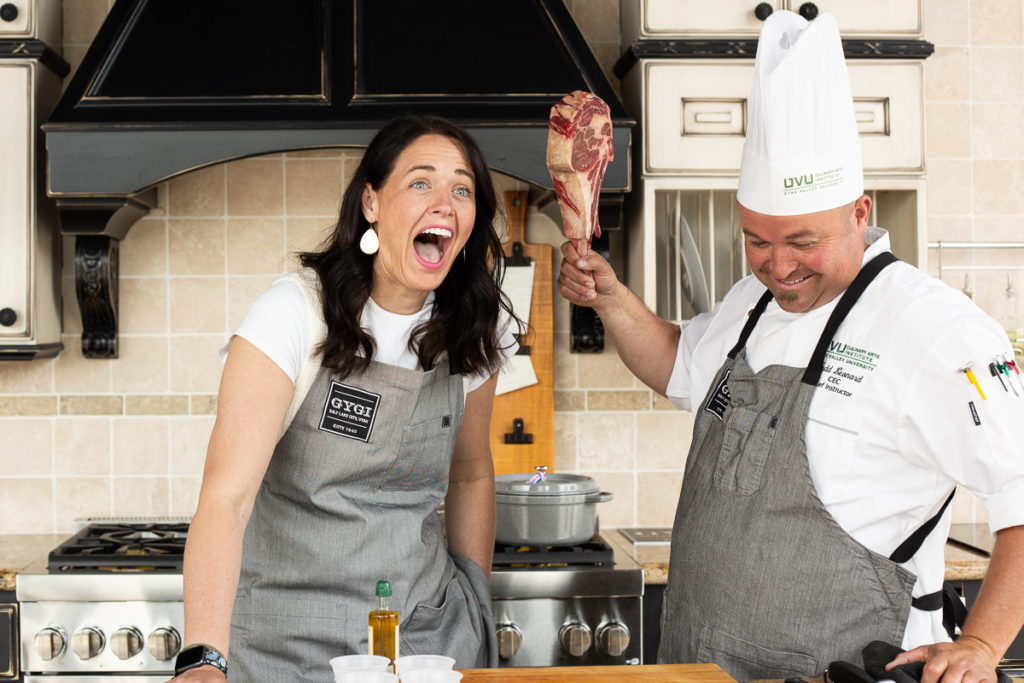 Watch the FULL VIRTUAL CLASS here for free:
There are a few things to know when it comes to beef:
Internal fat = marbling, makes the meat more tender and flavorful
External fat = remove excessive amounts, but a little fat can add more flavor and moisture
High-quality beef doesn't need a lot of added flavor, a little sprinkle of S&P does the trick. If you want to season it, do so sparingly, as the meat should be the flavor that shines. Chef Todd's Pit Seasoning is the perfect compliment to your beef.
Give your meat a little marinade (Flavoring + Acid + Fat), apply in that order to give your meat a little sunscreen on the grill. Keeps the moisture and flavor in the meat.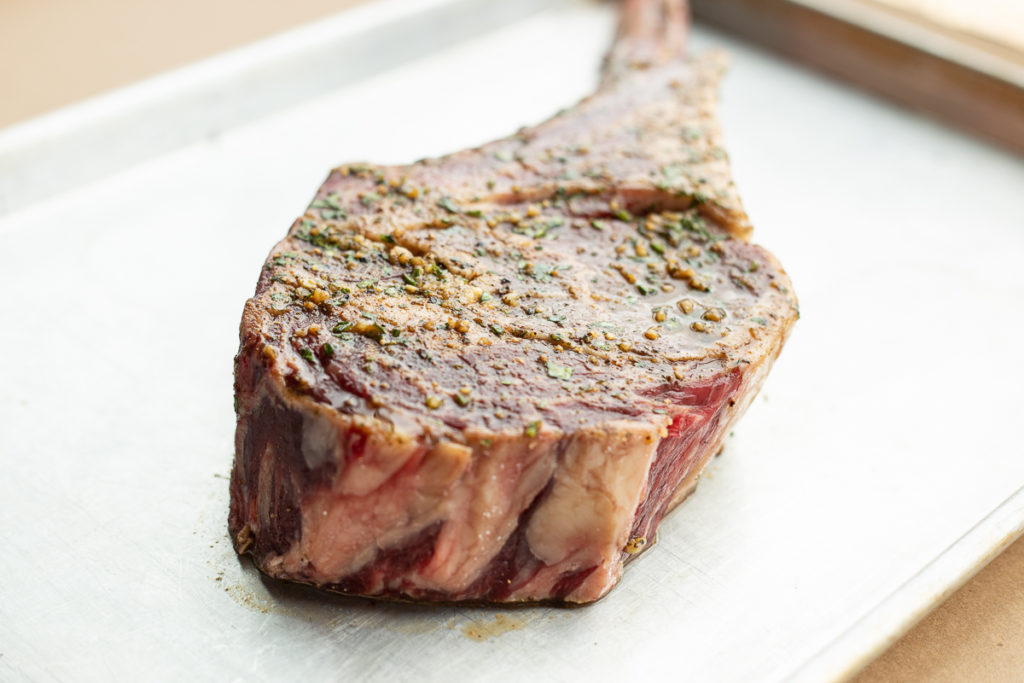 #1 Hamburger– Chuck Roast Ground Beef (2:04)
Fresh ground beef will be more tender and juicy
Ideal ratio is 80% lean and 20% fat
Very cost effective, a good way to use scraps and trimmings
Best cooked on a hot grill
FYI: Hand-formed patties will shrink about ½ inch around all sides
#2 New York Steak (15:50)
Generally a more tender cut of steak
Features a moderate amount of internal marbling
Moderate price point
Best cooked on the grill
A 30 minute marinade can act as "sunscreen" on the grill
#3 Beef Tenderloin (23:30)
Can be very tender when cooked with added fat (ex. wrapped in bacon)
Includes very little marbling but very soft meat
Higher price point, but you can get many cuts from the whole tenderloin- chateaubriand, center cut filets, filet mignon, medallions- and use the trim pieces for stir fry or kabobs
Can be cooked on the smoker or grill, low and slow is best
#4 Tomahawk steak (33:22)
A very tender cut of ribeye steak – the ultimate!
Generally includes lots of marbling
Higher price point
Best cooked on the smoker, low and slow, mop and baste throughout, reverse sear for caramelization
Super fun for a special occasion – one will feed 2-3 people
Delicious smoked, low and slow on smoker, or indirect heat on a char grill
#5 Tri-tip (38:56)
Can be very tender when cooked properly
Great for roasts, delicious smoked, make great steaks, cooked medium rare! It's all delicious.
Less interior marbling but has a fat-cap for added flavor and tenderness
Moderate price point
Best cooked low and slow with indirect heat, this can be done on the grill, smoker, or in the oven
FYI: Find the grain and cut against it when serving, this will provide the best texture for eating
#6 Sirloin (48:33)
Has a slightly tougher texture than other cuts
Features less marbling but great flavor
Budget friendly cut of meat
Best cooked on the grill- hit it hotter, quicker and serve it medium to medium-rare- don't overcook it.
FYI: using a meat tenderizer before grilling for a softer texture and to enhance the flavor
GRINDING YOUR OWN BEEF
To learn the in's and out's of grinding your own Chuck Roast for Hamburgers head to (2:04)
BUTCHERING YOUR OWN BEEF
Chef Todd is ALLLL about butchering your own meat (to save money and have the best quality!) Head to (10:15) to learn how to or how to butcher your own strip loin (you will end up with delicious steaks at a fraction of the price!)
Todd really knows how to prepare a delicious piece of meat, but he also really wants you to know how to do it to. He spares no secrets in this fun and entertaining class. Watch from the link below or find it on our Instagram page.
PREP YOUR MEAT FOR THE GRILL
You need a little "sunblock" to keep your meat from drying out in the hot desert of the Grill. So use a marinade! (20:53) There are three basic parts to the marinade (flavor, acid + fat). For some specific recipes, head here. Once you add your marinade to your beef, wrap it with plastic wrap, and press out the air a little bit, and then cover the bowl.
Leave for 30 minutes on the counter (so the beef can be around room temperature before grilling) or if you need more time, place bowl in the fridge and let it sit until you're ready to grill!
You can also inject your beef with flavor! (43:20)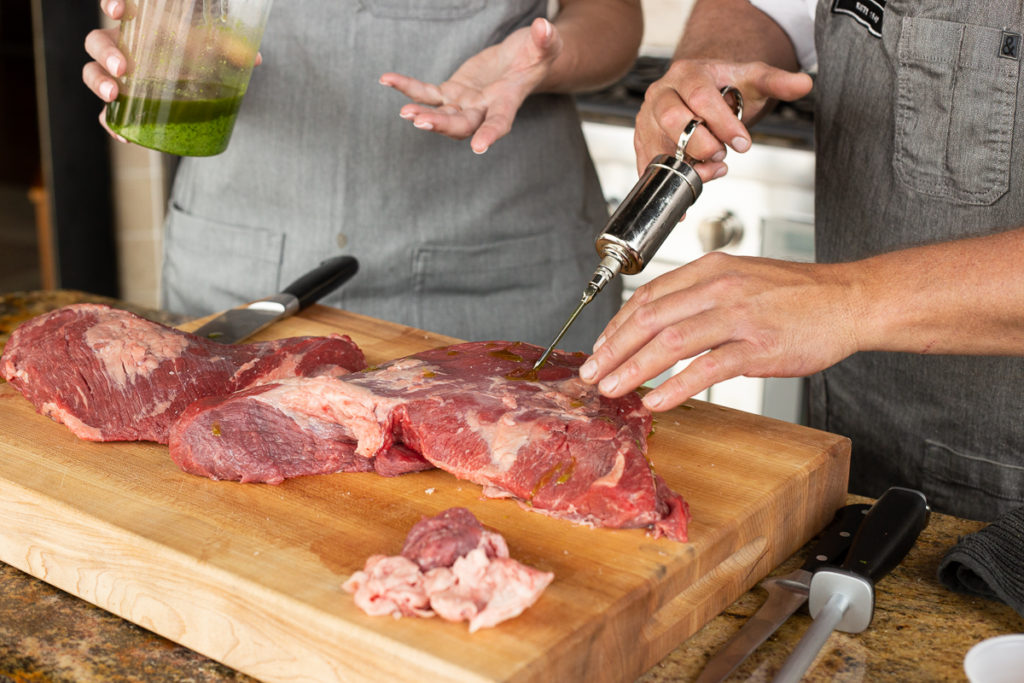 Use an injector with a flavorful marinade (1 1/2 Tbsp garlic, 2 Tbsp herbs + 1 stick of butter!) , and infuse your meat from the inside out. This gives your meat flavor and moisture, and the flavoring stays inside the meat. If you've never tried this before, give it a shot. It will likely be the best piece of meat in your whole life.
Take good care of your grill and smoker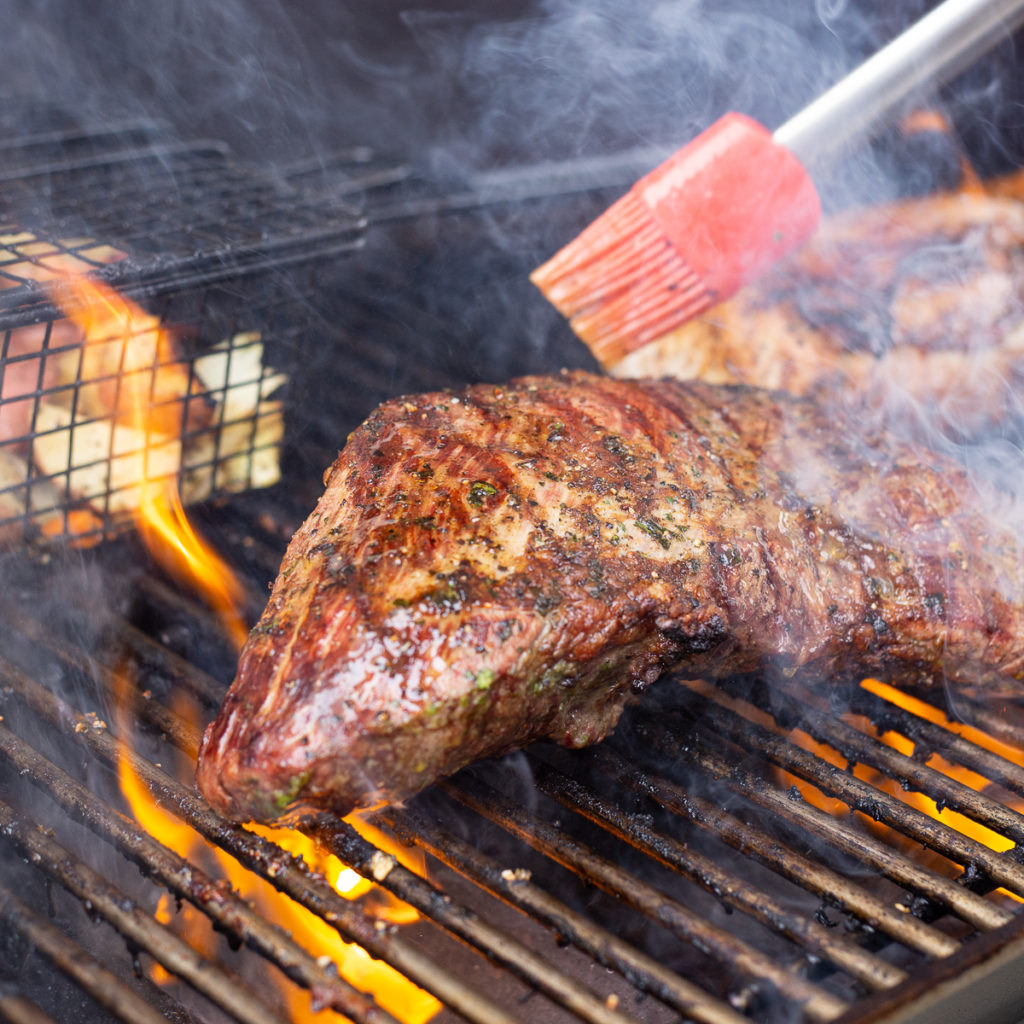 Your outdoor cooking equipment need regular maintenance to keep them running smoothly. It's a pain. And no one reallllly wants to do it, but it's gotta be done. Check out these posts to learn how to take good care of your smoker and your grill.
---
This is a part of our 2021 Grilling Gala! We'd love to have you check out our other classes and learn a thing or two you can cook up outside!