Chef Todd is back to empower you with some great options for grilling and smoking other cuts of meat. If you haven't seen his other video all about BEEF, check that out here. 
When you're wandering the grocery store aisles, searching for tonight's dinner, you stumble over to the meat counter, and it can be overwhelming looking at all the options! So many cuts of meat to consider! Instead of grabbing the traditional chicken breast, Todd is going to share with you some really fun options that will leave you feeling confident and satisfied.
(If you haven't seen Todd around here before, he is a Culinary Arts Instructor at UVU. He is a wealth of knowledge, and a super fun time! His whole purpose is to give people the instructions, skills, tools and most definitely the confidence to create restaurant quality food in their own homes! We hope you love this exclusive class for our 2021 Grilling Gala!)
Watch the FREE VIRTUAL CLASS HERE:
PORK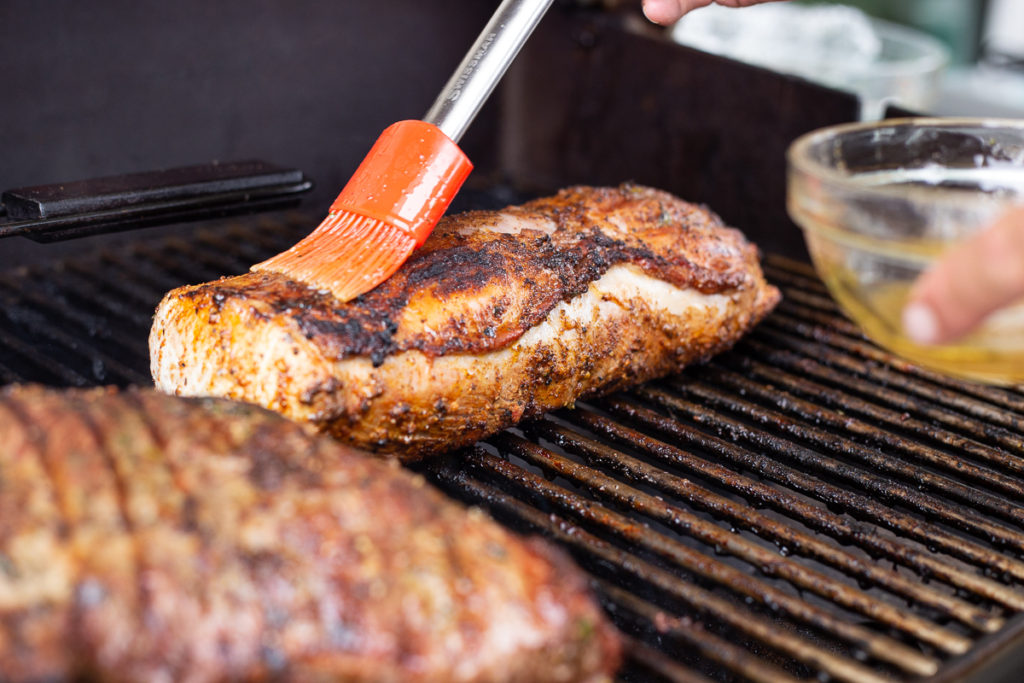 Pork is universally loved, delicious, and less expensive than beef. Easy to find, and pretty simple to cook. The key is to keep it from getting overcooked! So use a thermometer, and never cook your pork over 135°F (this is lower than the FDA used to recommend. But you can actually serve pork medium and it is totally safe! When seasoning your pork, less is more! You want to taste the meat, so just throw on some salt and pepper, some seasonings, a little oil or butter and a splash of acidity (lemon, vinegar, etc)
Pork Tenderloin (0:51)
Start by removing the silver skin to prepare. Add a marinade (flavor, acidity, fat). Pork can be served medium, leave it a little pink. Never cook over 135°F to keep it tender and moist.
Great on the grill or smoker, but a char grill will cook it quickly and not dry it out- and you can't be that beautiful char!
Pork Loin (4:43)
Tastes great with your favorite rub (Chef Todd's Pit Seasoning is a winner with the loin) Cook low and slow- 275° for 2-3 hours. Use a thermometer and keep it under 135°F, then let it rest for 15 minutes and enjoy!
SALMON
So tasty on a plank of cedar, soak it in water, place the fish on the board and season. Use salt and pepper, a small amount of minced garlic,, chopped green onion, herbs (parsley or dill), and spread some pats of butter on the top, then place a lemon slice on top of each piece of butter (this helps hold it on there). That baby is ready for the smoker!
While smoking, you can baste the salmon with a little olive oil/lemon juice blend to keep it nice and moist while it's cooking.
You can wash off your cedar plank afterwords, and let it dry completely and use it again!
POULTRY
Butchering a Whole Chicken (13:45)
Buying a whole chicken is so economical. Chef Todd shows in the video how to butcher the chicken, so you can use all the pieces of the chicken, and throw them all on the smoker.
Smoking/Roasting a Whole Chicken (24:47)
Or you can cook the entire chicken in the smoker for 4 hours, and you have tender, flavorful, irresistible chicken! Start by flavoring the whole chicken, lots of salt, pepper and Chef Todd's Pit Seasoning on the outside and inside of the chicken. Place whole herbs (parsley, oregano, thyme, half a lemon inside the cavity.
Time to truss the chicken. Use a piece of string 3 times the length of the chicken. Wrap around the leg side first, then the wings and use a butcher's knot to hold it together. (Watch Todd do it (27:17), he makes it so simple!) Trussing your chicken will help it cook much more evenly, saving your wings and drumsticks from drying out.
Rub some oil (this is the sunblock to keep it moist!) and fresh lemon juice on the outside of the bird, and it is ready for the smoker!
Smoke on an Automatic Pellet Smoker for 3-5 hours. Start it out at the smoke setting (around 215°F for 2-4 hours) then bump the temperature up to 300° for the last hour of cooking. Take the temperature (29:33) in the thigh towards the breast with a digital thermometer to make sure it's cooked all the way through!
Chicken Thighs
The dark meat of deliciousness from the chicken! If you're going to only make one change to the meat you purchase for the grill, let it be chicken thighs! You can buy them skinless and boneless, so they are not any more work than the breast, but the flavor and texture when grilled (or smoked) is irresistible! Try using this new marinade (or one from last year!) And do your tastebuds a huge favor!
Honey Habanero Marinade for Chicken (22:00)
Pinch of Garlic
Habanero Pepper, diced (however many you can handle!)
2 Tbsp Cider Vinegar
3 Tbsp Honey
Salt + Pepper
Chopped Parsley
Put your chicken in a bowl, throw all the ingredients in with the chicken. Then massage the chicken with the marinade to help incorporate all the flavors. Let it marinade for precisely 46 minutes (or somewhere around there). Then grill on a preheated char grill (31:48), you'll instantly start smelling that delicious char smell.
Caring for your Grill/Smoker
One of Todd's secrets to grilling and smoking is to remind everyone to keep their grill and smoker clean! Check out this post for tips on caring for your outdoor cooking equipment. Doing so will help prevent flare-ups or damaging your equipment!
Todd shows a little sneak peek (34:23) to his Surf and Turf Class, found here! But look at how he maximized the space used on that grill. Every part of the whole feast is right here, ready to go! But notice how he allows space for air to circulate around all pieces of meat, to evenly roast and caramelize the food.
---
Here's the TL;DR recap for this whole class:
Grilling is supposed to be fun!
Try a new kind of meat on the grill/smoker
Buy whole meat and butcher it yourself whenever possible- save money!
Clean your grill and smoker, keep it maintained
Don't be a flop, use your mop- keep your food moist and flavorful
Come buy the tools you need to be successful! Using the right tools makes a difference.
Just get out to the grill!
---
This Virtual Class is a part of our 2021 Grilling Gala! To see the other classes from this year, check out this post where we've gathered them all in one spot!