The French Macaron- this delicate little cookie is definitely one that is best made with love, because it does require some extra special care to make sure it turns out perfectly.
Meriel, from MmmDessert taught us the secrets to successful french macarons, and once you've got a few special ingredients (almond flour and egg whites- nothing too crazy) then you can follow her easy to read recipe to make your very own chocolatey, delicious macarons.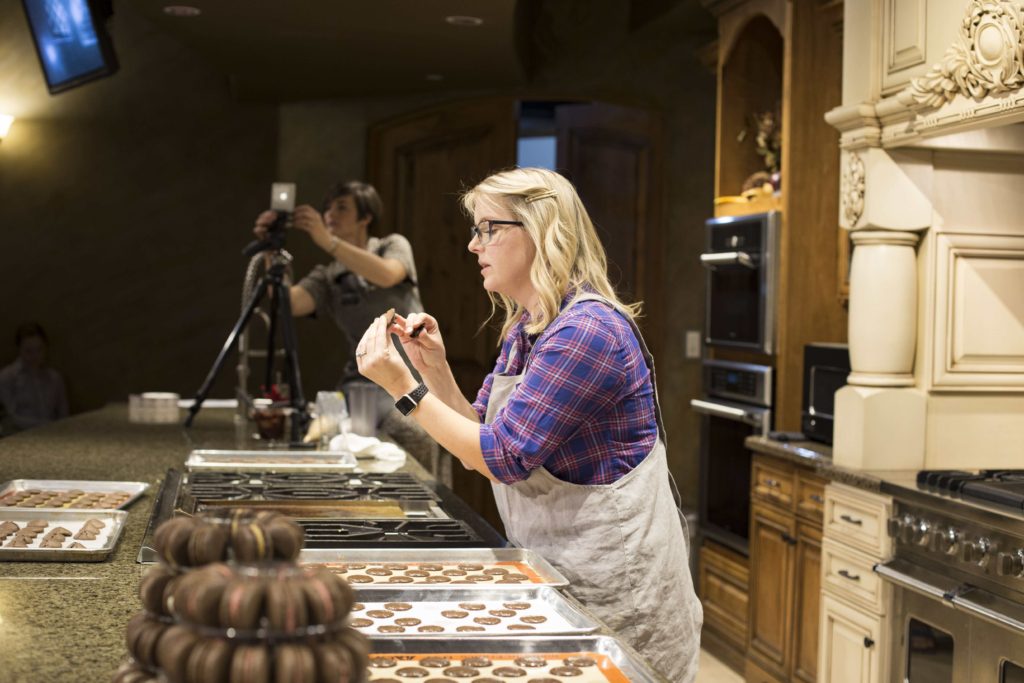 Print Recipe
Chocolate French Macarons
These delicate little cookies are fun to make. Add a hint of chocolate and you're sure to please most everyone who tries them!
Ingredients
115 g ground almonds (store bought and sifted before you weigh, or home ground in a spice grinder and sifted before you weigh)
230 g powdered sugar
15 g cocoa powder
144 g egg whites (separated, covered in plastic wrap and left at room temperature for a few hours)
72 g granulated sugar
Instructions
1

Make sure egg whites are at room temperature.

2

Line two baking sheets with parchment paper or silpats with template.

3

Prepare at least a 14" piping bag with a plain round tip.

4

Combine almond flour and powdered sugar (and cocoa)- optional: in a food processor, pulsing about 10 times for a few seconds, until all ingredients are thoroughly incorporated.

5

Using a stand mixer, beat the egg whites and sugar at a low speed (KitchenAid - level 4) for 2 minutes, medium speed (KitchenAid - level 6) for 2 minutes, and high speed (KitchenAid - level 8) for 2 minutes. The egg whites will be a large mass at this point. Don't worry!

6

Add the colouring powder or gel and mix for 30-60 seconds at the highest speed (KitchenAid - level 10).

8

Add the dry ingredients to the egg whites. You can do this all at once - don't be shy!

9

Fold the mixture, at the same time pressing it against the sides of the bowl to deflate the mixture. Fold this mixture about 30 times (counting single strokes), stopping every couple of strokes after 25 to check the consistency. It should be lava-like, flowing in ribbons off the spatula. Stop at ribbon stage.

10

Transfer the mixture to the piping bag and and keep bottom twisted until ready to pipe.

11

If using parchment paper - pipe four tiny dots of mixture under the corners of the parchment paper to make sure it stays put.

12

Pipe your macarons, holding the tip perpendicular to the baking sheet, following the template (they will spread during cooking) and quickly removing the tip when you have finished piping, making a shape like a comma. Rap the tray four times on each side hard on a countertop to remove any remaining air bubbles. Pop additional bubbles if you wish, or smooth out divets, or cover with a few sprinkles.

13

REST the tray of macaron shells for - 30 minutes before baking. At this point you should preheat the oven to 300 degrees F.

14

Bake for 20-21 min - THIS WILL VARY FOR YOUR OVEN- YOU WILL HAVE TO EXPERIMENT, IT'S UNAVOIDABLE.

15

Remove from the oven and let the tray sit while the next tray bakes.

16

Remove the parchment from the tray and place on a cooling rack and allow the macarons to cool completely. Remove from parchment paper.

17

Pair up shells to prepare for the filling process.

18

Once completely cool, fill with frosting, ganache, or a filling of your choice.

19

Best enjoyed 24-48 hours after filling, having refrigerated them in the meantime.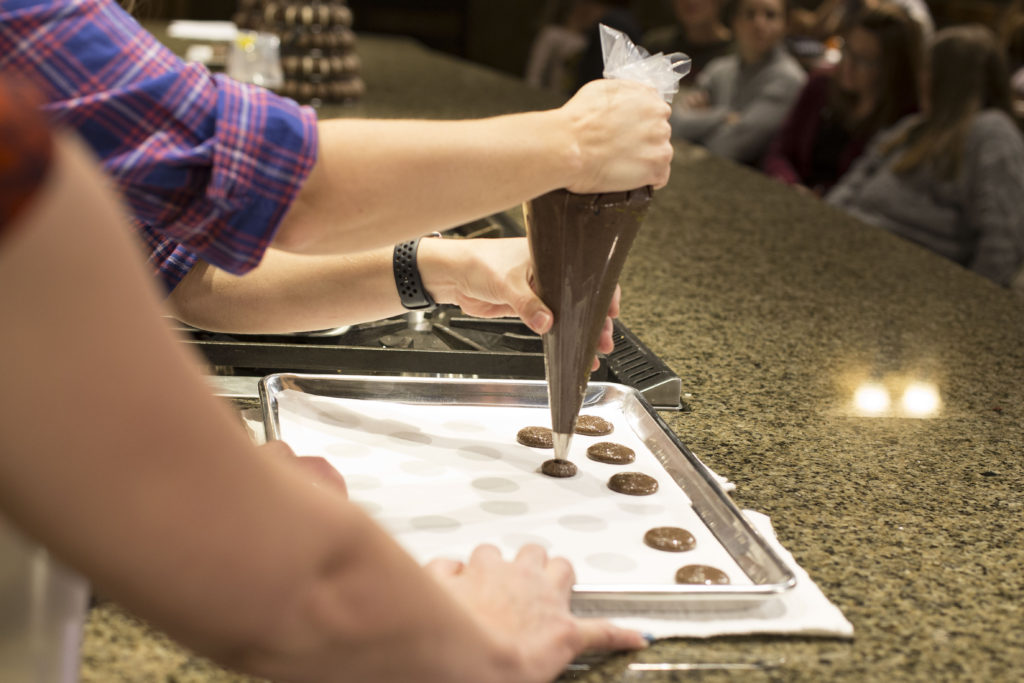 Want to come make some French Macarons with Meriel?? Check out our cooking class schedule to find a class happening soon.