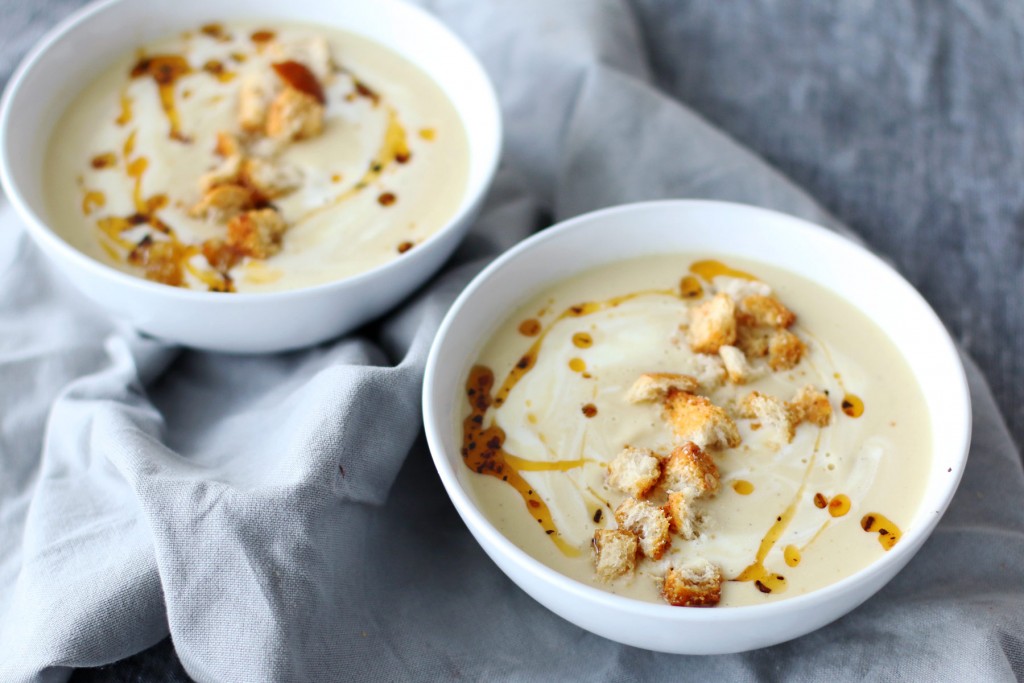 Soup weather is here and there's no better way to celebrate than with a rich, creamy roasted cauliflower soup recipe. Just remember to make enough to share.
This roasted cauliflower soup is rich, creamy, and filling. The recipe makes four generous servings, so we recommend making a double batch for leftovers and work lunches! We recommend making your own vegetable soup stock.We severed it with homemade croutons on the top for added crunch, but you could top it with cheese, pine nuts, or pumpkin seeds, etc.
Ingredients
1 head of Cauliflower (about 3 1/2 cups), roughly chopped
2 parsnips, peeled and roughly chopped
1 Onion, peeled and chopped
2 bulb of Garlic
Olive Oil
3 cups Veggie Stock
Sea Salt
Cracked Pepper
1/4 cup sour cream or creme fraiche
salt and pepper to taste
2 Tbsp. Red Pepper Flakes
Directions
Preheat the oven to 375 degrees.
In a small pan, heat 1/2 cup of olive oil and red pepper flakes to a simmer. Remove from heat and set aside until you're ready to serve the soup.
Peel and chop the parsnips. Toss in oil, salt, and pepper. Place on a baking sheet. Cut the top of your garlic bulbs off and drizzle oil over the top of the garlic. Wrap in aluminum foil, place on the same baking sheet, and put in the oven for 25 minutes or until roasted to a golden color.
Put about three tablespoons of olive oil and chopped onions in a skillet and cook until clear on medium heat. Add chopped cauliflower and cook until roasted. Season with cracked pepper and salt.
Heat up veggie stock until warm.
Squeeze out garlic from the garlic paper into a blender. Add parsnips, onions, cauliflower, broth, creme fraiche (or sour cream), and veggie stock. Blend until smooth.
Pour into bowls and drizzle extra creme fraiche and chili oil over the top.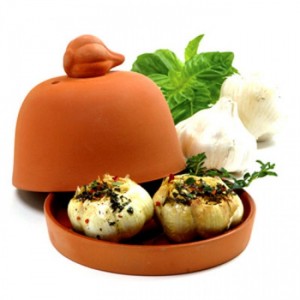 If you love garlic, we recommend a garlic roaster instead of just aluminum foil. It doubles as a storage container before you use your garlic and makes roasting garlic even easier.