(These beautiful Chocolate Covered Tuxedo Strawberries were made by our Brenda White)
Dazzle everyone at the party by learning how to make chocolate tuxedo strawberries.
Always start out by washing and drying your strawberries really well. Remember that water and chocolate are enemies, and rarely play well together. A few drops of water left on your strawberries will make it so your chocolate wont adhere, and if water gets mixed into your bowl of chocolate it can cause your chocolate to seize. If you have the time, wash and set them out to air dry a few hours. Some people like to leave the stem on, some like if off. Totally a personal preference here, however, I like the stem attached to have a little more to hold onto while dipping and when eating.
Next step, start melting some White Chocolate A'peels, Milk A'peels, or Dark A'peels.  We chose the A'peels because of their crisp white color and they are a compound coating, meaning they melt and dip quickly and effortlessly. We use the slow and low method in the microwave to melt these, you can use whatever method you feel comfortable with, just remember white melts quicker than milk or dark so watch it closely.
** Gygi Tip: to keep your chocolate warm while not using it, take a cover off of a heating pad and plug it in. Place your bowl of chocolate on your heating pad set on medium temperature allowing the chocolate to stay warm.**
Now that your chocolate is melted, take your strawberry and dip it into the white chocolate, almost all the way to the top of the strawberry, leaving a little bit of red still visible. While holding onto the top of the stem, gently shake (over your bowl of white chocolate) to get the excess chocolate off, then place onto a parchment lined cookie sheet to set up. Continue until you have dipped all of your desired strawberries into the white chocolate. Allow your newly dipped strawberries to fully set-up.
Once your white chocolate has hardened you can take your milk or dark chocolate, (re-heat in the microwave if it has hardened), and dip your strawberry in at a 45-degree angle on both sides of the strawberry, creating the jacket for your tuxedo. Again, allow the excess to gently drip back into your bowl and then place back onto your parchment lined cookie sheet to cool.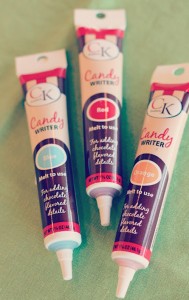 Once set up, you are ready to add the buttons and tie. Remember the great tools we used for our peeps? They are the incredible candy writers, which are colored chocolate in squeezable tubes, perfect for decorating. To melt, you place in a cup of hot water until melted, then cut off the tip and use decorate your tuxedo. We completed our tuxedo look using dark chocolate, but wouldn't they be fun in a red or pink for a great contrast color? We personally started with the bow-tie center and then gently pulled to the side to create the look of a crisp bow-tie. We then placed three small dots for the buttons.
Allow your completed project to cool, then serve and enjoy.
Remember they are best served the day of, but can be kept in the fridge to make the life a little longer.
We hope you enjoy!