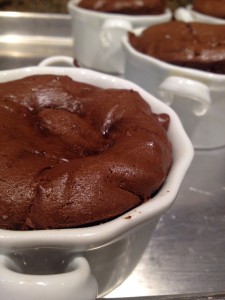 Gygi never gives up our secret recipes, however, this one is too good not to share. It's for a melty ganache filled chocolate cake.
If you follow us on Instagram  you already know about our mouth-watering posts from each of our cooking classes. If you don't follow us on Instagram, you should @orsongygi. We try to share a photo or two from each class and offer a little trick or tip from the instructor. It's really a ploy, or an incredibly delicious looking enticement, to get you to come take a class. Let the truth be told, the recipes are definitely one of the perks to coming and attending one of our classes, so we rarely share them to the public (you gotta come take a class)…. but after our Chocolate Desserts Class with the AMAZING chef, Rebecca Millican, we had a decadent chocolate cake that was actually too good not to share. So here it is, well posted below. Come stop by the store to get some delicious bittersweet chocolate (which is a necessity for this) and some ramekins. You are going to need them.
Our hope is each of you will be making these for Valentine's Day, they are the perfect romantic treat.
JO JO'S HOT CHOCOLATE CAKE
From Chef Jean-Georges Vongerichten
These little cakes are best made ahead of time. The prepared mixture is portioned into individual ramekins and refrigerated up to 2 days. Bake just before serving and enjoy them warm from the oven. ​​​
Yield: 6 individual cakes
Ganache for Liquid Centers:
4 ounces dark chocolate, melted
4 ounces cream, warmed to approximately 100 degrees (body temperature)
Combine the chocolate and milk in a small bowl and whisk until smooth. Scrape into a small flat pan, or similar flat surface that has been lined with parchment or foil. Shape the ganache mixture into a rectangle, approximately 5"x3". Place into the refrigerator to harden. When firm, cut the ganache into 6 equal pieces, approximately 1 ½" square. Set aside until needed. Can be made a day ahead.
Cake Mixture:
3 eggs
3 egg yolks
1/3 cup plus 2 teaspoons (2.8 oz.) granulated sugar
1/3 cup (1.6 oz).all-purpose flour
11 tablespoons (5 ½ oz.) unsalted butter
5 ½ oz. dark chocolate
1. Spray 6 4-oz. ramekins with non-stick cooking spray.
2. Melt butter and chocolate together over a double-boiler. Stir smooth and set aside to cool slightly.
3. In the bowl of an electric mixer, whip the eggs, egg yolks and sugar on medium-high speed until very pale and fluffy, about 5-8 minutes.
4. Add the flour all at once and mix to combine.
5. Add the chocolate all at once. Beat on medium speed 6-8 minutes, until the mixture stiffens.
6. Using a spoon or pastry bag, fill the baking cups halfway. Place a chunk of ganache on top of the mixture and spoon or pipe in more chocolate mixture, stopping just short of the top. Refrigerate until needed.
7. When ready to bake, preheat the oven to 375 degrees F. Bake for 15-20 minutes, until cakes are set. Serve immediately.
8. These can be made up to 2 days ahead of time. Keep refrigerated, and bake just before serving.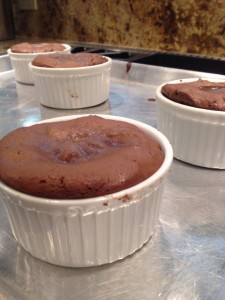 Get yourself signed up for one of Rebecca's upcoming classes. She is the master of pastries and just about the nicest person out there.