In all your pumpkin carving, have you ever considered stuffing one with cheese and baking it until soft and tender, gooey and delicious?
I'm always looking for the perfect appetizer to take to a party that requires just enough work to look like you put some time into it, but also allows you to run out the door without feeling like a chicken with your head cut off. You hear me? This is your go-to Halloween party contribution.
Alternatively, I love a meal that feels different but screams comfort and ease. This recipe will fill that space too. It's homey, warm, and something every member of the family can jump into.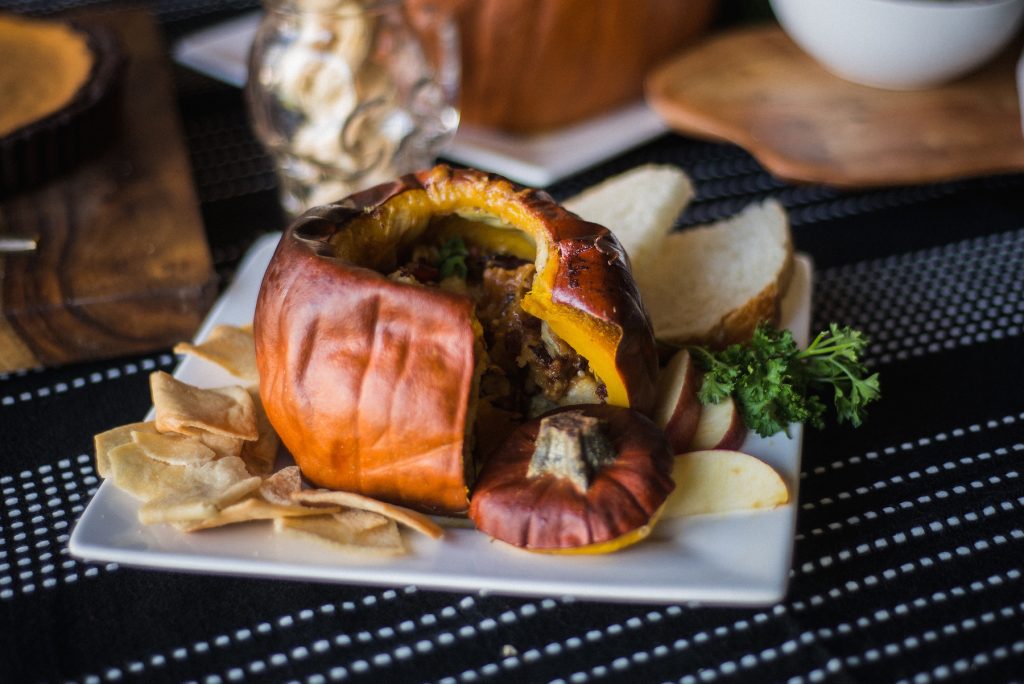 So, consider this little, tiny pumpkin turned irresistible when it's stuffed with cheese and bread, sprinkled it with spices, mix in some meat (especially for dinner), bake it to perfection and eat it all right out of the middle. The result is a just as it sounds, a delicious cheese stuffed pumpkin. Ready to entertain a crowd or fill a small family.
This recipe is a guideline, and there are no rules, except that it needs to be eaten quickly, which we assume won't be a problem!
Ingredients
1 pumpkin, around 3 lbs
Kosher salt and freshly ground pepper
1/4 lb stale bread, cut into 1/2" cubes
1/4 lb cheese (cheddar, gruyere, gouda, swiss...whatever!)
1/2 cup vegetables (artichoke hearts, spinach, frozen peas)
1/4 cup meat (cooked bacon, diced ham, cooked sausage)
1/4 cup fruit (diced pear, apple, dried cherries or craisins)
1 Tbsp herbs (thyme, chives, scallions)
1/3 cup heavy cream
Pinch of freshly grated nutmeg
Directions
Preheat oven to 350 degrees and prepare the rack in the middle. Line a baking sheet with foil.
Cut out the cap of the pumpkin, make the hole large enough you can work inside the pumpkin. Clean out all the seeds and goop.
Sprinkle salt and pepper inside the cleaned pumpkin. And place the pumpkin on the prepared baking sheet.
In a bowl, toss together the bread, cheese, meat, vegetables, fruit and herbs you chose. (This recipe is adaptable, feel free to leave out or add extra.) Taste and season with salt and pepper if needed.
Stuff the filling into the pumpkin, depending on how zealous you were with your mix-ins, you may end up with some extra filling, just leave the leftovers out, or put them in a small ramekin to bake while the pumpkin bakes.
Stir the cream and nutmeg together in a dish, and pour over the top of the cheese mixture.
Place the cap back on the pumpkin and bake for about 11/2 to 2 hours. Check after 90 minutes and look for the inside mixture to be bubbling and the pumpkin flesh is fork tender.
Take the cap off for the last 15 minutes to let the top get a nice brown.
When the pumpkin is ready, carefully remove the pan from the oven and using a large spatula, carefully transfer it to a platter.
This can be served directly from the pumpkin, or slice and serve it individually. Either way, make sure you get a little taste of the actual pumpkin and all that cheesy filling in every bite.
Best served and enjoyed immediately.
To store, scoop out the pumpkin flesh and mix it with the filling, then reheat and serve later.
[masterslider id="7″]