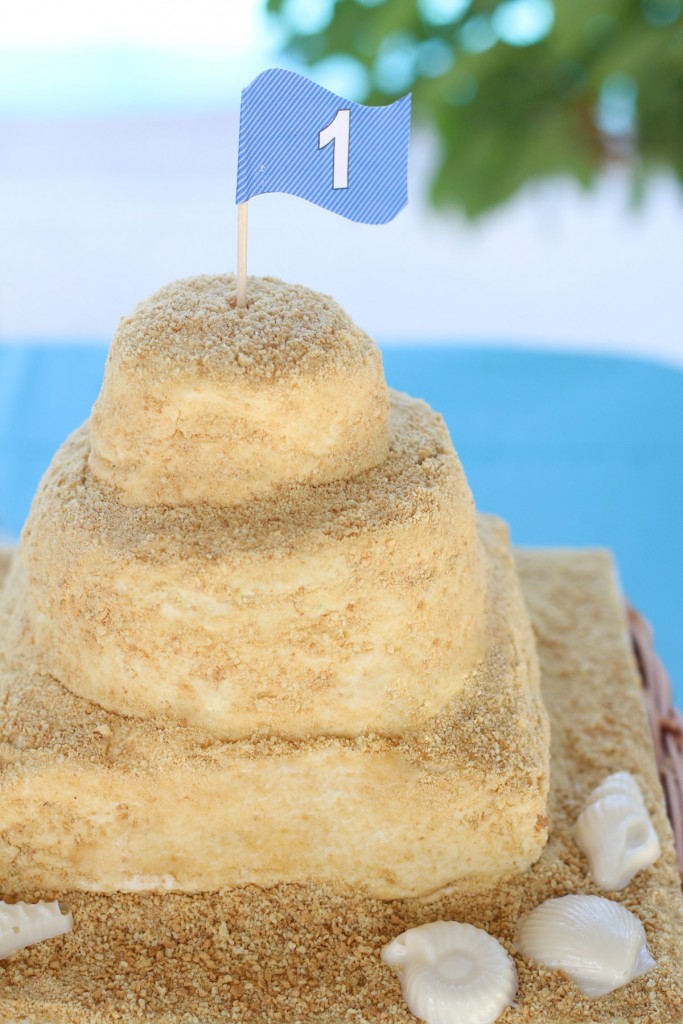 The most iconic image of a day at the beach is the sandcastle! Adorned with chocolate seashells, this sandcastle cake is perfect for summer or beached-themed party.
It's time to reminisce about your last trip at the beach. Sun skies, blue waves crashing on the shore, a small collection of seashells and drift wood, and maybe a horrible sunburn to match the red hot sun – okay, let's forget about that last part. Your memory probably includes you or a bunch of other beach bums building a sandcastle out of buckets and cups, digging a moat around it, decorating the entrance with found seashells, and shedding a small tear as an unexpectedly large wave takes your masterpiece out to sea. #thanksobama
Our Sandcastle Cake is a tasty way to remember your sunny beach days. Make it perfectly imperfect for a true depiction of your sunny days at the beach and take the pressure of yourself for making something exactly even, smoothed, centered, etc. The graham cracker topping hides all the imperfections and each little "mistake" just adds authenticity. We love adding edible details with our seashell molds. We choose white to go with our theme, but we also recommend playing around with colors to make the shells pop.
Here is a little shell color inspiration from a recent trip to Hawaii!
Shop this post:
Ingredients
3 1⁄2cups cake flour
1 tablespoon baking powder
1 teaspoon salt
2 cups sugar
1 (3 1/2 ounce) package instant vanilla pudding
6 tablespoons butter, softened
6 tablespoons butter flavor shortening
1 1⁄2 cups milk
1 tablespoon vanilla extract
1⁄2 cup sour cream
4 egg whites
Directions
Preheat the oven at 350 degrees. Cream together butter, shortening, sugar, and pudding. Add eggs in one at a time. Add in sour cream and vanilla and mix well. Sift together flour, baking powder, and salt. Add flour mixture into butter mixture alternately with milk starting and finishing with flour mixture. We suggest using three different cake pan sizes for this sand castle cake. We use a square bottom and two round cake pans to finish the sand castle look. Bake for 40-45 minutes.
Use your favorite frosting recipe and cover with crushed graham crackers. Accessorize your cake with seashell chocolate molds and a flag on top!