The best way to beat the heat is with our Blackberry Peach Popsicle Recipe. They're sweet, tart, and full of delicious summer fruits.
Summer is the perfect time to cool down with a frozen popsicle. Although, we aren't going to lie, we eat popsicle all year long. We love throwing fresh fruit together with some juice in a food processor and perfecting our homemade popsicle recipe. With fresh peaches popping into season, we added some blackberries to the mix and loved it for more than the just the taste – the chunks of blackberries look so beautiful and adds to the texture.
Shop this Post: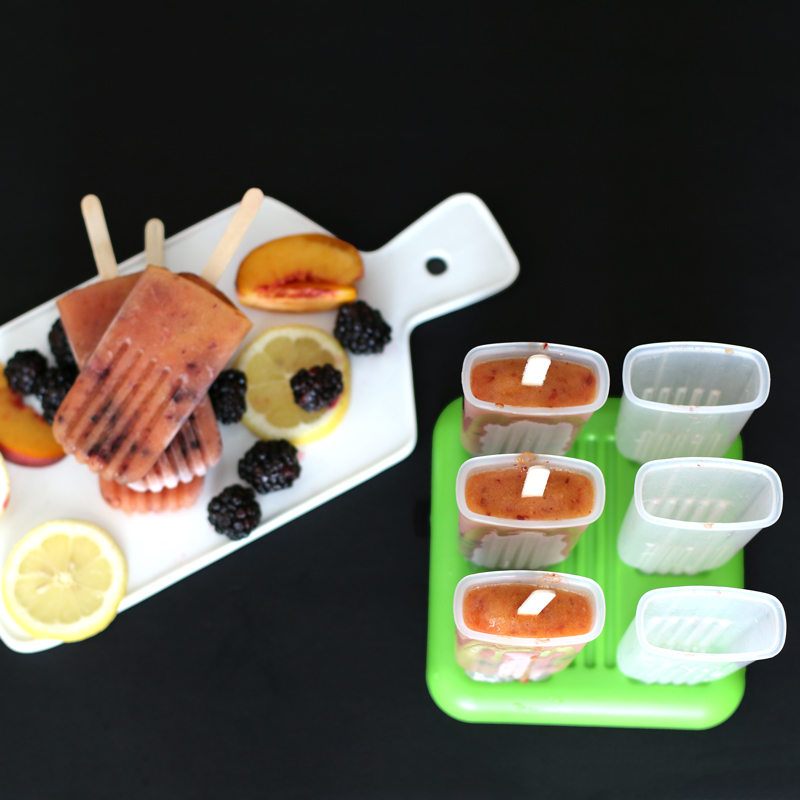 One key tip is to take your popsicles out of the freezer and give them about 5 minutes to thaw, so you can easily pull them out of the molds and serve. We like substituting different fresh fruits and berries for this popsicle recipe. If you  want to jazz it up a little, try replacing half of the juice with sprite or make herb-infused simple syrups and adding that to the mix. The flavors complement each other in a unique, new way.
Blackberry Peach Popsicle Recipe
Ingredients
2 peaches, diced
1/2 cup juice (we used white grape juice)
1 lemon, juiced
1/2 cup blackberries, chopped
Directions
Puree peaches, fruit juice and lemon juice in food processor until emulsified. Gently stir in chopped blackberries. Fill six popsicle molds and freeze for one hour. Insert popsicle sticks and freeze for another 1-2 hours, or until fully set. Enjoy!