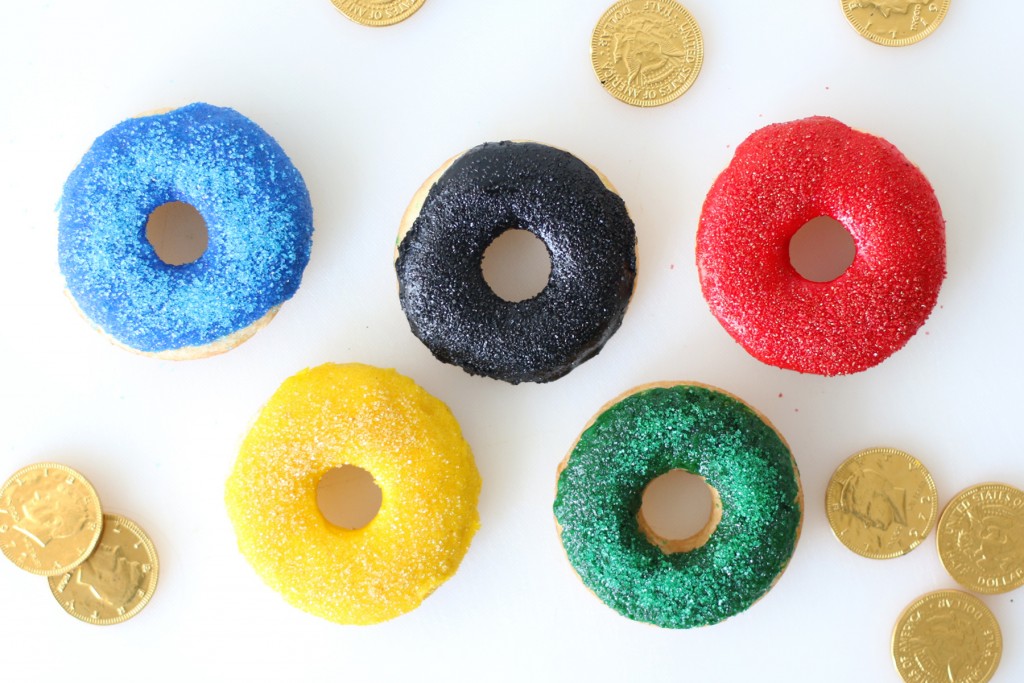 Go for the gold with Olympic Donuts. Lazily made with a cake mix, it's an easy an delicious way to celebrate the Olympics!
These "donuts" are just mini individual cakes. Think of them as cupcakes, but better (if you're like me and don't like a ton of frosting). When you pipe the mix into the pan, the donuts come out a lot cleaner looking and even. It might seem like an unnecessary step, but it's worth the effort. If you wanted to make life less complicated, make a double batch of glaze. Sure, you'll have extra glaze, but you can keep all five of your colors in separate bowls. If you want to skip any step, it's probably the sanding sugar. However, the sparkles looks awesome and hide any imperfections in your glazing. Lesson of the day: cover your mistakes with sparkles and you'll shine.
Olympic Donuts:
Ingredients
1 box (16.25 oz) cake mix of choice
1 egg
1/4 cup vegetable oil
1 cup water

Glaze:

1 Tbsp. butter, melted
1 1/2 cups powdered sugar
3 Tbsp. milk
Sprinkles (optional)
Food Coloring
Directions
Preheat oven to 350 degrees F. Grease donut pan.
Whisk together dry cake mix, egg, vegetable oil, and water until smooth.
Pour batter into a pastry bag or a gallon ziplock with a snipped corner and pipe donut mix into prepared donut pan until cups are about 1/2 full.
Bake at 350 degrees F for 12-14 minutes. Let donuts cool in pan for about 5-10 minutes then remove and let cool completely on wire rack.

Glaze

In a medium sized bowl, whisk together butter, powdered sugar, and milk until just combined. Split into three bowls. Dye the first bowl yellow, the second bowl blue, and the third bowl red.
Dip the cooled donut into the glaze then lift and turn sideways to let extra run off. Place back on wire cooling rack. Sprinkle before the glaze dries.
Repeat with remaining donuts until you need green and black donuts. Dye the yellow glaze green and the red or blue glaze black.