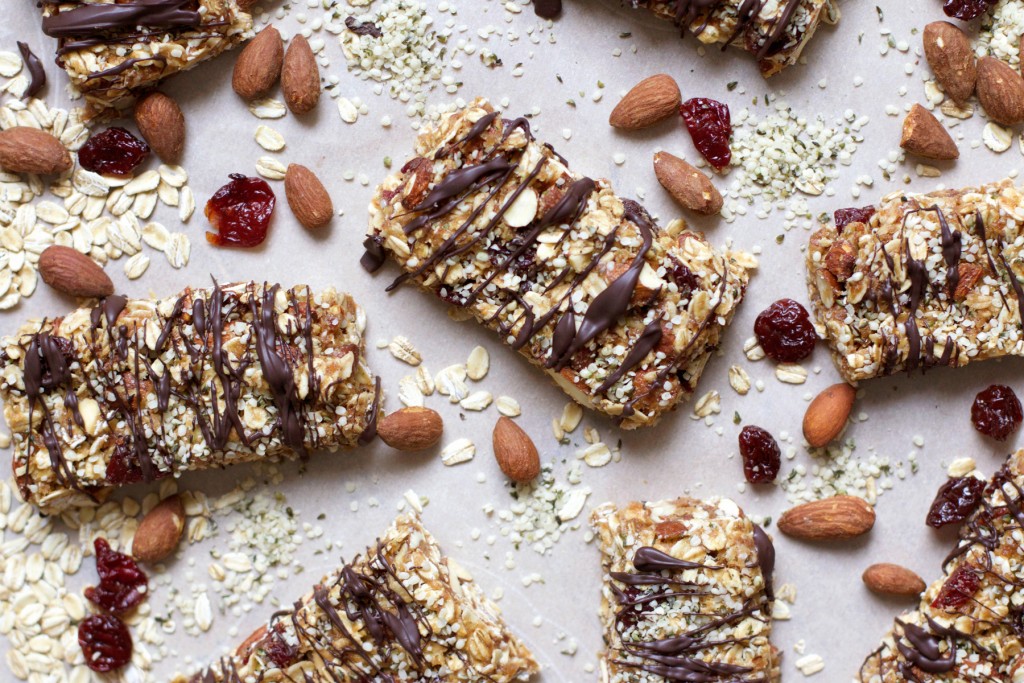 Homemade Granola Bars are just what you need to satisfy you between meals. They're a healthy boost of energy without preservatives and unnecessary sugar.
These are perfect to pack for work, home, and a snack for your kid's school lunch. You can mix in your favorite flavors and try different nuts, dried fruit, seeds, spices, etc. You don't even have to press them into bars. Try rolling them into snack balls and putting them into the fridge in a covered bowl. Besides toasting the oats, these granola bars are a no-bake recipe, so they only take a few minutes to make and you don't need to feel obligated to make a huge batch.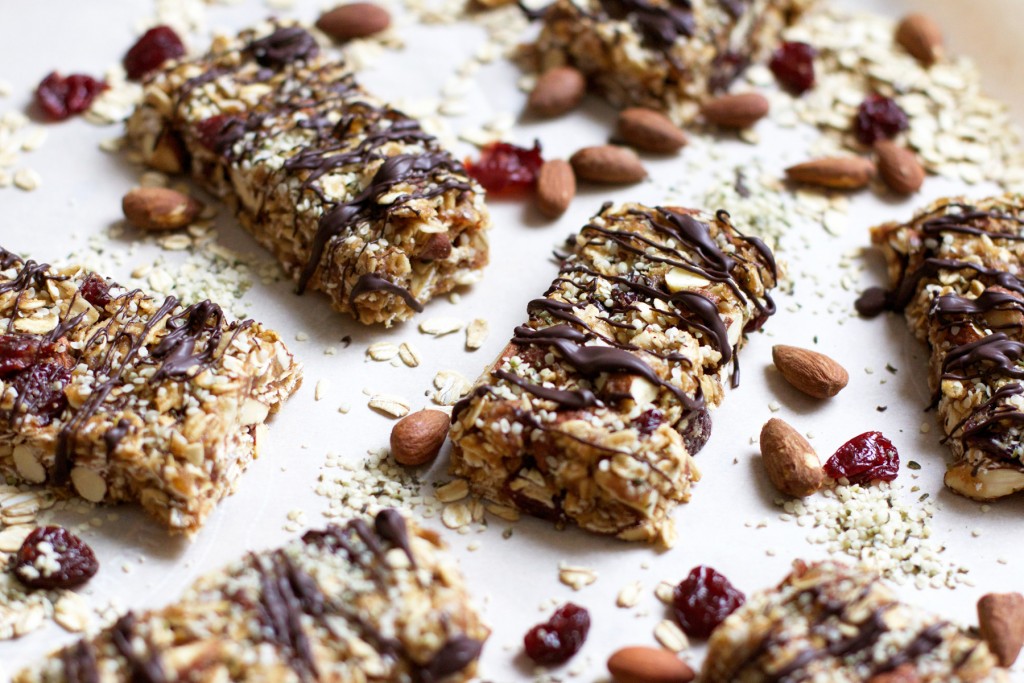 Homemade Granola Bars:
Ingredients

1 cup packed dates, pitted
1/4 cup honey (or maple syrup or agave for vegan option)
1/4 cup peanut butter or almond butter
1 cup roasted unsalted almonds, loosely chopped
1 1/2 cups rolled oats
1/2 cup of dark chocolate, melted
optional additions: hemp seeds, chocolate, dried fruit, nuts, etc.

Directions

Process dates in a food processor until small bits remain (about 1 minute). It should form a "dough" like consistency.
Optional step: Toast your oats in a 350 degree F (176 C) oven for 15-ish minutes or until slightly golden brown. You can eat them raw
Place oats, almonds and dates in a large mixing bowl.
Warm honey and peanut butter in the microwave for a minute on half power. Stir and pour over oat mixture and then mix, breaking up the dates to disperse throughout.
Once thoroughly mixed, transfer to an 8x8-inch baking dish or other small pan lined with plastic wrap or parchment paper so they lift out easily. (A quarter size baking sheet might work, but might yield thin bars.)
Press down firmly until uniformly flattened - you can use the back of a measuring cup to press down and really pack the bars, which helps them hold together better.
Cover with parchment or plastic wrap, and let firm up in fridge or freezer for 15-20 minutes.
Remove bars from pan and chop into 10 even bars (or 9 squares). Drizzle chocolate over on top of bars and let set. Store in an airtight container for up to a few days.