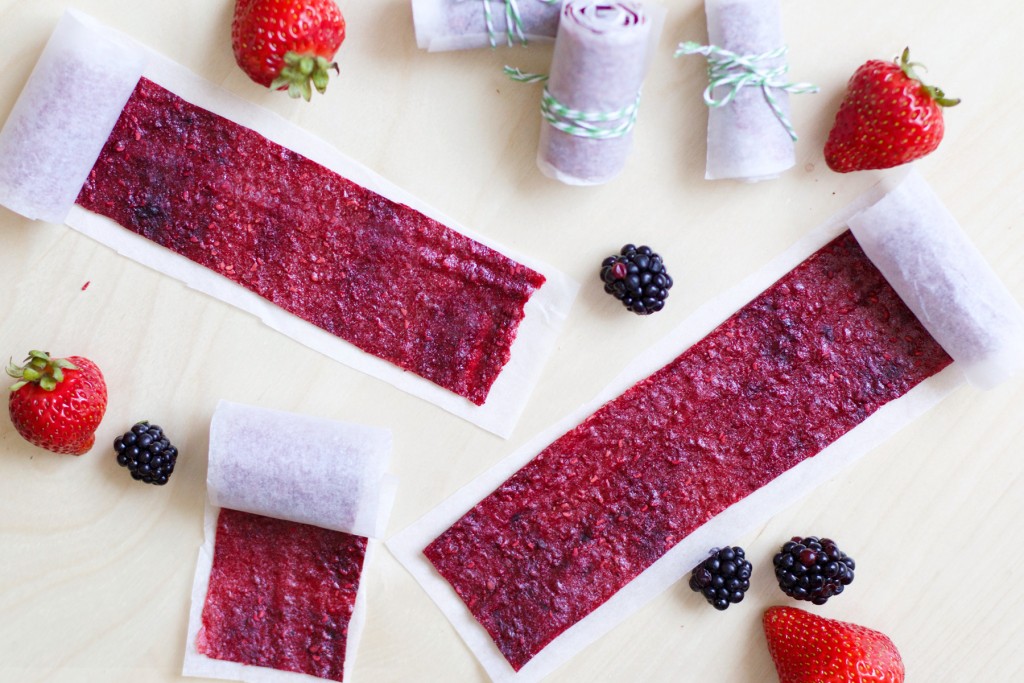 Homemade Fruit Leather is one of those things that's so easy to make, you wonder why you even buy it in a store. Plus, when you make it at home you can control the flavor and what ingredients are in them or more importantly, what are not in them – no artificial colors, flavors, or preservatives.
It's easy in the summer to have too much fruit to eat yourself. Fruit Leather makes it easy to use up extra fresh fruit, canned fruit, etc. Almost all fruit tastes good together. If you want to get fancy, you can add fresh herbs to your puree (try peach and theme or mint and berries) or make an interesting flavor like strawberry balsamic with black pepper.
Some people do not like seeds, so if you're in that category, strain your puree! Also, I think it'd be fun to do a batch of something light colored, like an apricot, peach, etc. fruit and a dark berry one. You could pour out the light puree onto the mat and add a little bit of the dark to make it look tie dyed.
Ingredients
3 cups ripe or slightly over-ripe diced fruit
sweetener to taste: honey, sugar, agave, etc. (1/2-1 cup of sugar is normal)
1 tablespoon fresh lemon juice
Directions
Preheat oven to 170F.
Place fruit, sweetener, and lemon juice in a food processor or blender. Process until smooth, about 30 seconds. If you don't want seeds, then strain.
Cover a baking sheet with parchment paper or a silicone mat. Pour onto paper and spread thickly and evenly with a spatula. Bake 3-4 hours, or until no longer wet or tacky.
Take the fruit leather off mat or parchment paper and transfer onto wax paper. Cut rolls into 2-inch segments and serve. Store in an airtight container.