Fall is a fantastic time to entertain. The busy hustle of summer has ended, but the pressures of the holidays are not yet upon us. It's the perfect time to bring your favorite people together for a enjoyable and intimate evening. Drawing inspiration from the season of bounty, your menu can include delicious flavors with beautiful colors.
This recipe is definitely inspired by the indulgent and flavorful tastes of fall. The casserole pairs crisp and tart green apples with sweet and chewy dried cranberries. The whole thing is brought together with home made cream of mushroom soup and flavorful sausage. I used regular long grain rice, but any cooked grain could be used (brown rice, quinoa, barley).
The casserole is baked inside of a pumpkin. The meat of the squash becomes soft and flavorful. If you've never eaten cooked pumpkin, it is a mild and sweet squash, and is sometimes stringy. It's like a mix of a spaghetti squash and butternut squash. The casserole is best served with a scoop of the tender squash in your bowl.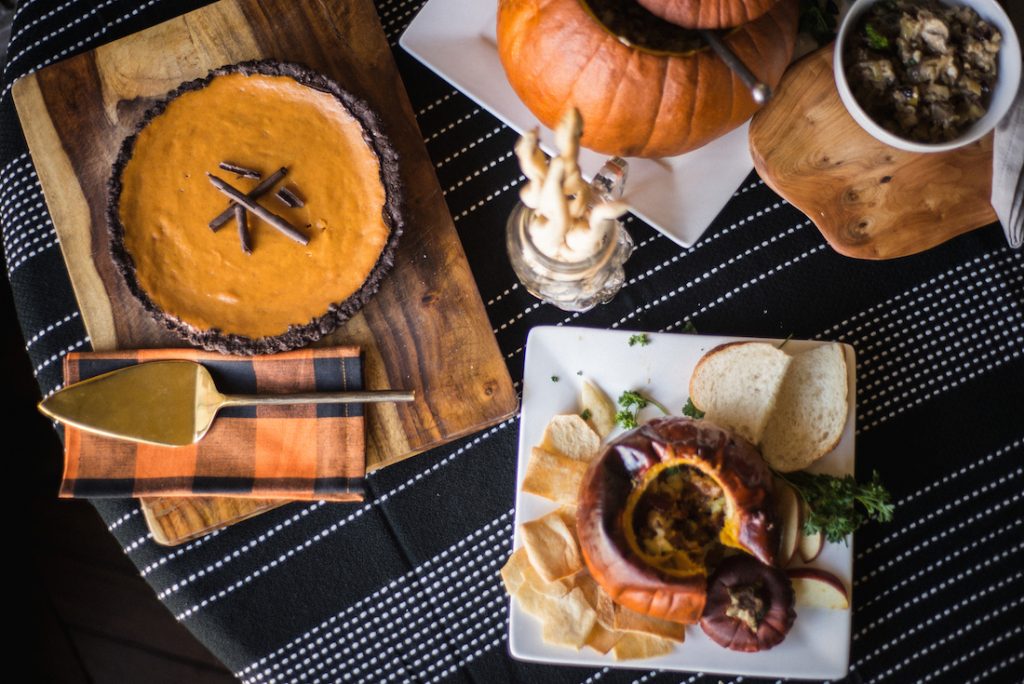 This recipe is terrific when paired with a fresh green salad and a breadstick. It will warm your home and your guests as they enjoy this indulgent and flavorful meal.
Green Apple and Cranberry Dinner in a Pumpkin
Ingredients
Casserole

12 oz ground beef or sausage
1 medium onion, diced
3 stalks celery, diced
2 granny smith apples, diced
1 teaspoon ground thyme
1 teaspoon dried oregano
1 teaspoon kosher salt
1/2 teaspoon black pepper
3 cups cooked rice or other grain
3/4 cup dried cranberries
cream of mushroom soup (recipe below or 1 (15 oz) can of condensed soup)
9-10 pound pumpkin

Cream of Mushroom Soup

8 oz sliced mushrooms
2 Tablespoons onion, diced
1 teaspoon garlic, minced
2 Tablespoons butter
2 Tablespoons flour + 1 Tablespoon flour
2 cups chicken broth
1 cup evaporated milk
1/2 teaspoon salt
1/4 teaspoon pepper
1/2 teaspoon ground nutmeg
Directions
Casserole

Preheat oven to 350*.
Prepare your pumpkin. Cut a hole about 6" wide and remove the top. Scoop out the seeds and slimy junk. Discard. Set pumpkin on a cookie sheet or roasting pan. Set aside
Heat a large pot over medium-high heat. Add ground meat and cook until browned.
Add onions, celery, and apples to the pot and cook for 2 minutes, until they start to soften.
Add spices to the mixture and mix well. Cook for 2 more minutes.
Remove from heat and add cooked rice, cranberries, and cream of mushroom soup. Stir to combine.
Place mixture in the hollowed out pumpkin. Place the top back on the pumpkin and place on a baking sheet or roasting pan.
Move your oven rack to the lowest setting and remove other racks. Bake in the oven for 60-90 minutes, until the pumpkin is soft and starting to brown. If the top becomes too brown before the rest of the pumpkin is cooked, place foil over the top of the pumpkin.
Remove from oven and let sit 10 minutes before serving. The pumpkin is soft and hard to move. We were able to move it with a large spatula, but be careful if you try to transport it.
Cream of Mushroom Soup
Heat a medium sized pot over medium heat. Melt 2 Tablespoons butter.
Add mushrooms, onions, and garlic. Cook until soft.
Add 2 Tablespoons of flour to the softened vegetables and cook for 3-4 minutes, until it starts to brown.
Add chicken broth and cook, stirring frequently, until the mixture begins to thicken.
Add milk and 1 Tablespoon flour and seasonings. Cook until thickened, stirring often. Add to meat and rice mixture.

Tips for Selecting a Pumpkin

Choose a pumpkin that is roughly between 9-10 pounds. It needs to fit in your oven, so we had good luck with a pumpkin that was about 10" tall and 25" wide at it's widest part. If it's bigger, your casserole may not fill it all the way, which is okay! Just make sure it fits inside your oven with the stem/lid still on it.