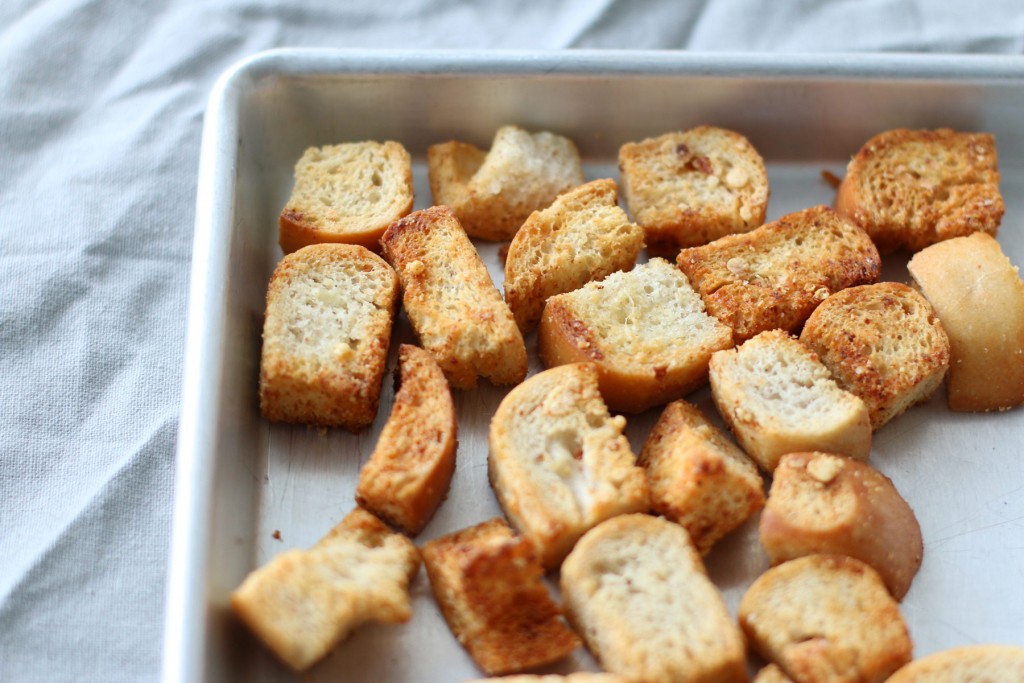 With very little effort, you can take your salads and soups to the next level with homemade croutons. Make them a day or two before you need them to save you time and oven space.

All you need is a 1/2 load of day-old French bread, about 1/4 cup of olive oil, 4 cloves of minced garlic, salt, freshly cracked pepper and optional toppings like parmesan cheese and herbs. Stir minced garlic and olive oil in a bowl and let the flavor infuse for a few hours. Preheat your oven to 350º degrees. Use a bread knife to cut into 1/2 inch slices and 1/2 inch squares. Lightly coat the bread by tossing it in the olive oil. Add seasonings (salt, pepper, and herbs) and spread evenly on a baking pan lined with parchment paper. Bake for 20-30 minutes Toss the bread in olive oil.
Preheat oven to 300 degrees.
Using a bread knife, cut the bread into ½ inch by ½ inch cubes. If you prefer larger or smaller croutons, make your cuts accordingly–just be sure to make your cuts as similarly as possible to help them bake evenly. In a large bowl, toss bread cubes with enough olive oil to lightly coat. Add kosher salt, freshly ground black pepper to taste and any seasonings you prefer. Once cubes are evenly and lightly coated, pour bread onto a baking pan lined with aluminum foil (for easy clean-up). Bake for 15 minutes. Flip croutons and bake for another 15 minutes until bread is golden and crunchy. If your adding cheese, throw that on top during the last 10-15 minutes of baking.