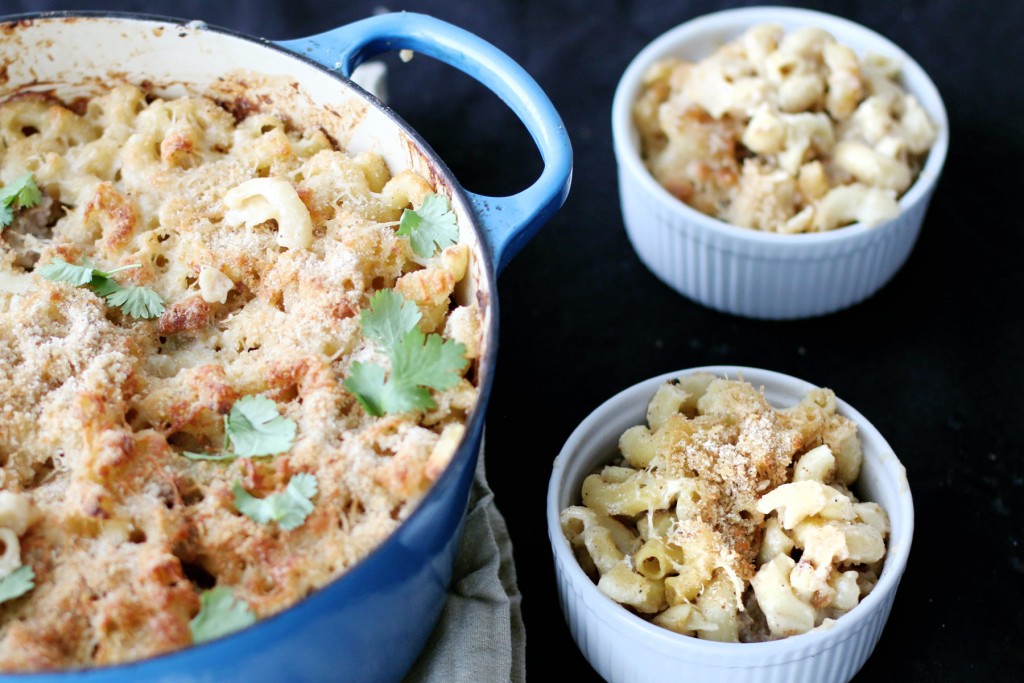 Sausage Mac and Cheese is just the comfort food you need. Seasoned with holiday flavors, serve this as a crowd-pleasing side dish or weekday meal.
Ingredients
1 lb elbow macaroni
3/4 lb Maple Sausage
3 Cups Whole Milk
1 Cup Unsweetened Applesauce
8 Ounces Gruyere Cheese, grated, 1/2 cup of it set aside for garnish
12 Ounces Cheddar Cheese, grated
1/2 Cup Flour
5 Tablespoons Butter
2 Tablespoons Olive Oil
1/2 Teaspoon Nutmeg
1/2 Teaspoon Pepper
1/4 Teaspoon Salt
1/2 Teaspoon of Cinnamon
1/4 Teaspoon Ground Cloves
1/3 Cup of Bread Crumbs
Directions
Preheat the oven to 375 degrees Fahrenheit.
Heat 1 tablespoon of olive oil in a frying pan over medium heat. Add the apple sausage and cook until it is just cooked all the way through. Break into smaller pieces.
Bring a pot of water to a boil and prepare the pasta according to the package's directions.
When it is done, drain it well, and shock the pasta with cold weather.
Pour sausage grease into a large dutch oven and add butter and melt over medium heat and whisk in the flour right after it is completely melted and make a roux. Continue heating and whisking until lightly browned (about 2 minutes).
In a bowl, mix applesauces and milk. Add a 1/2 cup at a time into the roux. Whisk and continue adding. The mixture should begin to thicken at this point.
Remove the dutch oven from the heat and stir in the nutmeg, salt, pepper, cinnamon, cloves, gruyere (except the 1/2 cup), cheddar, and the cooked sausage pieces until evenly distributed.
Add the cooked pasta and stir until the pasta is covered in the cheese sauce. Sprinkle the remaining 1/2 cup of the grated gruyere and bread crumbs over the mac and cheese.
Place the pan in the oven, uncovered, and bake for 15-25 minutes or until the macaroni on top just begins to turn golden brown at the tips. Allow to cool for 10 minutes before serving.