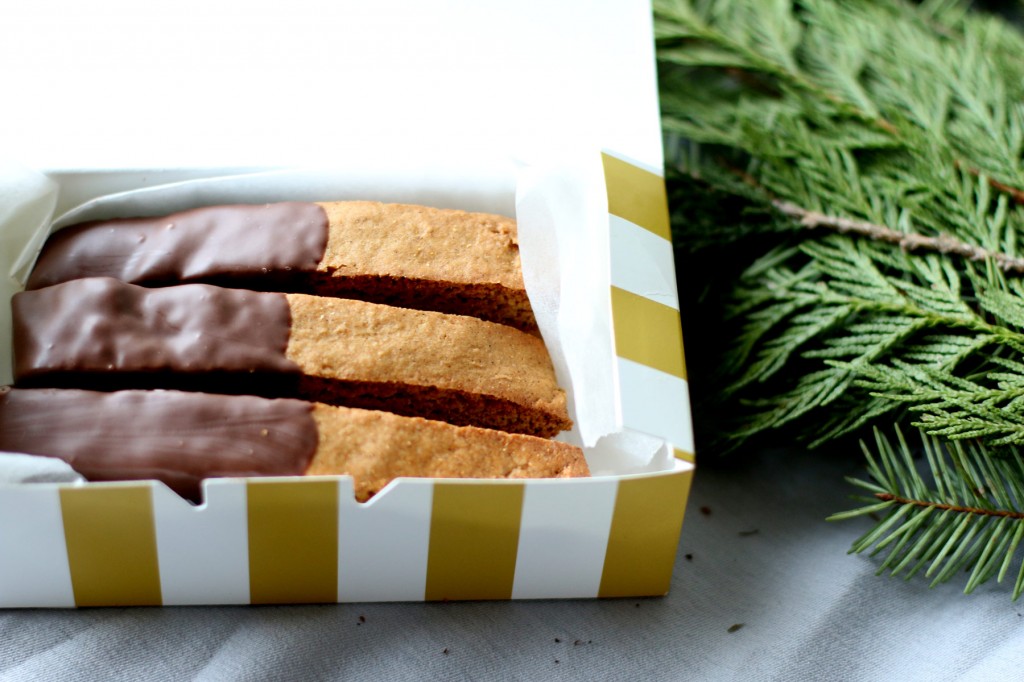 Why not give the loved ones on your list a little something sweet to snack on Christmas morning? This gingerbread biscotti has all the flavors of the holidays without being overly sweet, and it gets even better when dunked in a hot mug of coffee or hot chocolate. It's the perfect, easy breakfast snack that will tide everyone over while they unwrap what Santa left under the tree.
What you'll need for gingerbread biscotti
Makes about 24-30
1/2 cup vegetable oil
3 eggs
1 cup sugar
1/4 cup molasses
3 1/4 cup all-purpose flour
1 tbsp baking powder
1 tsp cinnamon
1/2 tsp ground ginger
1/4 tsp ground cloves
1/4 tsp nutmeg
2-3 tbsp candied ginger, finely diced
3 cups dark melting chocolate
Preheat the oven to 375° F and line a half-size bun pan with parchment paper. In a medium bowl, beat together the oil, eggs, molasses and sugar until well blended. In a separate bowl, combine the flour, baking powder, spices, and candied ginger. Add flour mixture into the egg mixture and stir to form a heavy dough. Divide dough into 2 pieces. With your hands, form each piece into a roll about the length of the bun pan. Place rolls on to prepared pan, leaving enough space between them so that when you press them down to about 1/2-inch they aren't touching.
Bake for 25 to 30 minutes, until golden brown. Remove from the baking sheet to cool on a wire rack. When the cookies are cool enough to handle, slice each loaf crosswise into 1/2-inch slices. Place the slices cut side up back onto the baking sheet. Bake for an additional 10 minutes, flipping each cookie halfway through so both sides get lightly toasted. Cool completely on a wire rack.
While biscotti is cooling, place about 3 cups of dark chocolate in a plastic bowl and melt in the microwave at half power for one minute intervals, stirring between intervals, until melted and smooth. Once melted, dip biscotti in chocolate and place on parchment paper to harden.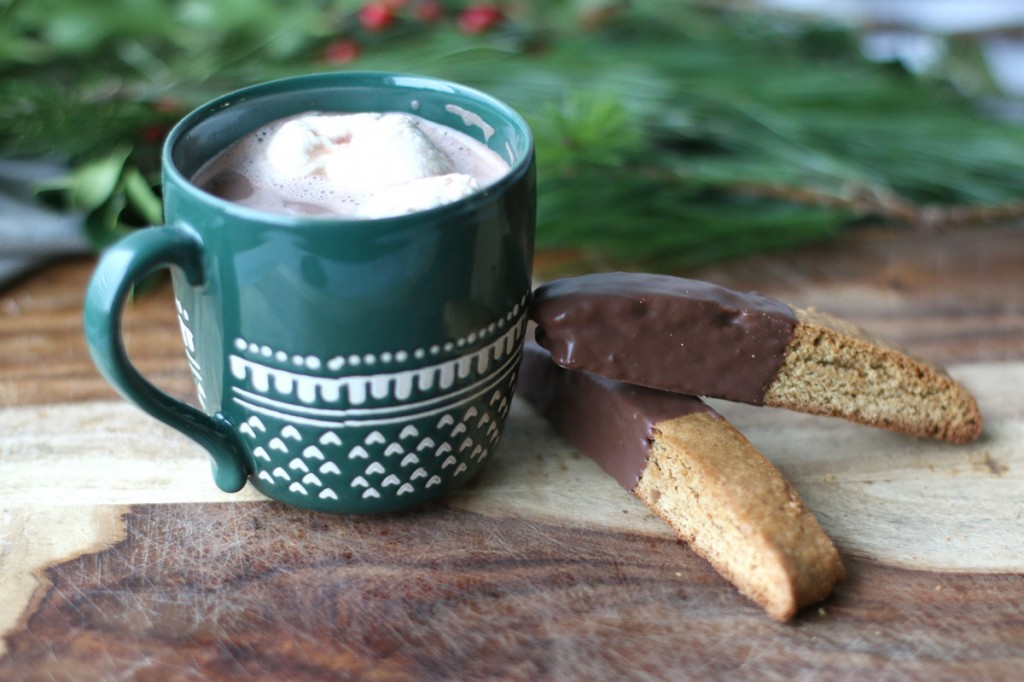 This gift pairs well with a bag of your favorite coffee, or a jar of ready-to-mix hot chocolate!