Looking for a unique gift that's highly customizable and borders on ridiculously simple? Then infused sauces and syrups are the way to go. Just start with either a crowd-pleasing chocolate sauce or a basic simple syrup and the sky is the limit! The holiday season is the time for a little extra indulgence, and these two edible gift ideas have it!
First, let's talk chocolate. This infused chocolate sauce is the ultimate topping to some late-night ice cream, or perfect drizzled on a dessert or rich cup of hot chocolate. For our sauce, we used our mulling spices to give it that traditional, warming holiday flavor. But don't stop there. Try vanilla beans or mint leaves for a classic flavor combination, or throw in some spices and red pepper flakes for chocolate with a little kick.
What you'll need for mulled chocolate sauce
Makes about 2 cups
1 cup cream or half and half
1 cup dark chocolate wafers, chopped
1-2 tbsp mulling spice
Place dark chocolate in a medium plastic bowl. Set aside. Heat cream and mulling spices over medium heat in a sauce pan until simmering. Lower heat and let steep for 10-15 minutes. Carefully pour cream through a fine mesh strainer over the bowl of chocolate. Let sit for 5-10 minutes. Whisk together until fully combined. Pour into cute jars and store in the fridge.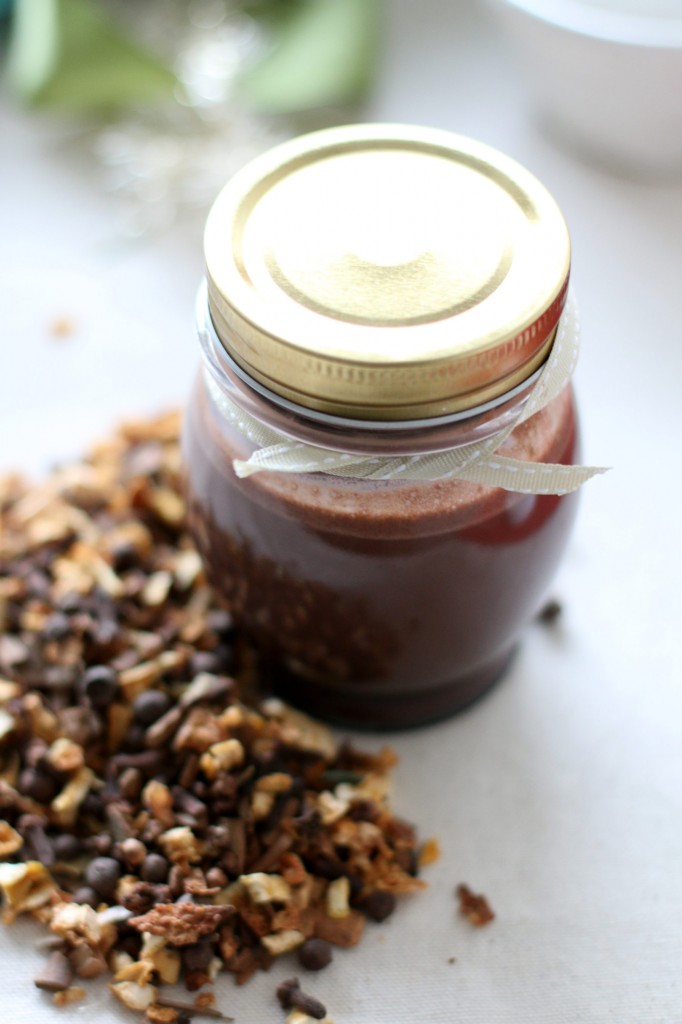 Simple syrup is a staple for most cocktail recipes. If you have a mixologist on your Christmas list this year, then you'll be sure to impress with some customized simple syrups. Infused simple syrups are about as easy as boiling water. And even better, the options and combinations are endless: citrus peels, fruits and vegetables, any herb or spice you like! We went with rosemary for it's subtle but distinct herbal flavor. The rosemary simple syrup pairs beautifully with any citrus-based cocktail and is ideal for any gin lover you may know.
What you'll need for rosemary simple syrup
Makes about 2 cups
1.5 cup water
1.5 cup sugar
1-2 tbsp rosemary
In a medium saucepan, combine sugar and water. Bring to boil over medium-high heat. Stir occasionally until sugar has dissolved. (Watch carefully as sugar water can easily boil over.) Once the sugar has dissolved, add rosemary and stir. Let mixture simmer for 5-10 minutes, then remove from heat and let stand for another 30 minutes to let the flavors intensify and cool enough to handle. Carefully pour through a fine mesh strainer into jars and store in the fridge.
Recipe notes: Both of these recipes are easily multiplied to make larger batches. Just keep the ratios the same and scale to your heart's content!