Have you stepped into the world of SPUDNUTS yet? If you are a lover of the donut world, you have probably tried them before. But if this is a new concept for you, let us explain why this recipe is worth a try. Spudnut dough is made with mashed potatoes, hence the "spud" part of their name. The potatoes create a light, fluffy and slightly sweet dough. So how did we come across this treasure, let us tell you….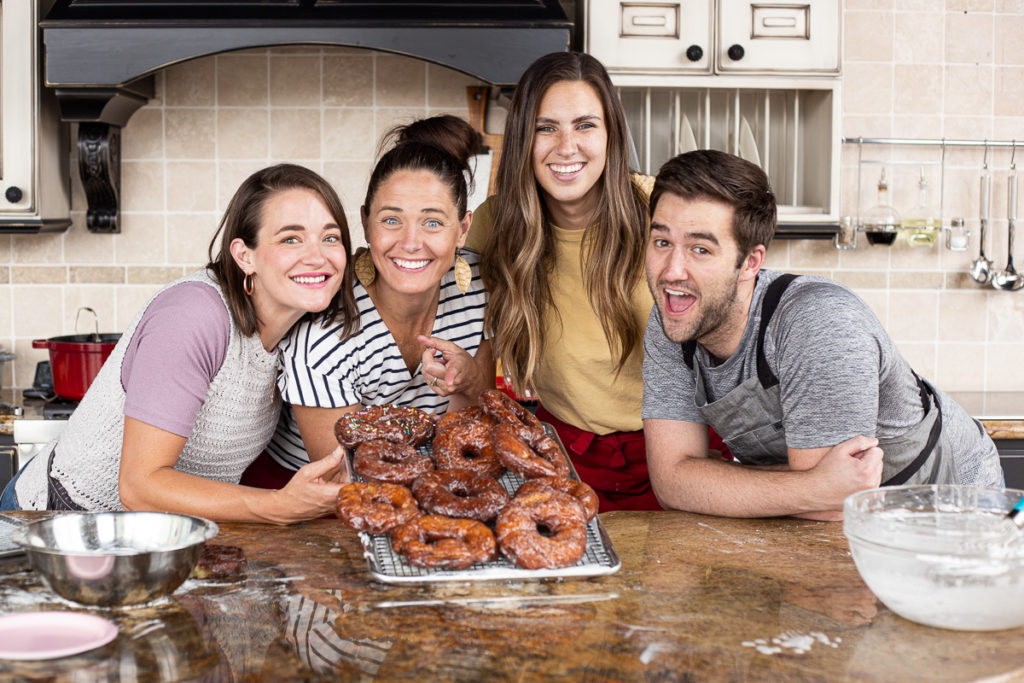 We love a recipe with a story, and especially love when the recipe comes from one of our favorite people. We look forward to any chance we get to cross paths with Brooke Eliason from Female Foodie. So when we wanted the "BEST" donut recipe we knew we could trust Brooke. As a food connoisseur, Brooke compiles lists of all the "must-have" foods in cities around the country. She also love food with a story, but is picky about quality, flavor and consistency.
These spudnuts came first from a small bakery in Montana, Windmill Bakery. Instead of cooking all their donuts first thing in the morning, they fry these up throughout the day, so when you stop in you are guaranteed the freshest flavor and texture.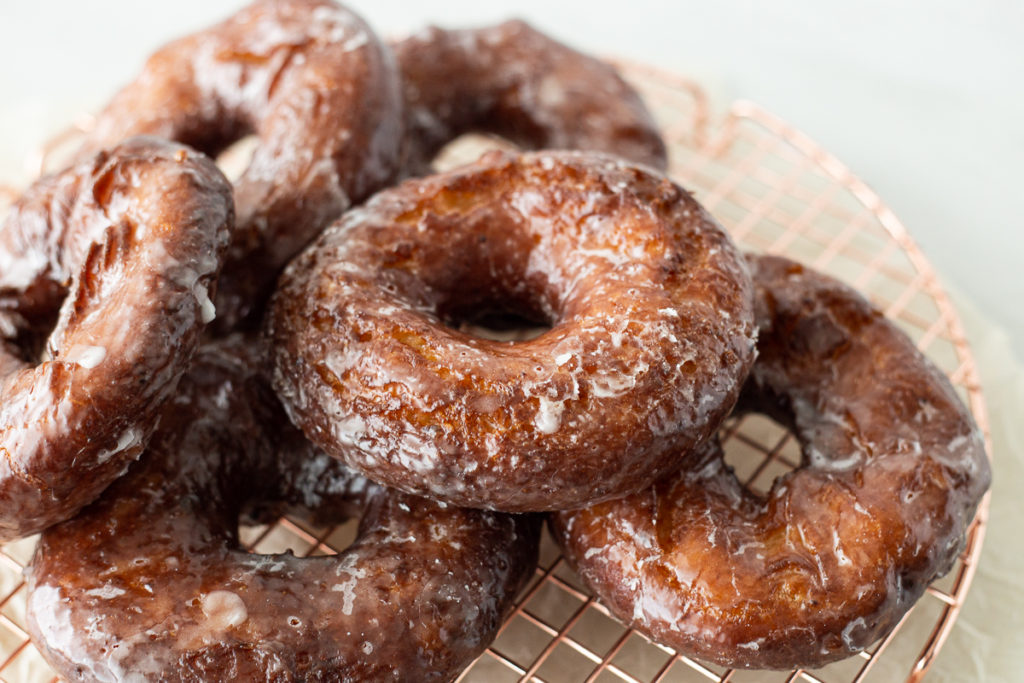 After devouring these donuts in the bakery, Brooke took her skilled tastebuds and put them to the test trying out a few variations of Spudnuts, before settling on this recipe, which was adapted from Taste of Home.
The pillowy soft center, with the crisp fried outside. Covered in a perfectly sweet homemade glaze, these donuts are ready to make your tastebuds rejoice.
Start with a bowl of mashed potatoes, and mix them with your yeast mixture activated in the reserved potato water. Then combine with the liquids, adding the flour last to form a dough. Turn dough into a greased bowl, and turn over into the oil, or add a little more cooking spray to the dough to keep it from sticking.
You'll leave the dough to rise, and then punch it down (which is so therapeutic) and let it rise one more time. Turn the dough over onto a floured surface, and gently form it into a mound with your hands.
The classic Windmill Bakery donuts are super big, like mega! If you want to stick with the original you'll need a 3 1/2″ donut cutter. We love using the donut cutter so we can get a perfectly round shape, and the cutest donut hole center. Which for some of us in the Gygi family, the donut hole might just be our most favorite part of all! If you want a little more "average" sized donut, stick to the 2 1/2″ donut cutter.
Now it's time to fry, If you haven't fried food at home before, it can be a little intimidating. Our top two tricks are to use a high quality pan, like a Staub, to keep your heat regulated. And NEVER fry without a thermometer. Guessing your oil temperature is a sure way to either burn your food, or cook it too slowly resulting in overly greasy food. Grab a thermometer and fry with confidence.
We have all our Fried Foods at Home tips and suggestions (and some fun recipes!) in one place, so check out this blog post if you want to learn more.
The last step, the doughnuts take a dip in the homemade glaze. Toss them in there while they are still a little warm, and the best tool to get them covered in glaze? YOUR HANDS! This is a hands on job, and you won't want to skip this step.
Print Recipe
Spudnut Recipe from Female Foodie
Ingredients
DONUTS
1 pound russet potatoes, peeled and quartered
2 packages active dry yeast (or 4 1/2 teaspoons)
1 1/2 cups warm milk (110° to 115°)
6 1/2 cups canola oil (1/2 cup for dough, 6 cups for frying)
1/2 cup sugar
2 eggs
1 teaspoon salt
7 1/2 cups all-purpose flour
DONUT GLAZE
8 cups confectioners' sugar
1 cup water
1 Tablespoon vanilla extract
Instructions
1

Place potatoes in a large saucepan and fill with water until potatoes are covered by an inch. Bring to a boil. Reduce heat; cover and cook for 15-20 minutes or until tender. Drain, reserving 1/2 cup cooking liquid; cool to 110°-115°. Discard remaining cooking liquid. Mash the potatoes with a potato masher.

2

In a large bowl, dissolve yeast in reserved cooking liquid. Add the mashed potatoes, milk, 1/2 cup of canola oil, sugar, eggs and salt. Mix flour to form a soft dough- you may not need the last half cup. Place in a greased bowl using cooking spray or oil, turning once to grease the top of the dough.

3

Cover dough with plastic wrap, and let rise in a warm place until doubled, about 1 hour. Punch dough down; let rise again until doubled, about 20 minutes. Using floured hands spread out dough on a floured surface into a round of dough that's about 10 inches in diameter, and 1 1/2 - 2 inches thick.* Cut with a floured 3 1/2 inch donut cutter.

4

In a dutch oven, or deep fryer, heat the remaining canola oil to 350° F. Fry donuts, a few at a time, until dark golden brown, about 4 minutes per batch, rotating the donuts half way through. Do not allow the heat to exceed 350° F, the outside will cook too fast and leave the inside doughy.

5

For glaze, in a large bowl, combine the confectioners' sugar, water and vanilla until smooth. Dip warm donuts in glaze. Cool on wire racks.
Notes
* The donuts from the Windmill Village Bakery are enormous, and to achieve a similar shape, your dough must be 1 1/2 - 2 inches high. However, if you don't want as big of donuts, you can roll out the dough to as low as 1/2 inch thick, and make the donuts according to recipe. You will most likely need to fry for less time than the recommended 4 minutes. This recipe makes 10-12 very large donuts, or 20-24 regular-sized donuts.
Grab some friends and family, and have a donut party! These taste best fresh from the glaze, so make sure you've got a couple people to enjoy this tasty treat with you. Just how we like it! Fried food, friends and happy bellies.
Tips for Success
After testing and re-testing, this copycat recipe is the closest thing to the real deal. The potatoes and hot potato water are key ingredients, and russet potatoes are preferred. This glazed donut recipe can be broken down into five easy steps:
Boil the potatoes: peel and boil the potatoes, reserve 1/2 cup of cooking liquid (you'll need it to be 110-115 degrees F), and mash the potatoes. Dissolve the yeast in that reserved potato liquid and set aside.
Make the dough: combine your ingredients in a stand mixer, including your dissolved yeast/water, mashed potatoes, milk, oil, sugar, eggs, salt, and flour.
Let the dough rise: first for one hour or until your dough doubles in size, then punch down and allow to rise for another 20 minutes.
Cut and fry: cut the donuts and fry in hot vegetable or canola oil, three or four at a time.
Glaze and eat: glaze each donut by hand, let strain on a cooling rack situated on top of a cookie sheet, and enjoy hot!
Here are the most commonly asked questions from Brooke's Site:
My dough seems very soft. Should I add more flour?
This dough should be very soft. It should be firm enough that you can still handle it, including rolling, forming, and cutting; but it will still be very soft and may require a light dusting of flour to avoid sticking to your work surface or rolling pin. You may also want to flour your donut cutter before cutting each donut.
How many donuts does this recipe make?
This donut makes 10-12 very large donuts, similar to the donuts served at the Windmill Village Bakery (see the first two pictures in this post for actual donuts from the bakery), or for more traditional sized donuts the recipe will make 20-24 donuts.
Can I half the recipe?
Can I make the dough the night before and let it rise the next morning?
We haven't tested this personally, but our feedback from readers who have experimented have said that it works. Just make sure that your dough has time to double in size, and that after punching it down you allow it to rise for another 20 minutes.
Does the oil temperature really matter that much? I don't have a thermometer.
The oil temperature is extremely important in this recipe. Oil that's too hot will cook the outside of your doughnut too quickly and leave you with a raw, uncooked inside, and oil that isn't hot enough will dry out your donut and leave you with a poor end product. Invest in a candy or deep-fry thermometer or borrow one from a friend for this recipe!
I don't have a 3 1/2 inch donut cutter- what can I use instead?
Extra points for creativity here! You can cut with a pizza cutter (although the shape won't be as crisp), use a bowl or cup with a narrow edge, and anything small and round to cut out the hole for the donut.
---
Thank you, Brooke, for joining us in the kitchen to share this tasty and classic recipe. For another fun recipe from Brooke, try out these Peanut Butter Balls she shared with us. Another mouth watering treat worth keeping in your recipe box.