Want a chewy, slightly tangy, cooks-in-mere-minutes kind of pizza crust? This is the one for you! Our friend, Chef Brandon Price has simplified his traditional Neapolitan pizza crust recipe for busy families to add to their pizza night rotation with ease. The best news? You can achieve this classic wood-fired flavor in your oven at home!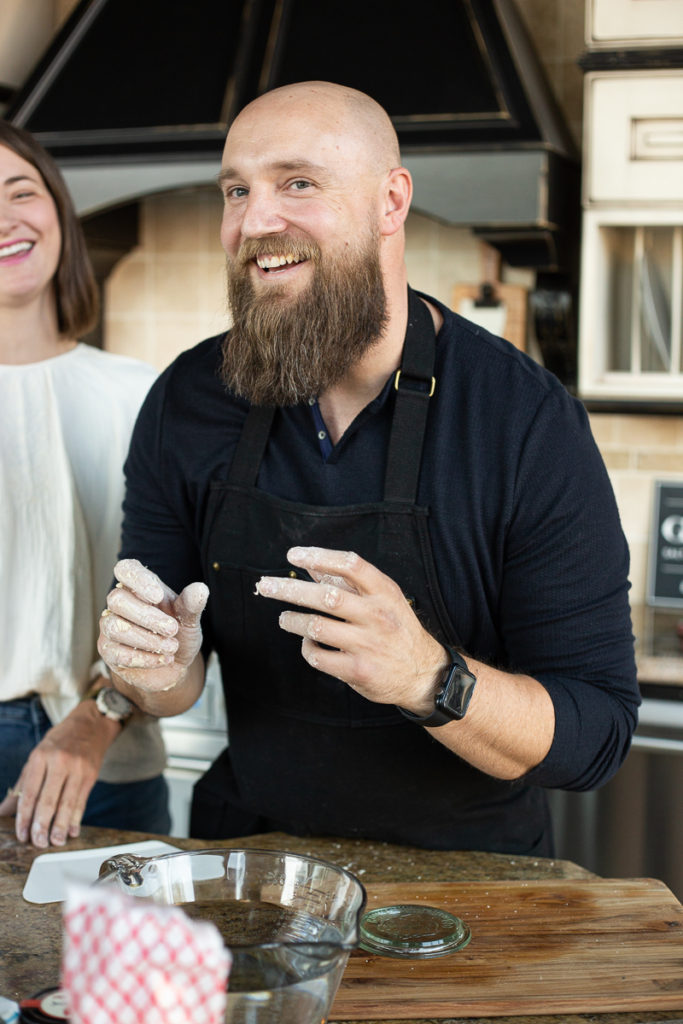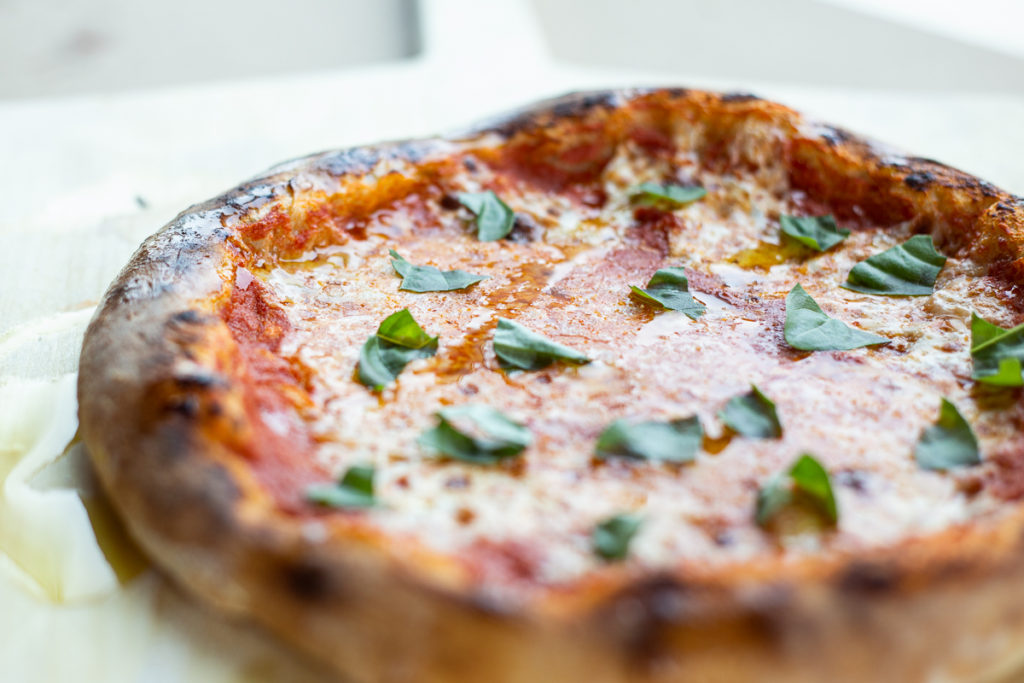 Print Recipe
Classic Neapolitan Pizza Crust
Ingredients
650 grams ice water
2 grams yeast
200 grams sourdough starter**
1000 grams 00 flour (Use Double Zero "00" flour. It creates the lightest dough possible!)
25 grams salt
Instructions
1

In a large metal bowl or mixer, combine water, yeast, sourdough starter and flour.

2

Knead together on low speed in mixer for 10 minutes or knead by hand for about 15 minutes. Add in salt and combine until the dough starts to hold together and form a smooth ball.

4

Portion into 240g portions, and form into round balls. Place on a very lightly oiled baking sheet.

5

Cover and proof for 20 minutes. Either bake now, or refrigerate the dough at this point. We find that for the best taste and texture you should make the dough 2-3 days ahead of time and refrigerate.

6

When ready to bake, preheat kitchen oven to 500°F with pizza stone or steel inside or pizza oven to 700°F. Once the oven is preheated switch to broil. Once the pizza oven is preheated lower the temperature to 700°F.

7

Flour counter with 00 flour and form pizza crust. Use hands to press the middle of the crust, being careful not to press on the outside edge. Once flattened, lift the crust onto one fist (gently holding around the edge, but not pressing on it). Then rotate the pizza around your fist to gently stretch the dough without crushing it. This is the best way to get those hard-earned bubbles.

8

Keeping the bottom on the bottom and the top on the top, put the dough back own and cover with toppings.

9

Use a pizza peel to transfer the dough onto the stone or steel.

10

Continue to cook and rotate the pizza until edges are browned and crispy.

11

Remove from oven with pizza peel and enjoy!
Notes
*** Don't have a sourdough start on hand? Use 2 more grams of instant yeast to get the rise you need. The flavor will be a little different, but you'll still get a great texture. Make one pizza, assemble and bake before starting the next pizza. These cook so quickly, you want to just focus on one at a time. Also, if you put the sauce on the crust too quick, it seeps through the thin crust, making it super hard to get on and off the pizza peel. Tricks for forming pizza crust, use your hands and press on the middle of the crust, being careful not to press the outside edge, to create a round crust. Once flattened, lift crust with one fist, gently holding around the edge, but not pressing it, and rotate the pizza around your fist. This will help stretch the dough without crushing it, leaving those hard-earned bubbles!
We love keeping our Neapolitan pizza simple. This means every ingredient on the pizza needs to be the best possible!
Once your Neapolitan pizza crust is shaped and ready to top, start with fresh tomato sauce. Brandon shared with us his simple, three-ingredient sauce that requires no cooking, stewing, or warming. And then work fast, because once the sauce is in place, you have about 60 seconds to get that pizza in the oven before the crust starts to absorb the sauce and start sticking.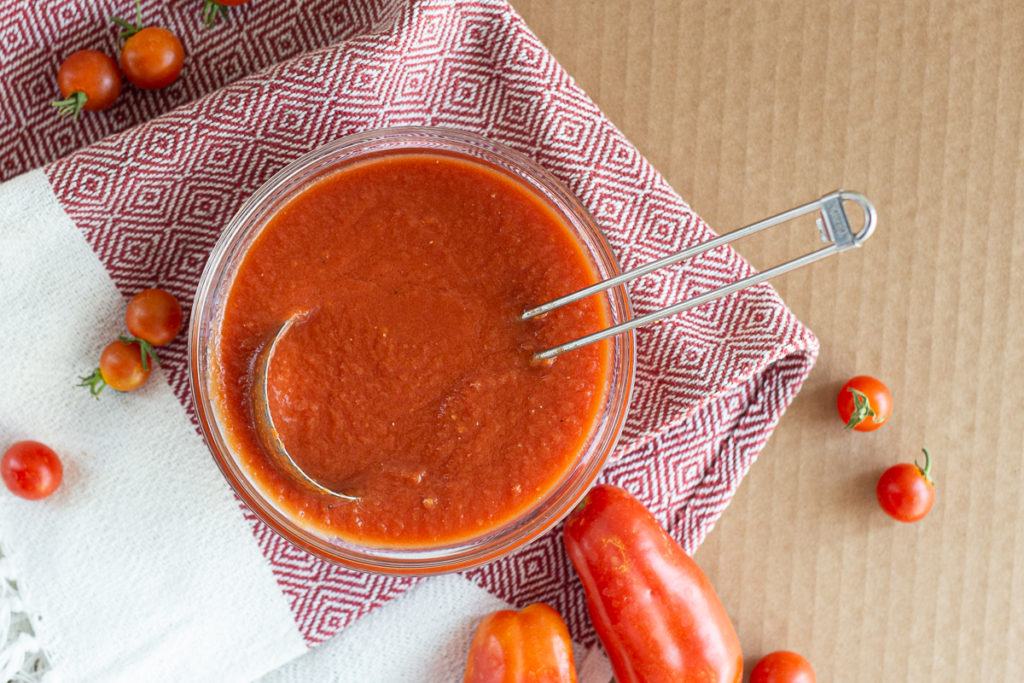 Sprinkle on some fresh mozzarella, and a few pieces of fresh basil and if you're feeling extra, add a little swirl of olive oil on top. A dusting of kosher salt, and you're ready to go!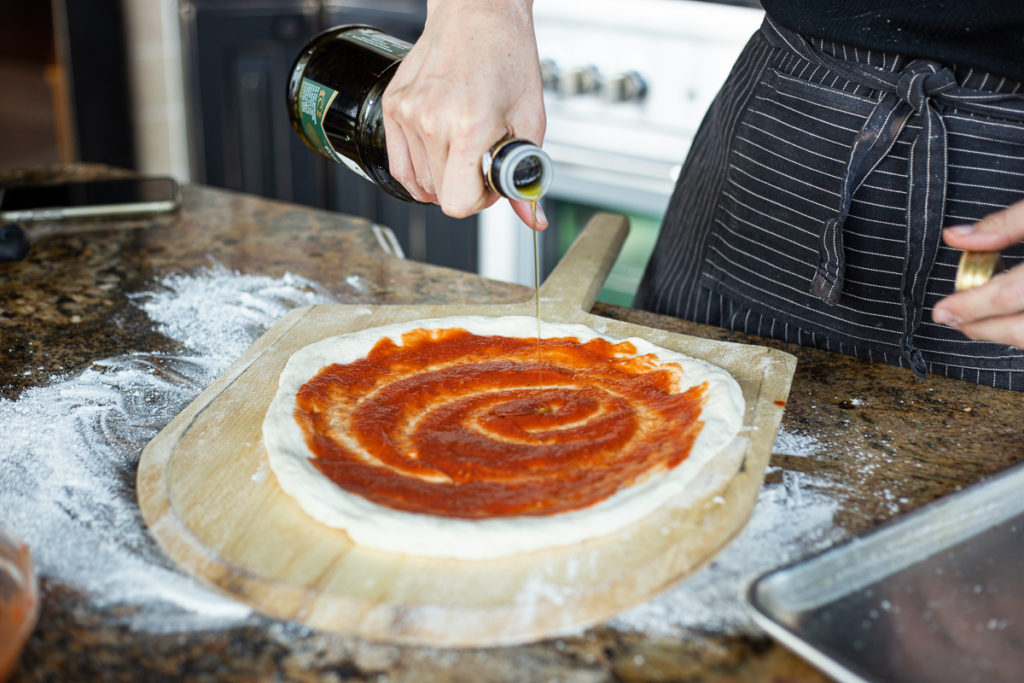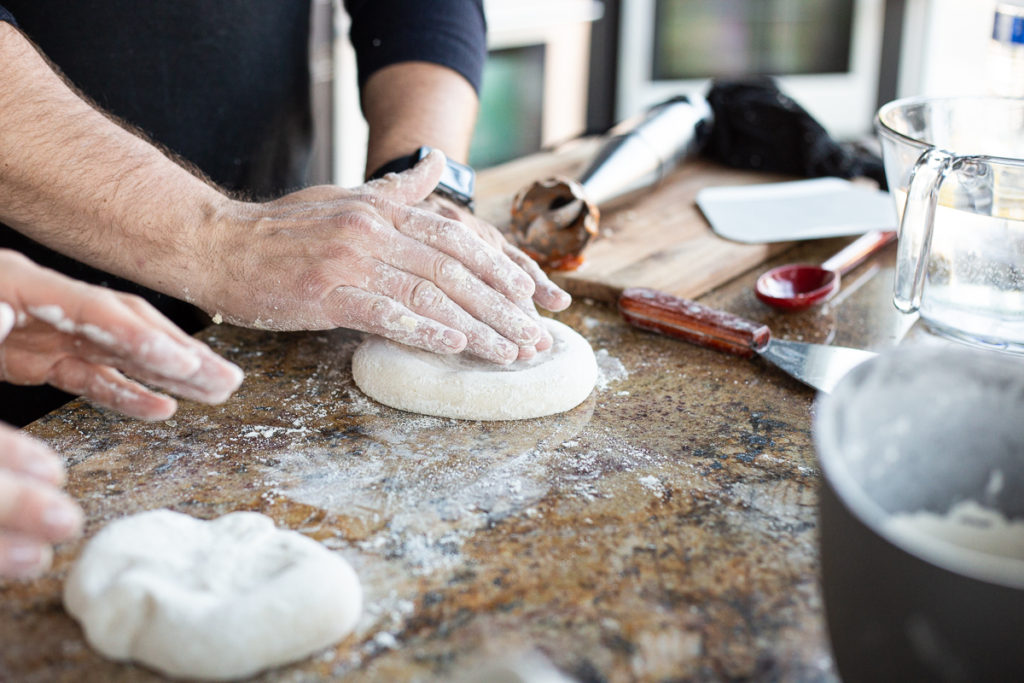 Tips for success when making your own Neapolitan pizza:
Make sure you have the right equipment. You'll need a food scale, a pizza peel, and a pizza stone at minimum.
Don't swap the 00 flour for all-purpose flour, bread flour, etc. This recipe calls for the exact type of flour they use in Italy for Neapolitan pizza crust– known as doppio zero flour or "double zero flour". This finely ground flour will help you achieve that iconic delicate and chewy crust. The good news is: we just started carrying it, and we were thrilled to find a mill here in Utah to supply this specific flour. Don't skimp and use all-purpose, it just won't be the same!
Make sure that your pizza peel is dry and generously floured before you lay down the dough on the counter and assemble each pizza. Just make one at a time, so the sauce doesn't seep through the dough, making it super tricky to slide the peel underneath it.
Keep it simple on your first try. Sure, we love getting creative with toppings (that corn, parmesan, shishito pepper, and Kewpie mayo one!!!), but if it's your first time making homemade pizza, stick with the original recipe and at most add salami to a pie or two. The process of assembling each pizza and baking is a fast one, but the more you practice, the more you'll get the hang of it.
Guess what! You can make Neapolitan pizza with Chef Brandon. For real. Here's how:
Start on his Instagram, it's full of tips and great ideas for the best pizza (and so many other delicious foods!)
Watch the Instagram Live video we did together. We seriously geeked out with the knowledge of flour, olive oil, Neapolitan traditions, respecting the cornicione, and all the foodie fun we could imagine.
Catch one of his in-person classes, coming soon to Gygi Cooking Classes! Check out the class calendar here.
---
To learn more about some of our other favorite styles of pizza, and tips for making them at home read the GYGI GUIDE TO PIZZA.