Just hearing the words "Pizza Night" brings happy feelings and weekend vibes. But why is that? Was Pizza Friday a thing for you growing up? Or maybe it still is. Lucky you! We certainly feel a draw to the joy that pizza elicits and highly recommend adding it to your weekly meal rotation. That gets us thinking though, what makes a good pizza night?
Now, we aren't picky. But the one thing pizza night should definitely include is pizza. Some weeks we venture out to a local pizza place and try something new. Or at the end of a long day it feels good to say, "Hey, let's order a pizza." As the longest standing food delivery service, pizza delivery has been around for centuries! So you can't go wrong with a classic. Get the good stuff ordered in, and keep the kitchen sink clean for at least one meal.
The other alternative is to make your own pizza. Mmmmmm. With a homemade crust, your choice of sauce, a simple sprinkle of fresh cheese or a big pile of toppings, the whole thing is fully customizable. Which means every consumer ends up with a pizza they love. Creating delicious pizza at home couldn't be tastier. We are not strangers to the hurdles that can pop up when it comes to deciding all the different components. So we've broken down each part of the pizza so you can create with confidence!
The other part of pizza night includes the people. Who do you share your pizza with? Sometimes the best person to share with is yourself! Or you might invite over a group of friends and all whip up your own creations. Ages one to 101. They all love the fun of pizza night. So gather up a few new recipes and ideas, call together your people and let's bring pizza night back to the menu!
It starts with the crust…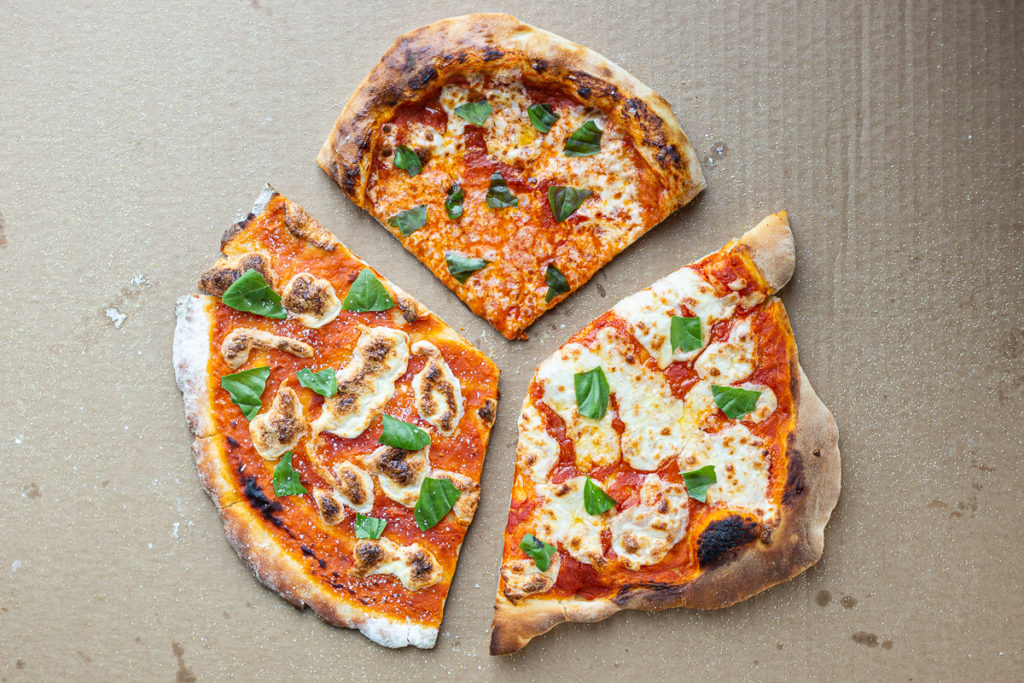 Thin. Thick. Chewy. Crispy. Dense. Light. Flavorful. Wood fired. Deep dish. And on and on and on. For every person in the world, there is a different preference for pizza- and it all starts with the crust!
Having a few homemade crust options at the ready, you can make just about any style of pizza with just a little bit of prep time.
There are times where we love the multi-step process of making homemade sourdough crust, and there are other days where we need a quick and easy crust that comes together in minutes. No matter how busy your day is, homemade pizza is never out of reach.
After making, cooking, and tasting multiple different pizza crust recipes, we have narrowed it down to three of our favorite, most-reliable crust recipes that we think belong in each kitchen. Each of these crusts can be used in multiple ways to achieve the yummiest homemade pizza you've ever made. Follow along with us as we talk about pizza and show you just how versatile homemade pizza can be!
The Pizza Crust Awards
Testing pizza crust is a job we could do every week! For this test, we whipped up a batch of each of the types of crust, kept the toppings simple (homemade tomato sauce, fresh mozzarella, drizzle of olive oil and fresh basil), baked them in the same oven, on the same preheated pizza stone and ate and ate and ate.
While the results were all tasty, we did notice some fun differences in each of the crusts that made them all nice to have in your recipe box. In true Gen Z style, we are going to give each of the pizza crusts an award for their participation:
Because it doesn't require any rise or proof time, you can quickly whip this up with some basic essentials. We love a recipe where you can dream about pizza, and be eating it 30 minutes later, this is that recipe for you! It also has a sturdy crust, so load this one full of toppings and it's strong enough to hold its shape.
Due to the time it takes to proof and rise this dough, you definitely develop a strong and satisfying flavor. The texture was also incredibly chewy and delicious. If you love the flavor of a fine dough, this recipe is worth the time and effort. It does not disappoint.
This crust is the classic, all-around favorite because it has that traditional soft texture, but more of the developed bread-like flavor. You can roll it out thin, for a crispier texture. Or if you like a fluffier crust, keep it thick and bake it longer. It only requires one hour to rise, so it is the perfect blend of homemade, quick and tasty.
Best Crust for Beginners: Store-Bought Dough
If you've never made pizza before, and might be intimidated by the thought of all the steps, go for the pre-made, store bought dough. You still get the satisfaction of creating in your own kitchen, but it will help eliminate the stress of trying it all from scratch on your first trt. We love the convenience mixed with customization of buying your dough all ready to bake at home.
Time for the Toppings…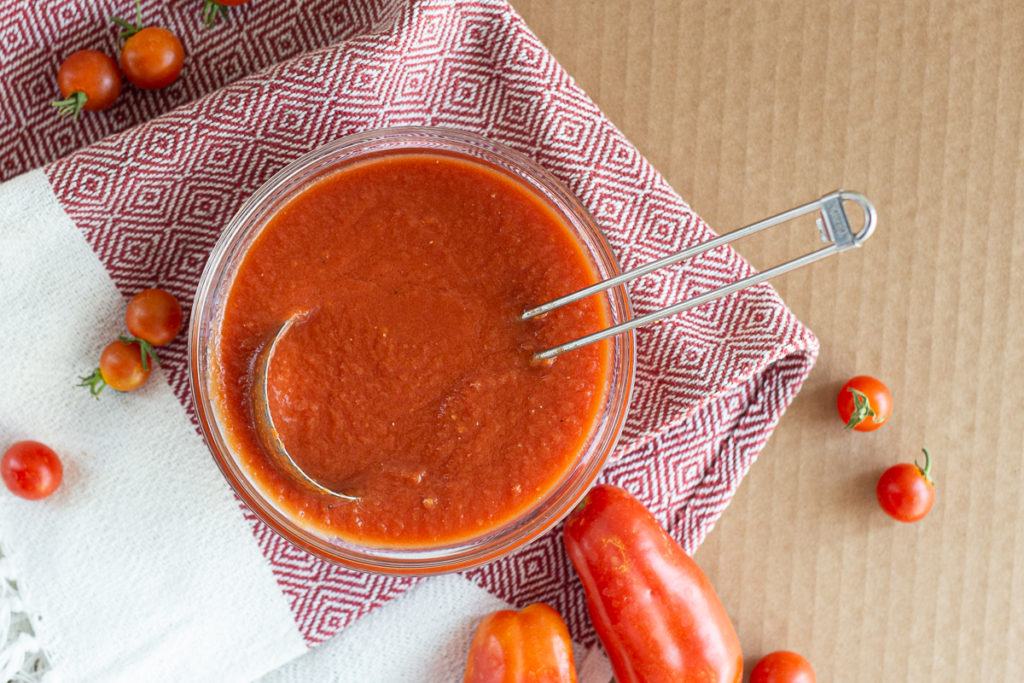 Our philosophy is to keep the sauce simple. It should enhance and support all the flavors on the pizza, not overshadow with overly flavored red sauce (unless that is your thing, then GO FOR IT!)
We love this straightforward tomato sauce recipe . This recipe is so easy. Which means there's no reason to use a store bought pizza sauce ever again. Our friend Chef Brandon shared this genius with us, and we are forever changed. The moment he blended it all up in a 32 oz deli container, we knew he was our kind of person! Keep a batch of this tasty sauce in the fridge and you'll be ready for pizza night every night.
If you need a thicker style sauce (for, like, the Detroit or Chicago style pizzas) you can simply reduce this sauce on the stove top until thickened.
Cheese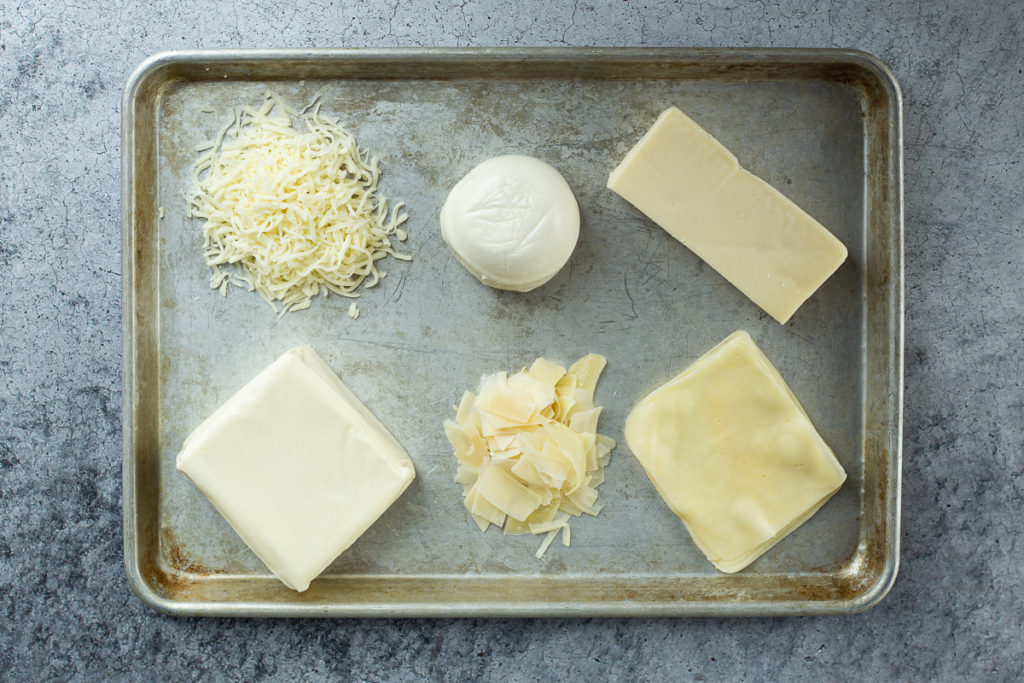 So you've selected your crust, topped it with Brandon's perfectly Simple Sauce, now let's take a second to talk about cheese. When it comes to selecting a cheese for your pizza, the classic choice would be mozzarella. Cheddar, parmesan or provolone cheeses are often added as an accent flavor but a mozzarella cheese base will always be the original. We highly suggest buying full-fat mozzarella for full flavor. Buying cheese in block form and grating it at home will ensure amazing flavor, perfect melting texture, and a better overall result. Pre-shredded cheese comes coated in an anti-caking agent that can affect flavor and texture when melted. So next time you're shopping for cheese for your pizza, grab a ball of fresh mozzarella or a block of full-fat low-moisture cheese from the grocery aisle or deli counter and grate it yourself. Your taste buds will thank you!
Pepperoni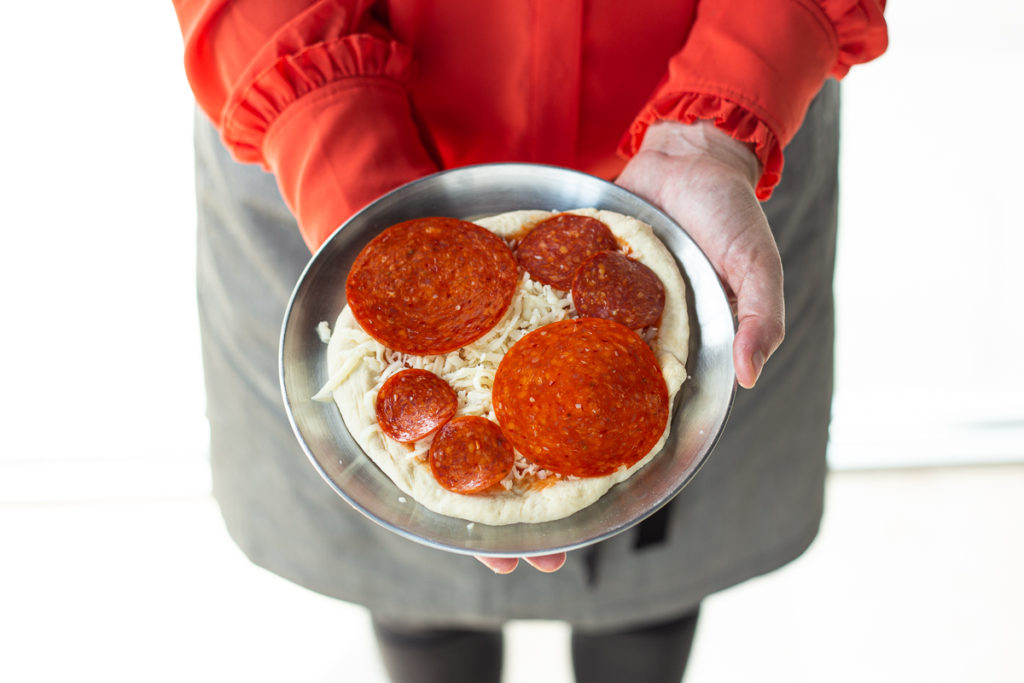 While you can definitely eat a pizza without pepperoni, we try to add it as often as we can. It's just so tasty. So does the type of pepperoni you use matter? We think so! We found that a blend of pork and beef resulted in the best flavor and texture on homemade pizza. We also found that the thickness of the pepperoni makes a huge difference in the way that it bakes, which in turn affects the final bite. We baked a thick and thin slice of both one inch and two inch pepperoni and found that thinly sliced pepperoni sunk perfectly into the melted cheese and left a flat layer of toppings. The thicker sliced pepperoni curled into little bowls that held their own fat. The thicker pepperoni did affect the bite, texture and flavor. So if a strong pepperoni flavor is what you're searching for, opt for the thicker slice. If you prefer a subtle hint of pepperoni, we'd suggest a thinner slice.
Styles of Pizza
It's so fun to see how one slight change in a baking surface can drastically affect the outcome of your pizza. From pans to stones to screens, is it really necessary to have one of each? And to that we say, it depends! Pizza is a passionate and personal topic, everyone's preferences are a little different. So let's talk through what you can expect when using each type of pan and then you can decide for yourself which option can best create your perfect pizza.
A pizza stone can be a game changer when it comes to making pizzas at home. A stone is the easiest way to turn your conventional oven (or even your grill) into the perfect environment for making pizza. A traditional oven heats at a slower rate which often results in the toppings being burnt before the crust is cooked all the way through. A pizza stone eliminates that problem by creating a super hot heat source (most are safe up to 550 degrees) directly to the crust, this allows the crust to begin to cook quickly and evenly with the toppings. This technique does require you to preheat the stone but we promise it is worth the extra step!
Traditional pizza pans are ideal for use from countertop to oven. Roll out your dough and build your pizza right on the pan, then toss the entire tray into the oven. Pizza pans feature a thin, lightweight aluminum construction that allows for the crust to cook quickly and evenly while the cheese on top melts at a perfect speed.
A pizza screen features a perforated bottom that allows for direct heat and increased airflow right to the crust. If you like a thin, crispy pizza crust then this might just be the pan for you! Pizza screens are great as they provide stability to the pizza crust making it easier to move to and from the oven.
Deep dish pizza pans are another fun option to have in your kitchen. Craving an authentic Chicago deep dish pizza but can't afford a weekend trip or the cost of having a pizza shipped to your house? With a deep dish pan, you can make this style of pizza right at home! This pan allows for the pizza crust to round up the sides, is sturdy enough to handle all the toppings you could desire, and will bake evenly for a perfect result every time.
Another fun pan option for making pizza at home is your traditional baking sheet. It feels a little out of the box to think about pizza being cooked and served in a rectangular pan, but it's still just as delicious! Using a baking sheet or 9 x 13 baking pan allows for a pillow-y soft crust and lots of toppings. You may need to parbake the crust a bit to ensure that the dough is cooked through, so read through your recipe beforehand.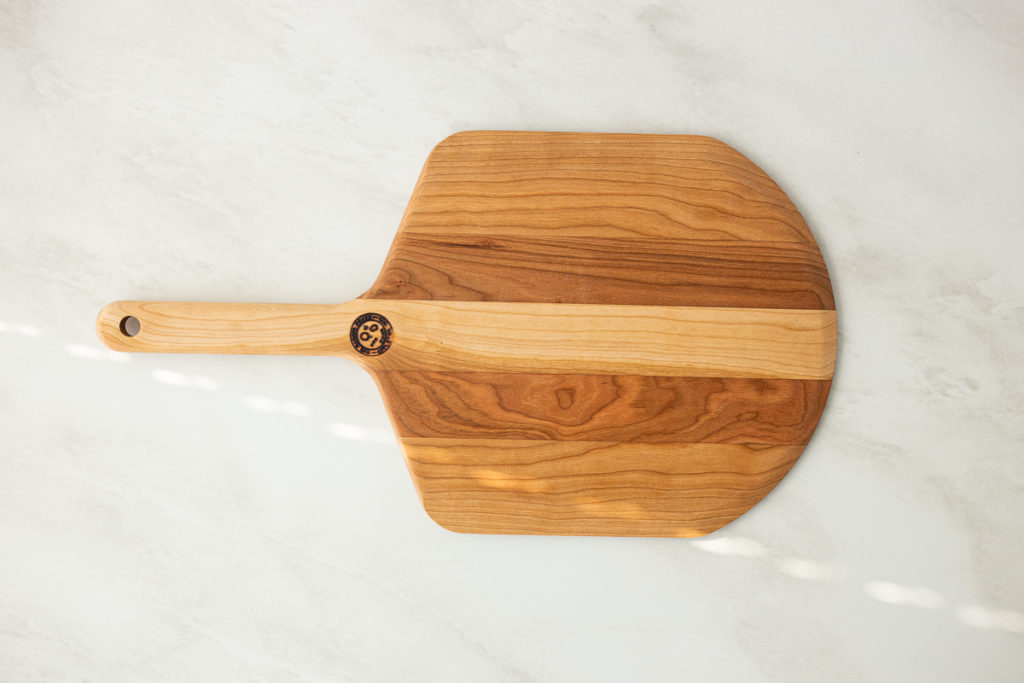 A pizza peel can be the perfect companion to your home pizza making goals, especially if baking on a pizza stone. Simply toss a bit of cornmeal on the pizza peel, roll out your dough and build your pizza. Then simply slide the unbaked pizza right onto the preheated stone. Using a peel allows for easy transfer from countertop to oven while keeping your hands away from the heat. Cornmeal will be your best friend as it helps to keep the crust from sticking to the peel. Once baked, gently slide your pizza back onto your peel and get ready to eat.
Another tool that some pizza enthusiasts cannot live without is a dough docker. While it resembles something similar to a torture device or backscratcher, it can be extremely helpful when making doughs. A dough docker is used to create perforations in the rolled dough that prevent the dough from inflating while baking. For certain styles of pizza, such as New York style, a level crust is a benchmark feature and using a docker will help to ensure that your final product is pizza perfection!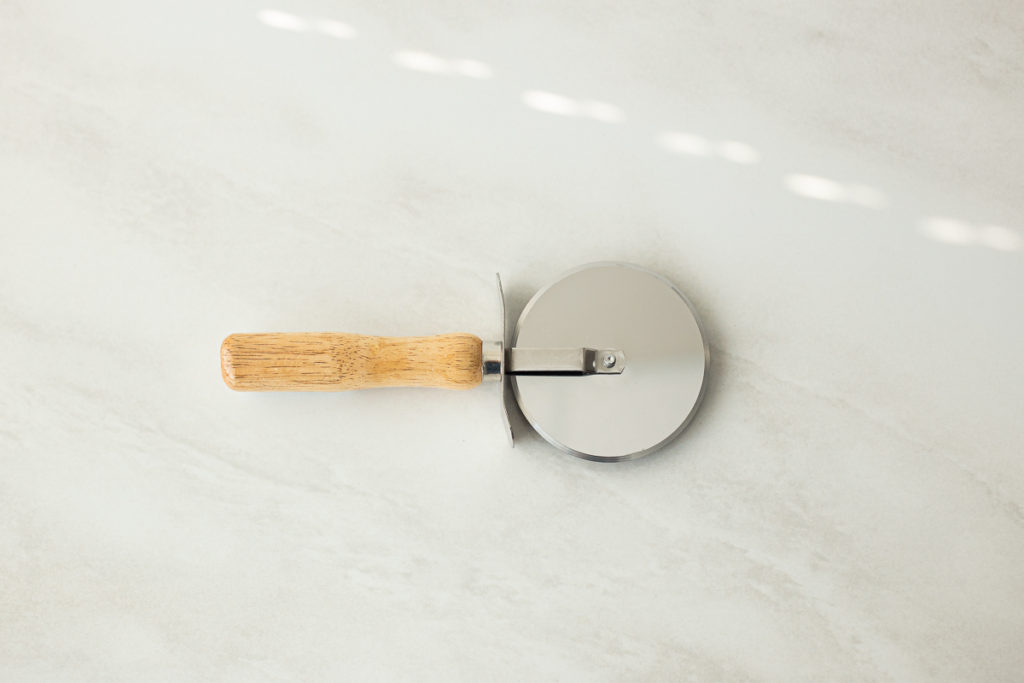 There is nothing better than removing a perfectly baked pizza from the oven, slicing, and sharing it with loved ones. When it comes to a pizza slicer, we have two favorite options. Of course, there is the traditional pizza slicer, which is a kitchen staple. Or, you can opt for a rocker pizza slicer. We love this option for slicing thicker styles of pizza, such as a Detroit Style.
---
Now, go make some pizza!! Gather in the troops. Or turn on Netflix and veg. Pizza night brings with it the good feelings we are all craving with our food. We love a pizza night with kids or friends, everyone can add toppings they love, and enjoy being together. And isn't that what good food is all about?