Who has been hiding Detroit Style pizza all to themselves??? We have been knee deep in crusts, cheeses, and pepperoni- all while SOMEONE OUT THERE has been quietly (or crunchingly) been enjoying the deliciousness that comes from Detroit style pizza.
Square pans, cheese crispy edges, lots of delicious cheese, and cupping pepperoni. CUPPING PEPPERONI that catches that extra flavor (aka grease) that makes this pizza amazing- please don't bring your grease tapping napkins to this party. The combo of all the ingredients makes this a serious party in your mouth!
This recipe makes enough to fill a 9×13 pan. We recommend using a dark pan, as that will help result in a darker, crispier crust. But you can use a lighter aluminum pan, you might just want to bake it a little bit longer!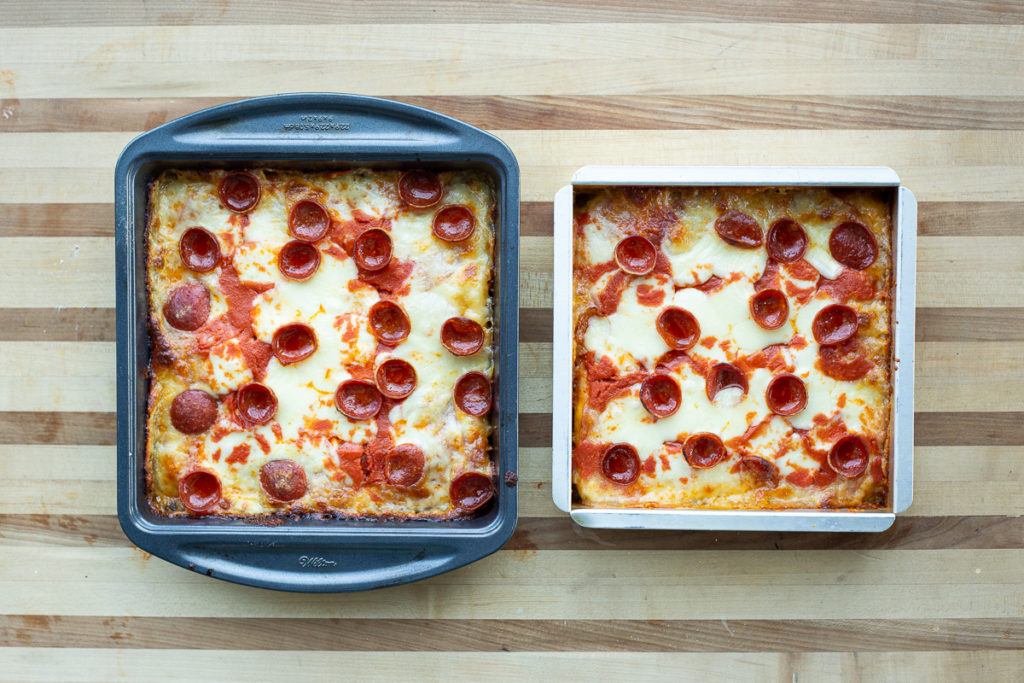 The other trick we HIGHLY recommend, is to make sure your cheese is spread all the way to the edges, that will help you achieve the crispy, crackly crust and edges that make the Detroit pizza so iconic and tasty! To read more about the classic pizza toppings: cheese, pepperoni and sauce- check out this blog post!
Also, be sure to use a nice, thick pizza sauce (we love this one, but you'd need to reduce it on the stove top until it thickens!)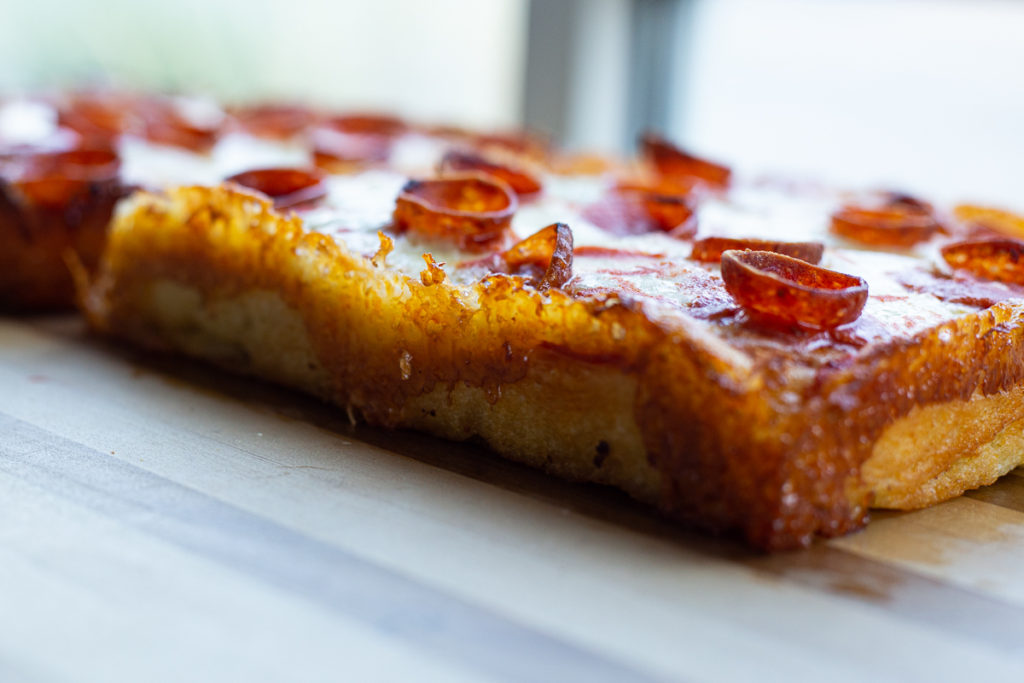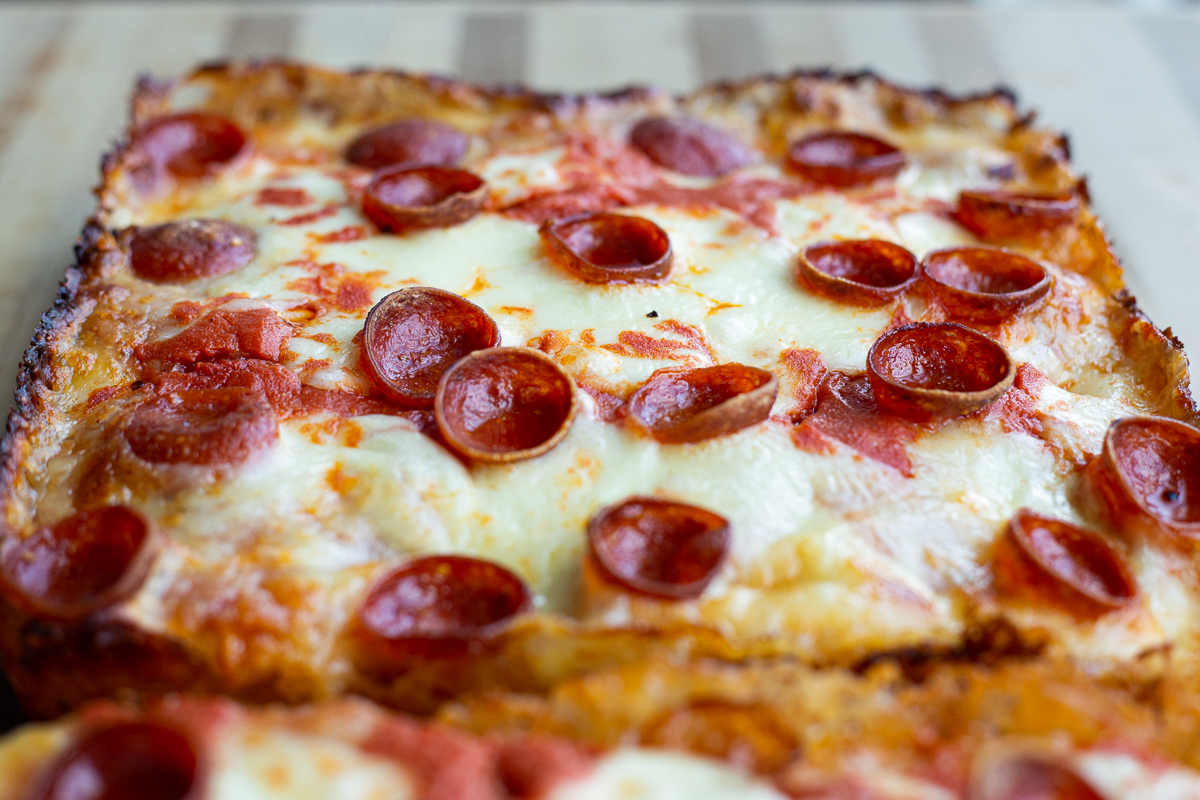 Print Recipe
Ingredients
¼ cup warm water 105-115°
1 tsp sugar
2 ¼ tsp active dry yeast
1 Tbsp olive oil
3-4 cups all-purpose flour
1 tsp kosher salt
1 1/2 cups warm water, reserve 1/4 cup.
Corn meal, optional
Thick Marinara Sauce
Large Pepperoni
Small "Cupping" Pepperoni
Cubed and Shredded Low-Moisture Mozzarella Cheese
Instructions
1

Combine ¼ cup warm water, sugar and yeast in a small bowl. Mix with a spoon. Let sit until foamy 4 to 5 min. Add olive oil.

2

In a large bowl add the flour and salt. Make a well. Stir in the yeast mixture and 1 1/4 cup warm water. Use your hands if you want to. When you can't stir anymore and the dough is thick, yet sticky, bring it together with your hands and put out on a lightly floured counter or a breadboard and knead with your hands for 5 to 7 min., then knead in final 1/4 cup of water. The dough will be sticky and loose.

3

Oil a large bowl with a little olive oil. Place dough in a bowl smooth side down, then turn the dough over and cover with a wet dish towel or oiled plastic wrap. Let rise until doubled in bulk. (About 1 hour).

4

Preheat oven to 375 degress.

5

Grease a dark 9x13 pan with a generous amount of olive oil or butter. Pour the dough into the pan, and let it loosely fill the pan. Use your fingers to press into the pan, poking holes (like focaccia). If you like using cornmeal, sprinkle some over the top at this point.

6

Bake at 375 for 10 minutes. Take out of the oven and cover first with large pepperoni. The cover with cubes of low-moisture mozzarella, being sure to spread them to the edges so you get a crispy crust. Then spoon two or three long lines of marinara sacuce in down the length of the pizza. Cover with more shredded cheese, and the smaller cupping pepperoni.

7

Bake for another 15-20 minutes until the cheese is bubbly and melted.

8

Run a knife around the edge of the pizza to remove from the pan, and cut into squares.
When it's all done, remove from the pan, and cut into squares. Enjoy!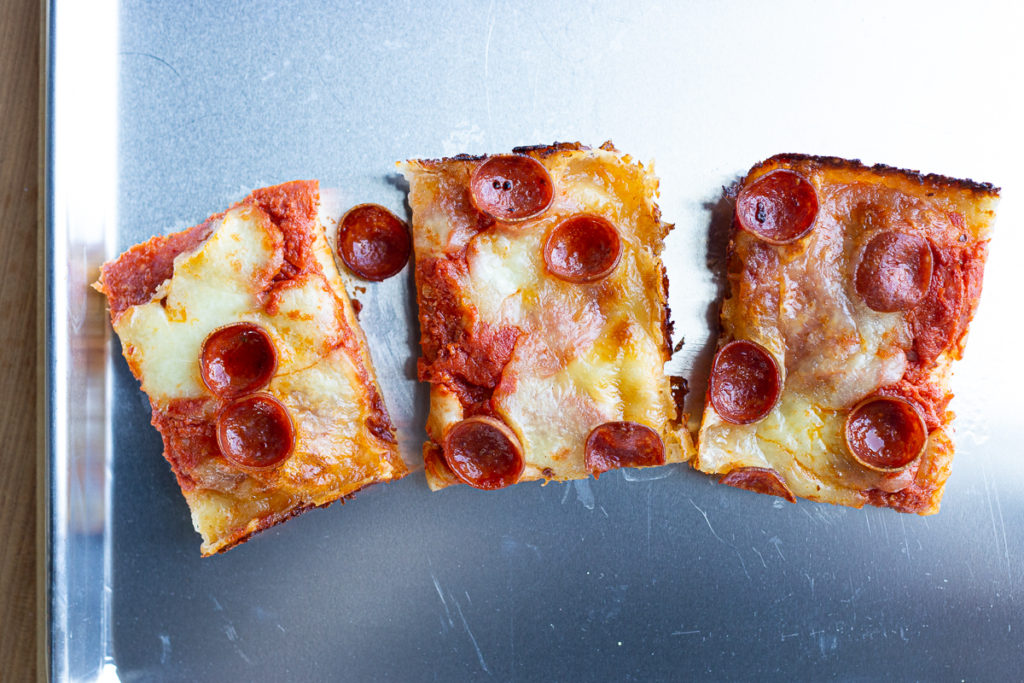 ---
For all our best tips and other favorite pizza recipes, check out the GYGI GUIDE TO PIZZA!