Ever wonder about why we call a pizza a pie?? We have the answer today! Check out the Chicago Style pizza.
Coming in with its 1 1/2″ tall sides of crust mixed with multiple layers of cheese, sausage, and a hearty sauce- you'll be amazed as you pull this baked beauty out of your oven!
Have your knife and fork ?ready as this is one you'll eat with utensils off your plate! It's a heavy and hearty pizza!
We tried two different crusts to achieve this pizza. First, we used out two-ingredient crust, which is a more sturdy crust, we loved how it could stand up against all that sauce and cheese. It definitely didn't get soggy, and had a great texture when baked. We recommend not rolling it very thin to acheive that classic thick crust.
Second, we tried using The Food Nanny Tuscan Sun pizza crust, it is a more traditional yeast crust, and rose nicely to give us that texture we were after. But it does take a little more time to make (one hour of rise time) and definitely needs to be eaten with a fork and knife!
Start by using a deep dish pizza pan, and coat it in a generous amount of oil or butter, this helps to crisp up the crust!
Lay the dough in the pan, leaving a skirt around the edge, we'll fold that in once we've added all our toppings.
Place thin slices of provolone cheese around the edges and bottom, this saves the crust from getting too soggy.
Next, sprinkle freshly grated whole milk mozzarella. Don't be stingy on the cheese!
Break up 1 lb raw sausage into chunks and place directly on the cheese. Add in some pepperoni here, too, the more the merrier.
Use a thick and rich marinara and ladle it over the pizza. If there's too much moisture in the sauce, the pizza will turn out soggy, so if you're making a homemade sauce, reduce it down until it's good and thick. Sprinkle a little more cheese on top.
Bake at 425° F for 35-45 minutes.
For best results, allow the pizza to sit 20-25 minutes so it can set up and cut like a pie. This pizza is hearty, and fills you up quick!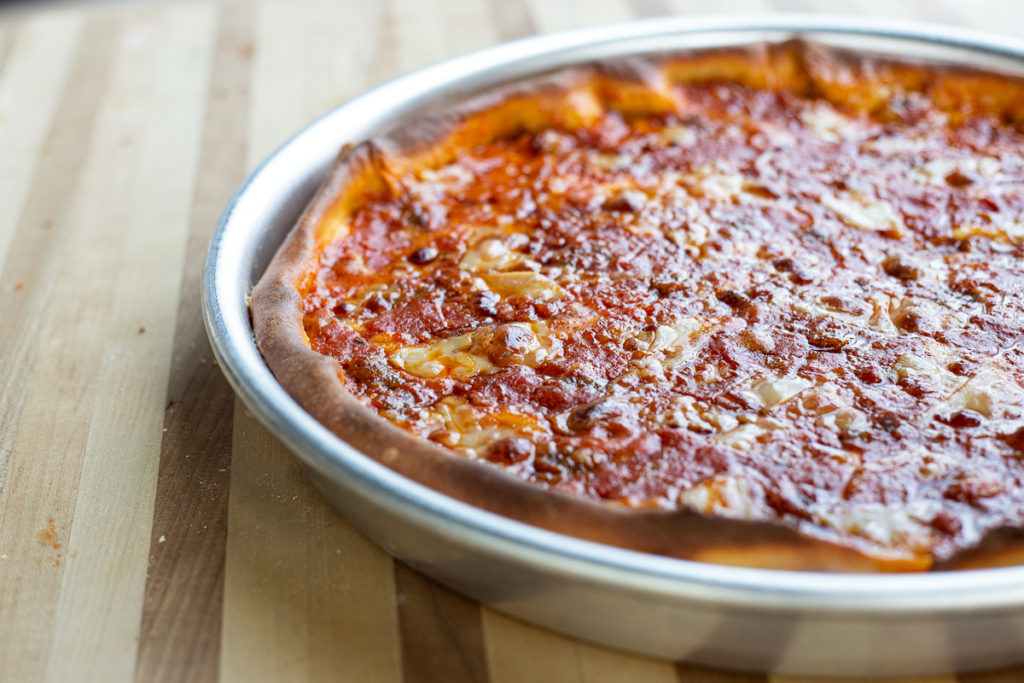 ---
For more of our favorite pizza recipes and tricks for making the perfect pizza at home, check out THE GYGI GUIDE TO PIZZA.