How to Make Chocolate Dessert Cups with Balloons
What you will need to make the chocolate cup:
What you will need to make the Easter treat:
-Finished chocolate cups
-Ice cream
-Peeps
-Jelly beans
First things first: Chocolate Cups
I started out with 5″ latex balloons. Blow them up, but not all of the way. Just about as big as you would like the chocolate cup to be. (I recommend using a pump to blow them up. You can do it yourself, but it does take a little more effort with smaller balloons… trust me!)
You will need 1 balloon per cup. So blow up as many balloons as you need cups.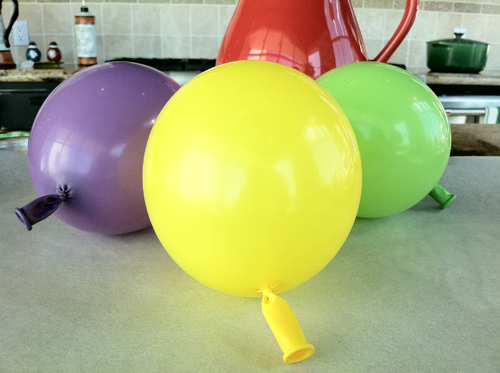 Melt your chocolate. If it's a couverture chocolate, use a tempering method. If it's a compound coating, use the 20 second rule.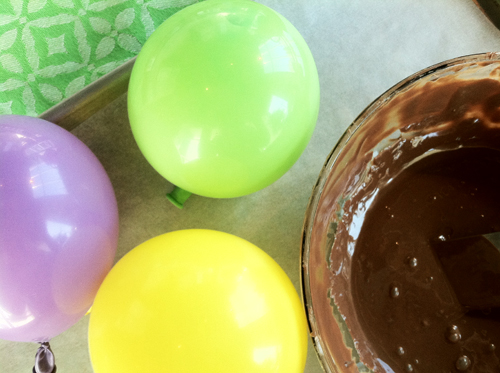 Dip the bottom of the balloon into the chocolate. Be sure you cover as much of the balloon as you need to. However high up the chocolate is on the balloon is how deep your cup will be.
When you balloon has been dipped, place it on a parchment-covered cookie sheet to let it set.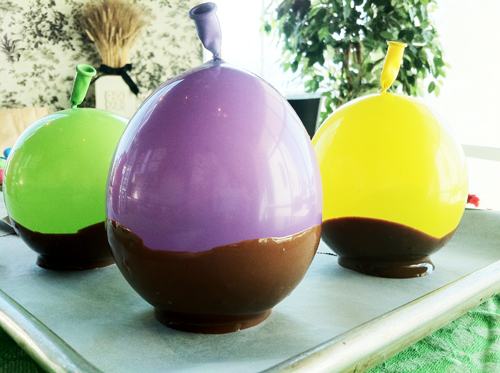 When your chocolate has completely set, pop the balloon. (Be sure that the chocolate has had time to set completely. If not, when you pop the balloon, it will collapse the sides of your chocolate cup).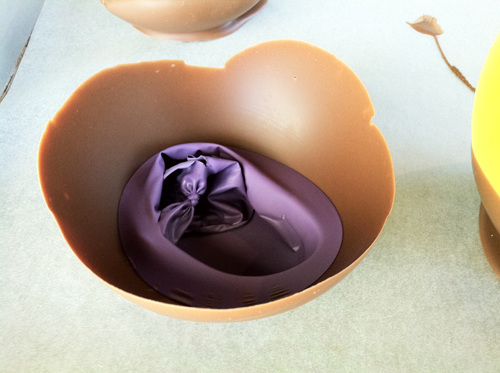 The balloon will peel right off of the chocolate if it has set up enough. And that's how you make a chocolate cup with a balloon.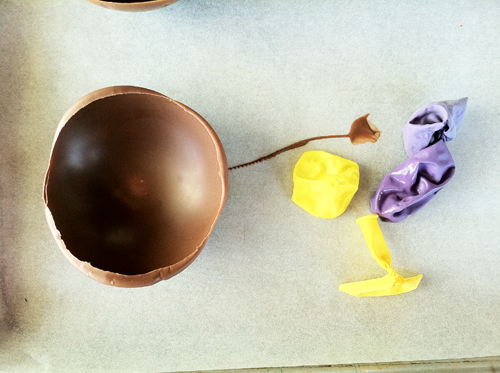 On to the Easter treat:
To make the Easter treat, I placed the chocolate cup on a nice platter.
Place a scoop of ice cream in each cup, cover with colored coconut, add a peep and some jelly beans…
And you have a super sugary-sweet Easter treat!