Some ingredients were just made to go together: peanut butter + chocolate. A food combo fit for heaven, we're just sure of it. Another thing that should go hand in hand: traditions + food. You know we love a good family tradition, especially one that revolves around food! This recipe and story is one we are honored to share, as we have loved Si Foster, from A Bountiful Kitchen, and her daughter, Brooke Eliason, from Female Foodie, for years. They encompass all that is good in the world, and we are honored to share this family recipe with all of you.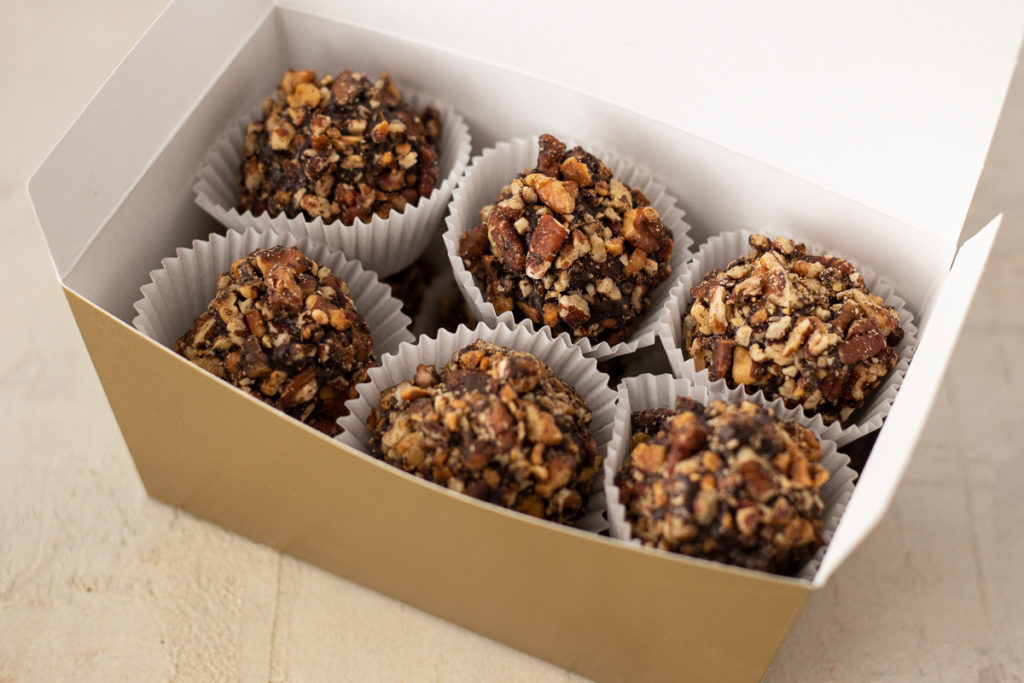 Combine the flavor of creamy peanut butter (think Buckeye Balls! Ever had those?), cover them completely with chocolate and roll them in nuts. They only take a few ingredients, have a long shelf-life and have been made for generations, so you know they withstand the test of time.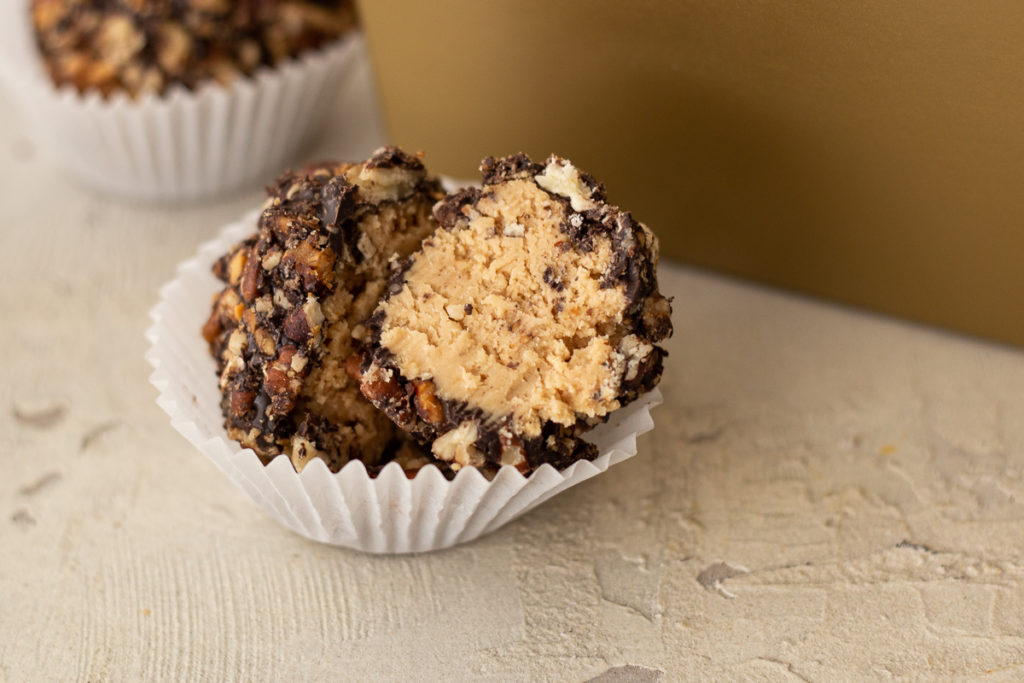 Here's just a snippet of the story behind these treats from Si's blog,
I was first introduced to Peanut Butter Balls in 1982. My mother in law and sister in law, Sheri volunteered to make treats for our wedding. For months we gathered together on Thursday nights, to roll Peanut Butter Balls. We would make, dip, roll and then freeze the ingredients into little balls of perfection while we watched Knots Landing (a night soap opera spin-off of Dallas). I went with my mother in law to purchase the ingredients for this treat to Orson Gygi, a kitchen specialty store off of 3300 South in SLC. I was first introduced to Gygi's by my mother in law, Doreen and was fascinated with everything Gygi's offered in one store. It was like heaven to me! So many types of chocolate, nuts, sprinkles, flavorings and kitchenware items galore all sold in bulk. Everything from baking pans to the little clear plastic plates we purchased for our reception were (and still are) available at family owned Orson Gygi. Gygi's is still my favorite stop for everything kitchen and cooking related in SLC. Oh, and how's this for coming full circle- I now teach cooking classes at Gygi's .

Si Foster, A Bountiful Kitchen
We loved knowing that we were part of this tasty family tradition, you can read more about the history in the Foster family here. It's a beautiful tribute to the power of making food that feels good.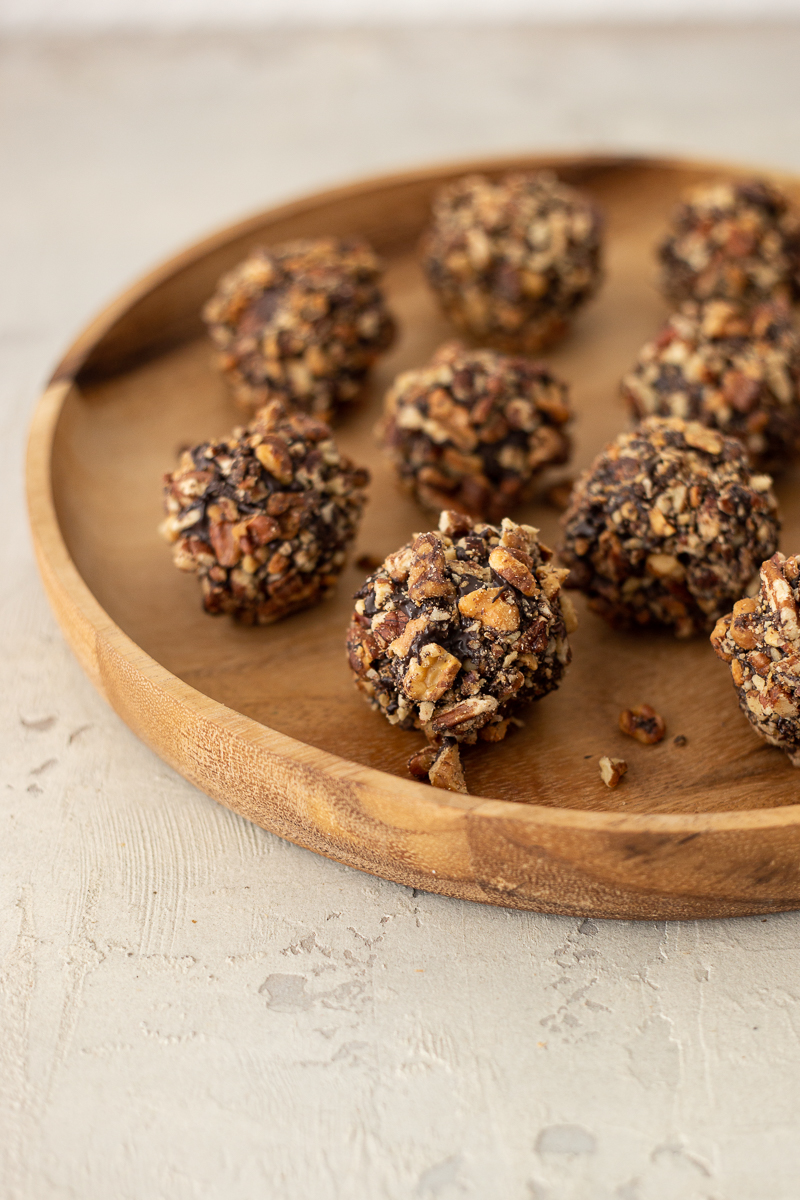 Print Recipe
Ingredients
2 cups chunky peanut butter
4-5 cups powdered sugar
12 tbsp butter, softened
2 lbs toasted pecans or walnuts
2-3 lbs dipping chocolate
Instructions
1

Mix the softened butter and peanut butter until blended and smooth. You can do this in a food processor, or with a hand held or stand mixer. Add powdered sugar, mix until the peanut butter mixture is dry enough to roll into balls without sticking. If using a stand mixer or food processor, pulse or turn off and on quickly a few times and then mix on low just until blended.

2

You may need to add more powdered sugar. Add a little at a time. These should be a little dryer than the consistency of chocolate chip cookies. If the mixture is too dry, add a little milk.

3

Roll into balls about 1" in diameter. Place on cookie sheet in a single layer, when the cookie sheet is full, place in the freezer or refrigerator until thoroughly chilled.

4

Spread half the nuts on a baking sheet, Place in preheated 350 degree oven for about 10 minutes. Remove and cool, coarsely chop half of the nuts by hand on a cutting board. Place in 9x13 pan. Put the rest of the nuts in a food processor or blender and chop fine. Mix with other hand chopped nuts. Set aside.

5

Place the chocolate in a glass bowl in the microwave or on the stove in a double boiler. Be careful not to burn the chocolate. In the microwave, melt at 30 second intervals. Remove and stir, heat just until the chocolate is melted.

7

Remove pb balls from refrigerator.

8

Dip into melted chocolate, then roll in nuts.

9

Place back on another cookie sheet or pan, and refrigerate.

10

After the chocolate is set, remove and store in Tupperware, Ziplock bags or other covered container. These keep well for a long time in the fridge or freezer.
Notes
I often skip toasting the nuts if I'm in a hurry, which is most years! The toasting of the nuts gives an extra crunch. Do not us natural peanut butter. I recommend Skippy or Jif crunchy peanut butter. You can purchase either dark or milk chocolate for this recipe. I prefer milk but occasionally make dark as well.
Here's a link to the chocolate we used.
We were thrilled when Brooke was willing to step in for Si, and teach us the family tradition of Peanut Butter Balls. (Si is living in Spain right now!)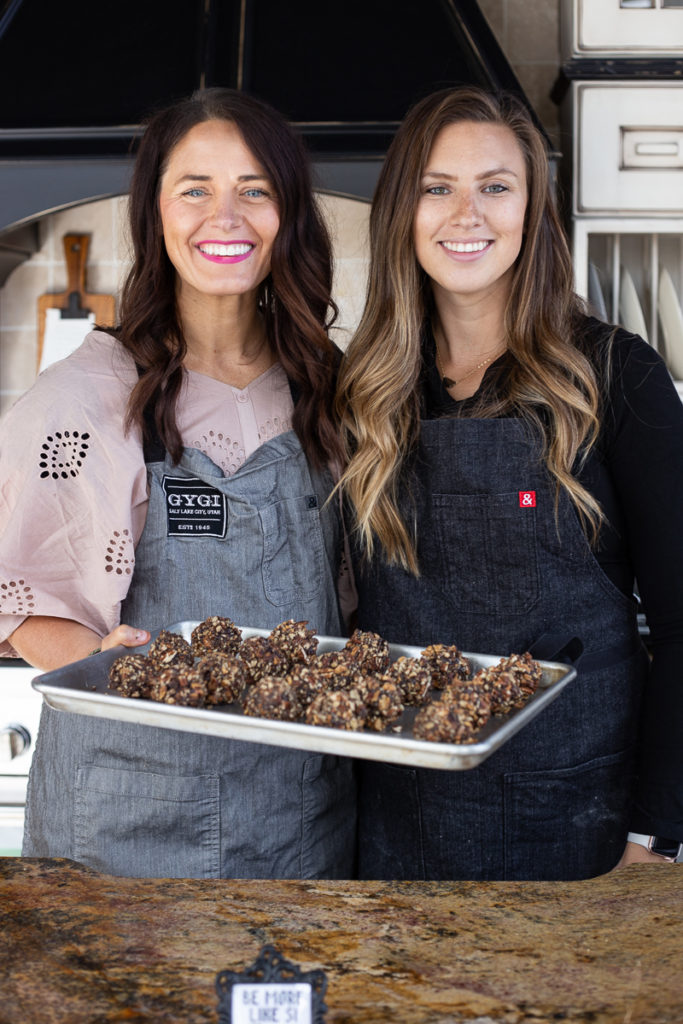 Check out this video, and join in with Brooke and Heather to see just how easy it is to whip up these delectable treats.
. . . . . . . . . . . . . . . . . . . . . . . . . . . . . . . . . . . . . . . . . . . . . . . . . . . . . . . . . . . . . . . . . . . . . . . . . . . . . . . . . . . . . . . . .

You can get more heart and soul food by checking out Si's blog, A Bountiful Kitchen.
And Brooke's got a great collection of food guides to help you find the best food around. And, of course, she shares some really delicious restaurant inspired recipes you'll be drooling over, she's found at Female Foodie.
Want to learn more about chocolate? Read our Chocolate 101 post.
This recipe is part of our Annual Gygi Chocolate Extravaganza. Check out all the classes (hands on, demo and virtual options!)