Monogrammed cookies make for beautiful wedding favors or a unique party treat. Use this guide all about how to monogram your own cookies for your next event.
What you'll need
Your favorite sugar cookie recipe (we recommend this one)
1 round cookie cutter (or shape of your choice)
PME #2 tip (border of cookie and border of monogram)
Wide mouth squeeze bottle (to flood the cookie)
Stencil (choose a font of your choice and print it out on a white sheet of paper)
3 cups of icing (Royal icing works best)
To begin, make your favorite sugar cookies. We love this recipe, but feel free to use your favorite. We chose to make our monogram cookies round, but you can use any shape you would like. As your cookies are cooling, make your royal icing and divide it between a piping bag and a squeeze bottle. Once the cookies are completely cooled you can begin to frost your cookies.
To start, use the #2 tip to outline a border around the perimeter of your cookie. Draw this border on all your cookies before flooding your cookie to allow it to dry a little. Next, use your squeeze bottle to flood your cookie. To flood your cookie, squeeze icing out onto the cookie in circles until the icing flows across the entire top of the cookie, staying contained by the border you created. Place your cookies aside and allow the icing to harden, this might take a couple hours.
Gygi Pro Tip: If your icing is too thick to flow across the cookie, use a stick, such as the boo boo stick to help spread the icing across evenly.
Next, you'll want to start on your monogrammed letters. Place your stencil under a sheet of parchment paper and outline the letter using the #2 tip. Fill in the letter using the #2 tip for precision. Fix any mistakes before the icing hardens. Sprinkle with the disco dust of your choice and allow the each monogram to harden completely before removing them from the parchment paper.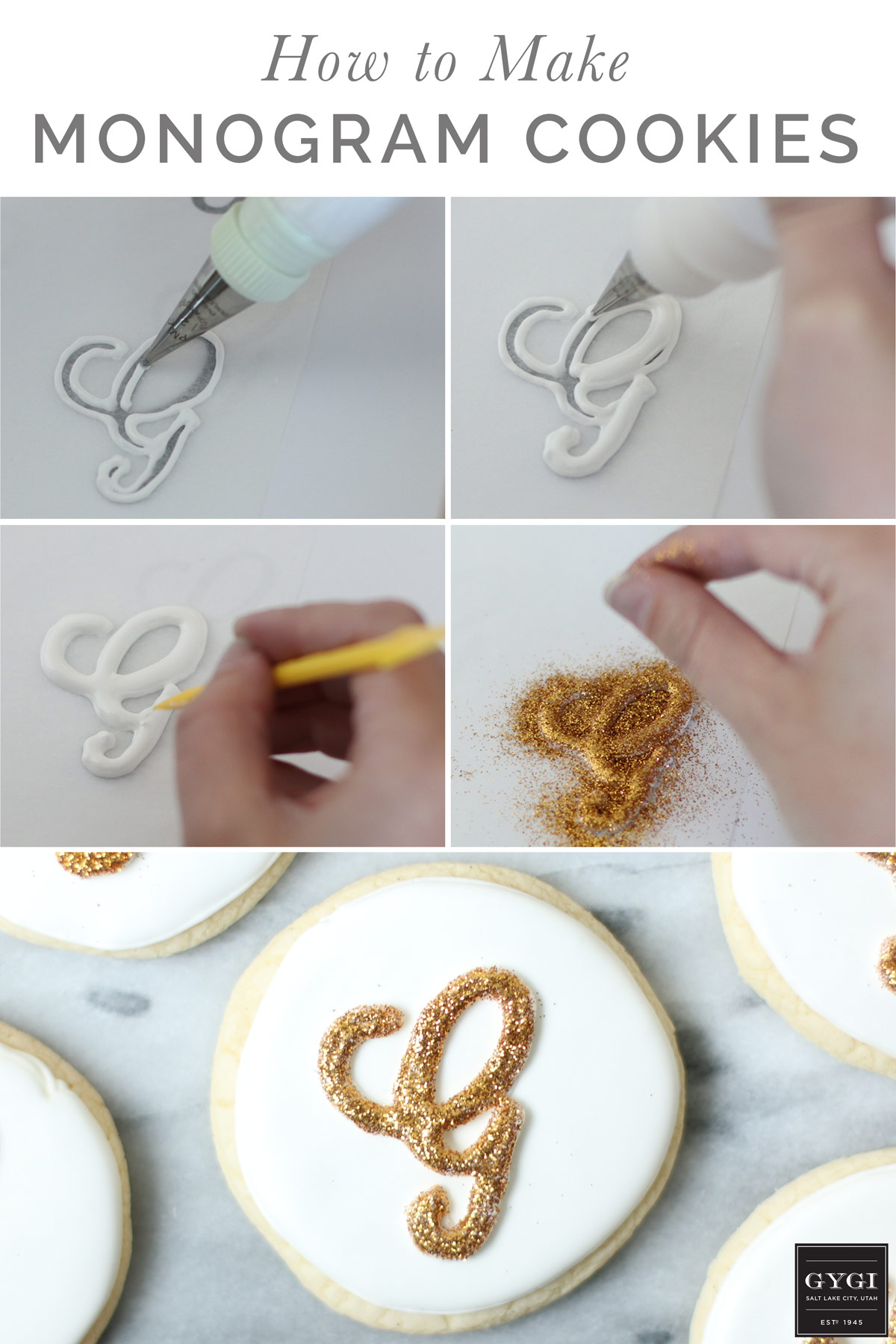 After the icing on the cookie and the monogram have hardened, carefully peel the letter off of the parchment paper and add a little icing to the back of the letter. The fresh icing will be the adhesive to seal the letter to the cookie.
You now have beautiful monogramed cookies to serve at any wedding, party, or event. Show us your monogramed cookies @Orsongygi.