There is nothing quite as tasty as a homemade cream puff. This easy recipe walks you through how to make cream puffs that are simply delicious and have that touch of homemade love to them.
What you'll need
1 cup water
1/2 cup butter (cut into pieces)
2 tablespoons granulated sugar
1 cup flour
4 eggs
1 teaspoon kosher salt
Makes about 16 cream puffs
Preheat the oven to 450 degrees fahrenheit. Place a saucepan over medium high heat and mix together water, butter, sugar, and salt. Mix until the butter is melted. Bring to a boil. Once boiling, reduce the heat to medium and add the flour all at once. Stir together. Continue to stir together until the batter begins to pull away from the edges. Remove from heat and place the batter into a bowl to mix with an electric mixer fitted with a paddle attachment. Allow the batter to cool for about 5 minutes before mixing. On a low-medium speed add the eggs one-at-a-time. Don't add another egg until the one before it is completely mixed in. When all the eggs are mixed in well the batter will begin to look smooth and glossy. Place the batter in a pastry bag, fitted with the #1A Wilton tip.
Line a baking sheet with parchment paper and begin to squeeze out your puffs. Hold the pastry bag over the parchment paper and squeeze out the batter until you have about a 2-inch round of batter. Release the pressure and pull the pastry bag straight up to create a deliciously round puff. Repeat this process until you have filled your baking sheet. Make sure the puffs are about 2 inches apart from each other.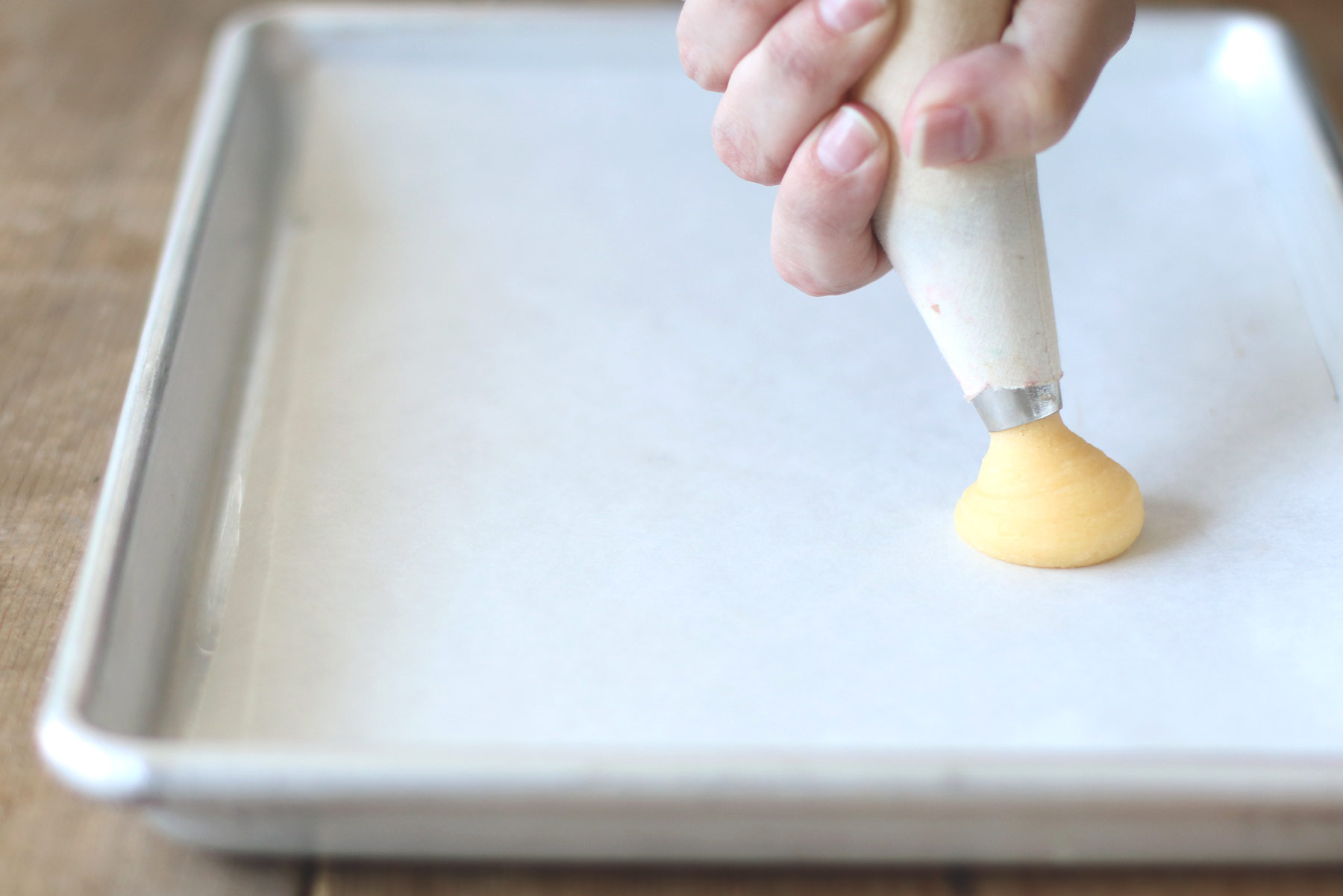 Each puff will have a little peak from the pastry bag. If you don't want this peak you can smooth your puff by using a wet finger tip.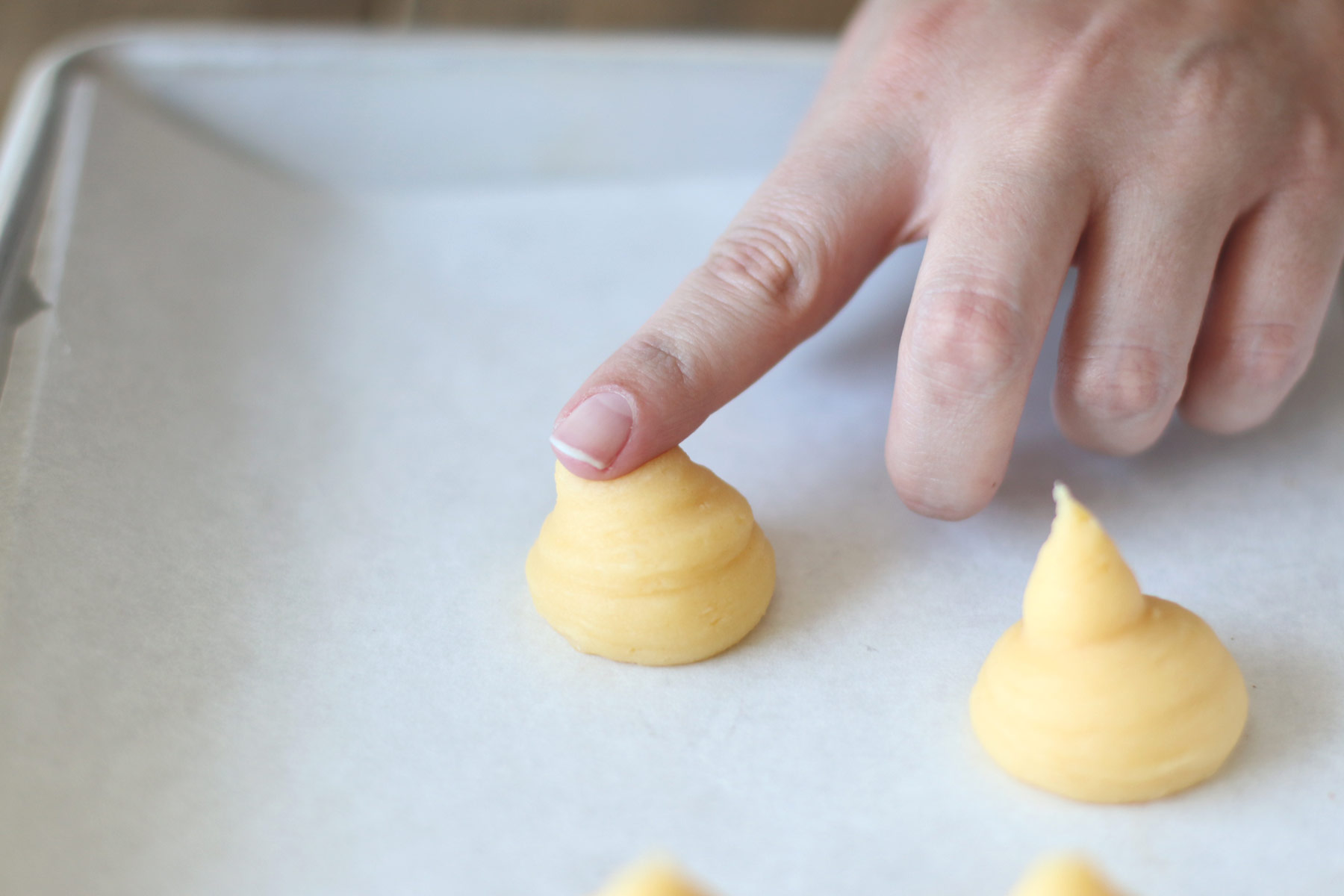 Bake for 10 minutes at 450 degrees Fahrenheit then drop the heat down to 350 degrees and bake for 13-15 minutes, or until the puffs are crisp and golden brown on the outside. Once the cream puffs are finished baking, place them on a cooling rack while you make your filling. We used Callebaut dark chocolate mousse mix for an easy, yet delicious, center. Place your mousse into a pastry bag and pipe each cream puff with filling. If you want to show off your filling, slice your cream puff in half, leaving a small section of the puff still connected so your cream puff stays together.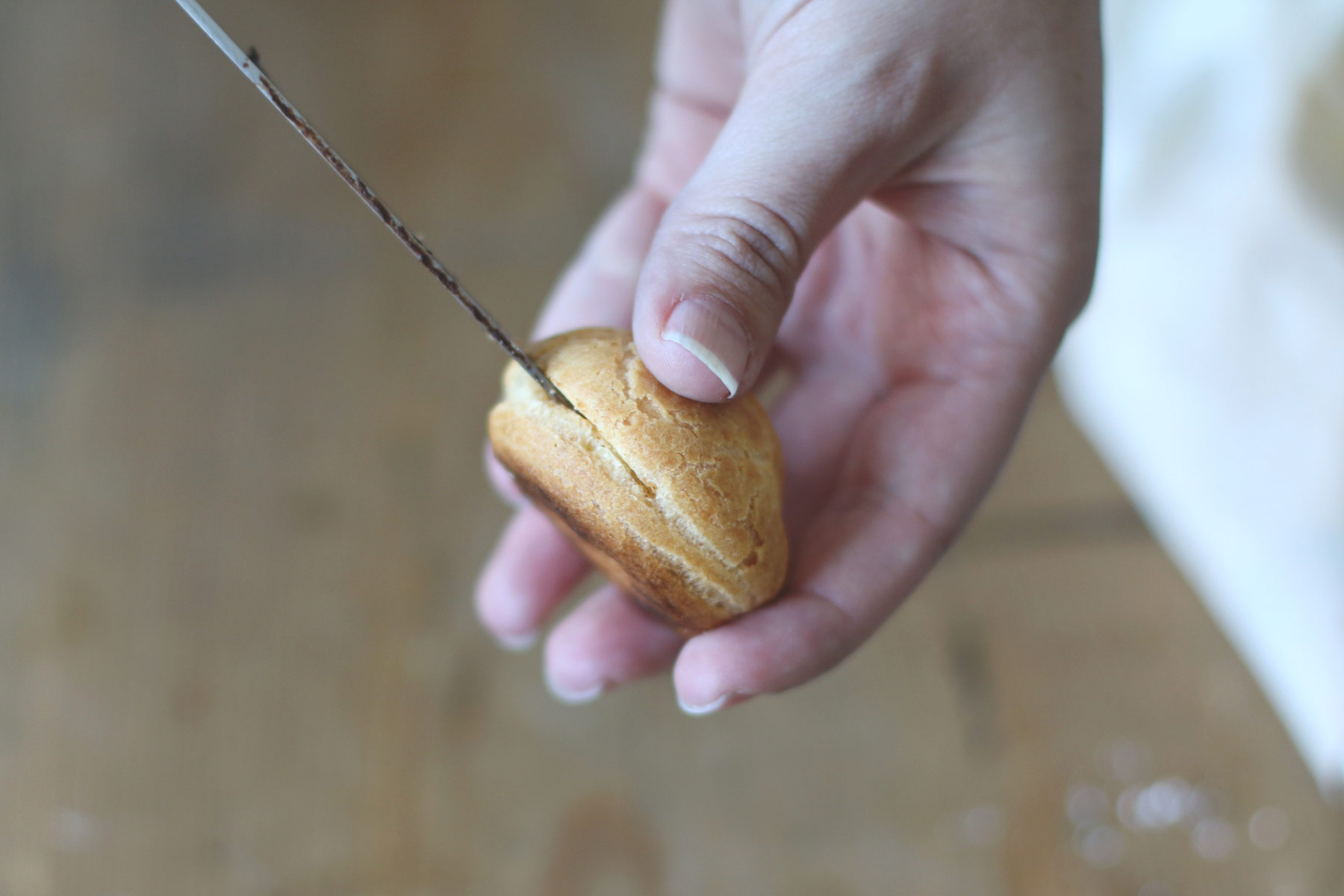 Then, pipe the filling into the puff.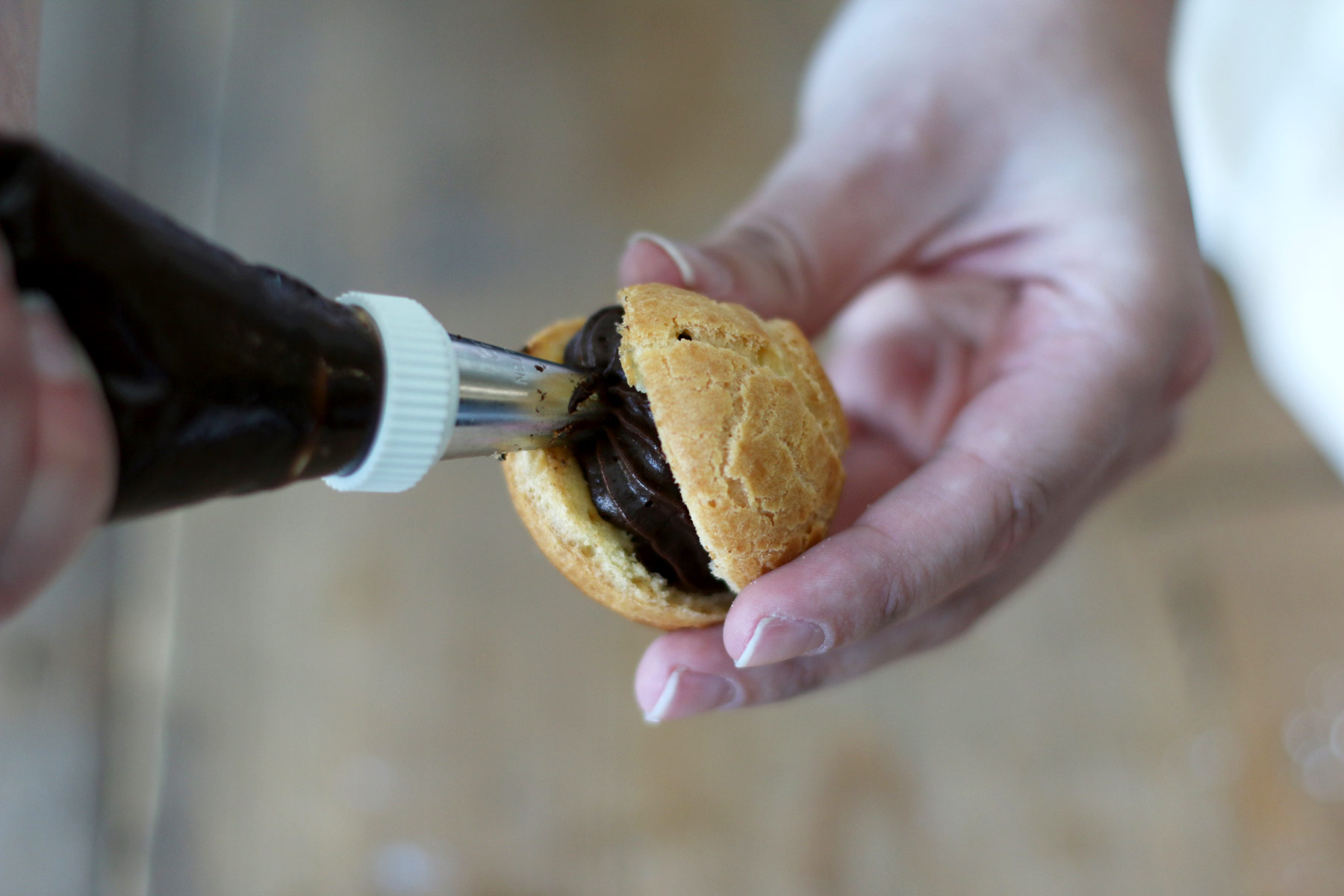 If you don't want your filling to be visible then simply cut a small hole into the bottom of the cream puff and pipe the filling into the puff from the bottom.
You have officially made simple, but delicious, cream puffs.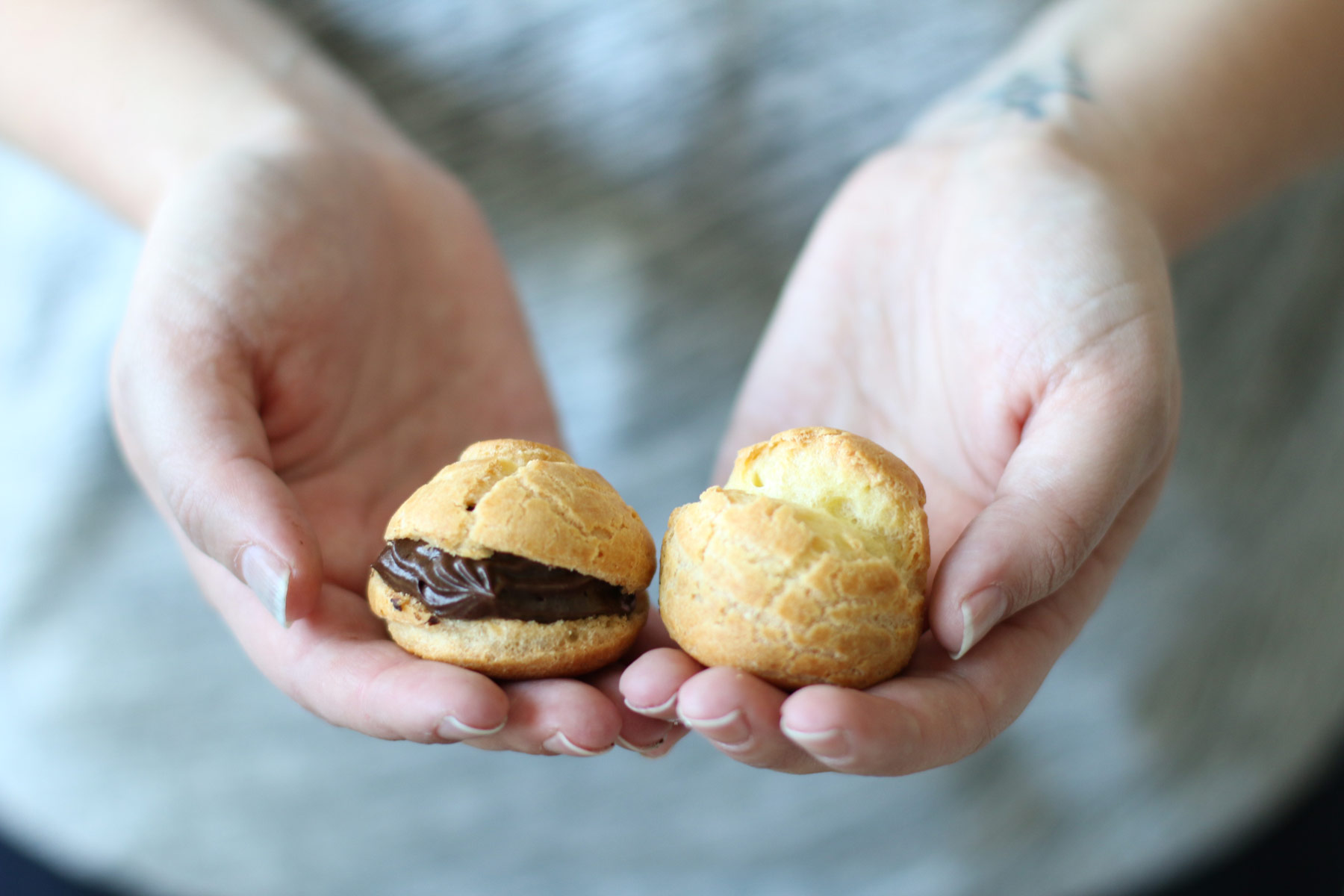 Enjoy!