We've been whipping up batches and batches of cinnamon rolls for our Gygi Guide to Cinnamon Rolls. While we've eaten dozens of rolls, all in the name of "science", we can safely say that we have some pretty well trained taste buds when it comes to the cinnamon roll. This recipe for a laminated brioche cinnamon buns was the last one to be perfected, but it was worth every attempt to get it just right.
If you are ready to try your hand at a brioche style cinnamon roll, this version takes it to the next level! Brioche dough is a stronger style of dough which allows it to hold up to a lamination process! This process was introduced to us by Erin Clarkson (@cloudykitchen) and Izy Hossack (@izyhossack) and we just couldn't get enough of it! These buns have the makings of a perfectly pillowy cinnamon roll plus the added flavor and flakiness from a croissant. It's a match made in heaven!
Print Recipe
Laminated Brioche Cinnamon Buns
Ingredients
Dough:
4 ½ cups (565g) all-purpose flour
1 envelope instant yeast
4 Tbsp brown sugar
1 tsp kosher salt
1 tsp cinnamon
1 cup (250 g) lukewarm milk
2 large eggs, room temp
1 tsp vanilla bean paste
1 stick (110g) unsalted butter, softened
Filling:
1 stick (110g) unsalted butter, melted
½ cup (107g) light brown sugar, packed
2 Tbsp (15g) flour
3 to 4 teaspoons cinnamon
1 tsp kosher salt
Cream Cheese Frosting:
1 stick (110g) unsalted butter, softened
1 8oz package cream cheese, softened
5 ½ cups (700g) powdered sugar, sifted
1 tsp kosher salt
1 tsp vanilla bean paste or vanilla extract
Instructions
2

In the bowl of an electric mixer fitted with a dough hook add flour, yeast, sugar, salt and cinnamon.

3

With the mixer on low, add lukewarm milk (about 110°F) and mix to combine.

4

Slowly add eggs, one at a time, until combined. Add vanilla extract or paste.

5

With the mixer on medium low, mix for 10-12 minutes. Dough will be thick but will come together. Mix until the dough becomes soft and smooth.

6

Stop your mixer and allow it to rest for 3-4 minutes! This dough is thick and will cause it to get hot, but don't worry! As long as you keep your speed on medium low and allow it to rest, you should be good to go.

7

With the mixer on low, slowly add butter, 1 Tbsp at a time, pausing between additions until butter is fully combined before adding more. The process should take 3-4 minutes. Once butter is combined, mix again for another 10 minutes until the dough is very soft and smooth. The dough will be very sticky at this point, but you will notice it start to pull away from the sides of the bowl.

8

Transfer dough to a lightly greased bowl and cover with plastic wrap. Raise in a warm spot until doubled in size, about 1 ½ to 2 hours, depending on temperature of room.

10

In a small bowl, combine brown sugar, cinnamon, and salt. Set aside.

11

Transfer dough to a lightly floured work surface. The dough might be a little sticky, so it's alright to use a little bit of flour here. Roll dough into a rectangle measuring 12" x 22" inches, with the long end running parallel to your work surface. Try to get your edges as square as possible

12

Brush with butter and sprinkle half of the cinnamon sugar mixture over the dough.

13

Fold in thirds (like a letter) and roll again into a 12" x 22" rectangle.

14

Brush with butter and the fill with the rest of the cinnamon sugar mixture, covering all but a 1/2" strip along one short side.

15

From the fully covered short side, roll up into a log. Place the dough on a parchment lined baking sheet and place in the freezer for 5-10 minutes to firm up. This will help during the cutting process.

16

Once chilled, slice log into 10 rolls with a serrated knife. Arrange on a baking sheet with a 2" space around each roll.

17

Lightly cover the buns with plastic wrap, and place in a warm spot for 45 minutes to 1 hour, until they are puffy. While the buns are rising, preheat the oven to 350°f / 180°c.

18

Bake rolls for 15-16 minutes. You will want to underbake these buns slightly. The internal temperature should be around 180°F.

19

Remove from the oven and let them cool for 15 minutes.

21

In the bowl of an electric mixer, cream butter for 1-2 minutes on high until light and fluffy. Add the softened butter and mix again on high for 1-2 minutes until light and fluffy.

22

With the mixer on low speed, slowly add powdered sugar in 3 batches to the butter and cream cheese mixture. Mix fully before adding more sugar.

23

Add salt and vanilla. Beat again until smooth.

24

After rolls have cooled for 15 minutes, ice rolls and serve immediately.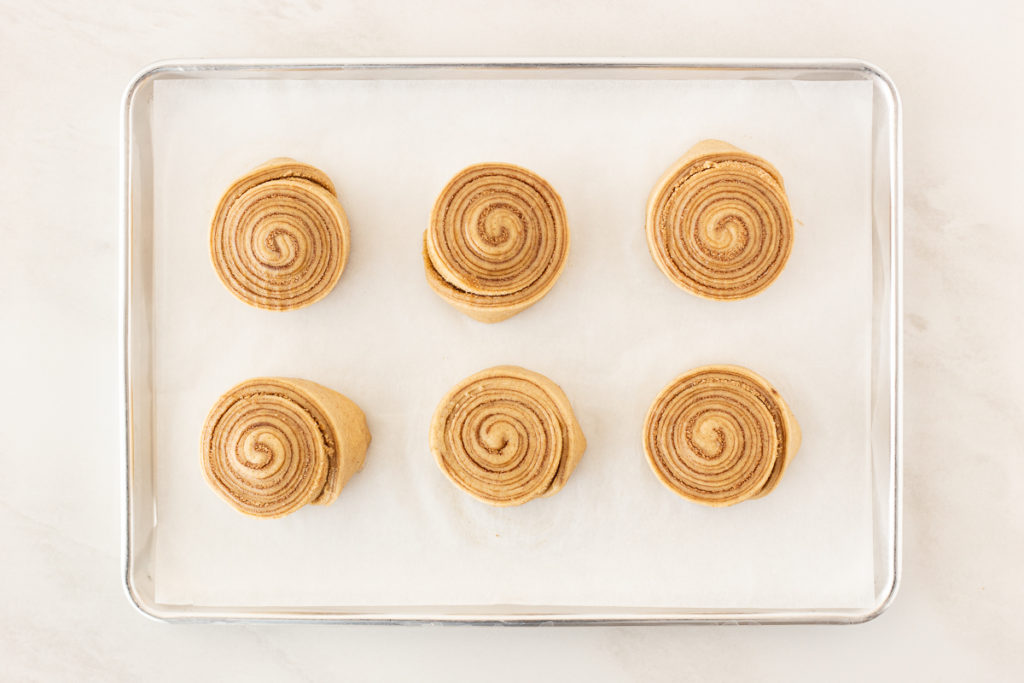 Read all our Cinnamon Roll tips right here!