Can you smell those cinnamon rolls now??? Mmmmm. We've been baking up a storm in the kitchen for our Gygi Guide to Cinnamon Rolls. We digested all the elements to the classic cinnamon roll and explored why we do what we do. We would never want you to abandon Grandma's well-loved recipe. But in sharing some of the classic elements of the cinnamon roll, we discovered a few techniques that might be worth straying from the original. And these Japanese milk dough cinnamon rolls are one of those times.
The tangzhong method of breadmaking is a classic asian method that has regained popularity in the world of dough. We had to give this style of dough a try and we are definitely hooked! One extra step of creating a flour paste on the stove-top takes an average cinnamon roll dough to the next level! These soft and pillowy Japanese milk dough cinnamon rolls are our new favorites! And you can always take them to the next level by rolling in some Gygi cinnamon chips.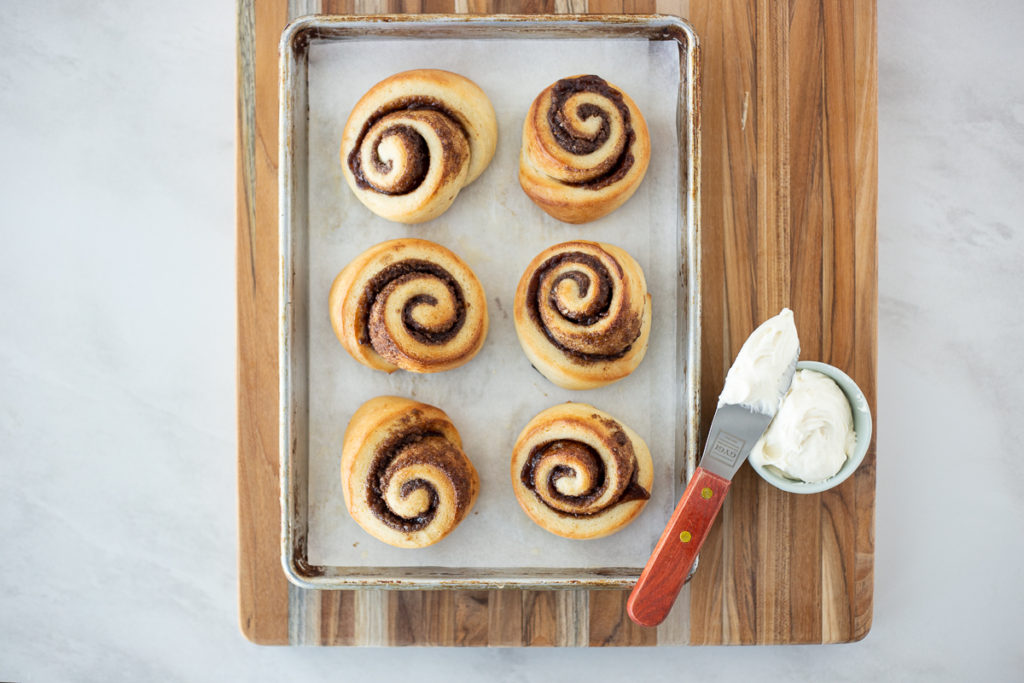 Print Recipe
Japanese Milk Dough Cinnamon Rolls
Ingredients
Dough:
½ cup (113g) whole milk
3 Tbsp (23g) Bread Flour
⅔ cup (151g) whole milk, cold
2 ½ cups (300g) Bread Flour
1 tsp (6g) salt
3 Tbsp (37g) granulated sugar
2 1/4 tsp instant yeast (1 packet)
4 Tbsp (57g) unsalted butter, softened
Filling:
1 Tbsp (14g) butter, melted
½ cup (107g) light brown sugar, packed
3 to 4 tsp (8g to 10g) cinnamon
1 tsp kosher salt
Cream Cheese Frosting:
1 stick unsalted Butter, softened
1 8oz package cream cheese, softened
5 ½ cups (700g) powdered sugar, sifted
1 tsp kosher salt
1 tsp vanilla bean paste or vanilla extract
Instructions
2

In a small saucepan over medium heat, whisk together ½ cup (113g) whole milk and 3 Tbsp (23g) Bread flour.

3

Continue cooking, stirring constantly for 1-2 minutes until mixture thickens and whisk leaves a trail in the bottom of the pan.

4

Scoop mixture into the bowl of a stand mixer.

6

Into your stand mixer bowl fitted with a dough hook attachment, add cold milk (the warm Tangzhong mixture will help warm the milk). If mixing by hand, use a large mixing bowl.

7

Continue adding ingredients in the order listed. Mix on low speed until dough begins to come together (1 to 2 minutes).

8

With the mixer on medium-low speed, begin the kneading process. This should take about 12-14 minutes with an electric mixer and 15-16 minutes by hand. The timing can differ depending on the temperature of your kitchen, humidity, type of flour, etc. Dough should be smooth and fully combined. You can use the windowpane test to determine when enough gluten has been formed. Pinch off a small piece of dough and stretch out between your fingers. If dough holds together and light shows through, it is finished kneading. If it breaks, continue the kneading process.

9

On the counter, pull dough together into a smooth round ball. Place dough in a lightly greased bowl and cover with plastic wrap. Move to a warm area and proof until doubled in size, about 1 to 1 ½ hours, depending on the temperature of your room.

11

Melt 1 Tbsp of butter in a small bowl. Add remaining ingredients and mix together until mixture resembles wet sand.

13

Line a pan with parchment paper and set aside.

14

Transfer dough to a lightly oiled work surface and roll into a rectangle measuring about 10x12 inches. Use a bench scraper to square up the edges for a more professional look.

15

Spread an even layer of the cinnamon mixture over the dough, covering all but a 1/2" strip along one long side.

16

Starting with the side that is completely covered with filling, roll into a tight log of dough. To ensure a defined spiral, roll as tightly as you can. Dough will settle and grow during the proofing process.

17

Place the dough log on a parchment lined baking sheet and place in the freezer for 5-10 minutes. Dough should be firm enough to cut even slices.

18

Remove dough from the freezer and cut into slices using a serrated knife. Use a smooth pulling motion to prevent dough from coming apart instead of a push and pull.

19

Place individual rolls onto prepared baking sheet. To prevent them from unraveling, tuck the loose end underneath the dough. Cover with a piece of lightly greased plastic wrap.

20

Set aside in a warm place for 45-60 minutes, or until rolls have doubled in size. If you press on the dough and it springs back after a few seconds, it is ready to bake!

22

About 30 minutes before baking, preheat oven to 375° F. Place the rack in the middle of the oven.

23

Bake rolls for 14-16 minutes or until an instant read thermometer inserted into the middle reaches 188°F to 190°F.

24

Remove rolls from the oven and brush with 1 tbsp of melted butter. Let cool for 15 minutes.

26

In the bowl of an electric mixer, cream butter for 1-2 minutes on high until light and fluffy. Add the softened butter and mix again on high for 1-2 minutes until light and fluffy.

27

With the mixer on low speed, slowly add powdered sugar in 3 batches to the butter and cream cheese mixture. Mix fully before adding more sugar.

28

Add salt and vanilla. Beat again until smooth.

29

After rolls have cooled for 15 minutes, ice rolls and serve immediately.
To see all our Cinnamon Roll tips and tricks, check out this post: