What goes better together than chocolate and caramel? Perhaps a cookie with chocolate and caramel? That's exactly what we thought when we whipped up these simple tasty treats. The crunch of the cookie compliments the crispness of the cooled chocolate which flatters the softness of the caramel. Make a large tart to share or small individual tarts to give each person their own. They truly make for the perfect dessert.
Once the cookies cool down, you'll melt and mix Peter's Caramel with some evaporated milk. Gently pour it over the cookie layer.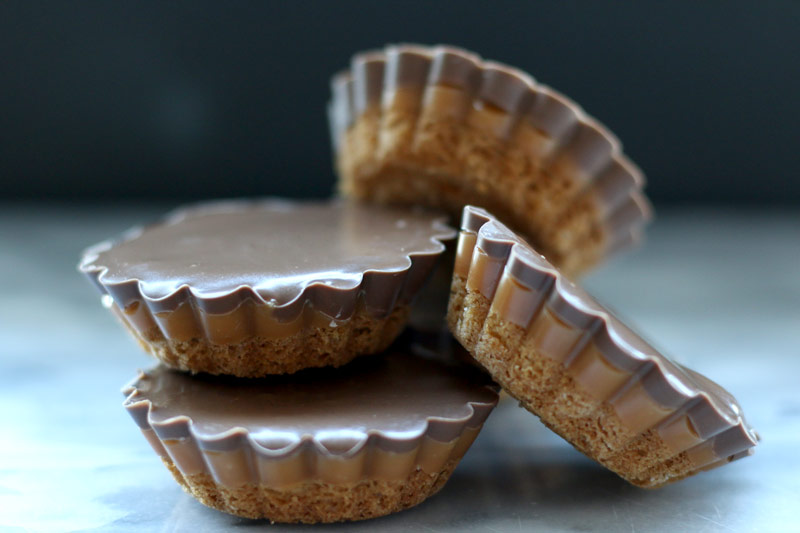 Print Recipe
Chocolate Caramel Tart
This yummy treat, reminiscent of a Twix candy bar, is easy to whip up. Serves well in individual tart shells, or can be made in a large tart pan and sliced.
Ingredients
For the Cookie Layer:
3/4 cups butter (softened)
1 cup granulated sugar
2 eggs
1/2 teaspoon vanilla extract
2 1/2 cups all purpose flour
1 teaspoon baking powder
1/2 teaspoon salt
For the Caramel:
2 cups Peter's Caramel
2 Tbsp Evaporated Milk
For the Chocolate:
1 cup melting chocolate
Instructions
2

In a large bowl cream together butter and sugar until smooth. Slowly beat in the eggs and vanilla. In a separate bowl stir together flour, baking powder, and salt. Combine the flour mixture with the other ingredients. Cover and chill dough for at least an hour, maximum overnight.

3

Preheat oven to 400 degrees and scoop small balls of the dough into the bottom of mini-tart pans. Flatten the dough with your finger tips and make a smooth even surface at the base of each tin. Bake for 12 minutes, or until lightly golden.

5

Allow your cookie to cool before adding your caramel. Melt down 2 cups of Peter's Caramel and add 2 tablespoons of evaporated milk. Stir together and pour the caramel into each tin leaving enough room for the chocolate. Allow your caramel to cool before adding the chocolate. Place the tarts in the fridge if you want to speed up the process.

6

Remember, adding evaporated milk keeps your caramel soft after it's melted. If you prefer harder caramel feel free to leave out the evaporated milk.

8

Melt down your chocolate and drizzle over the caramel layer. You can fill it up to the top.

9

Let the tart cool completely, either on the counter, or you can put them in the fridge to get them nice and cold before removing them from the tart pan. These will taste the best, and be the easiest to eat when they are at room temperature, so let them warm up a little before eating them.
Enjoy!
For more recipes and ways to use Peter's Caramel, check out this Caramel 101 blog post.