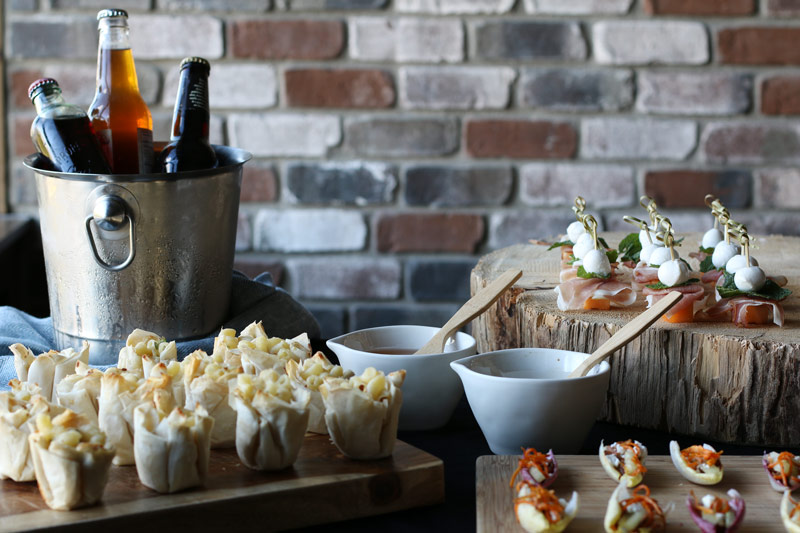 We had the opportunity to publish three of our favorite unique appetizer ideas in the new Utah foodie magazine Devour. These appetizers take finger foods to the finer side of dining. Not only do these tasty savory treats look beautiful, they are easy to make.
For your next holiday party or for a couple light Thanksgiving hors d'oeuvres to serve before your turkey feast try making melon bite kabobs, brisket lettuce wraps, and truffle macaroni & cheese. These light finger foods are the perfect size to keep your guests satisfied by hitting their sweet and savory sides.
What you'll need for melon bite kabobs
1 large cantaloupe
1 bunch fresh mint
1 lb. mozzarella cheese
1/4 lb. thinly sliced prosciutto
What you'll need for the honey lime sauce
One lime
1/4 cup honey
Ball the entire cantaloupe and pound of mozzarella cheese with a melon baller. On a toothpick add one ball of mozzarella, one mint leaf, a half slice of prosciutto, and a ball of cantaloupe.
For a yummy sauce to either drizzle on top or have your guests scoop onto their mini kabobs combine the lime juice form the whole lime and the honey in a saucepan over medium heat. Stir until it begins to simmer. Remove from heat and allow the sauce to cool. Serve as a drizzle or dip for the kabobs.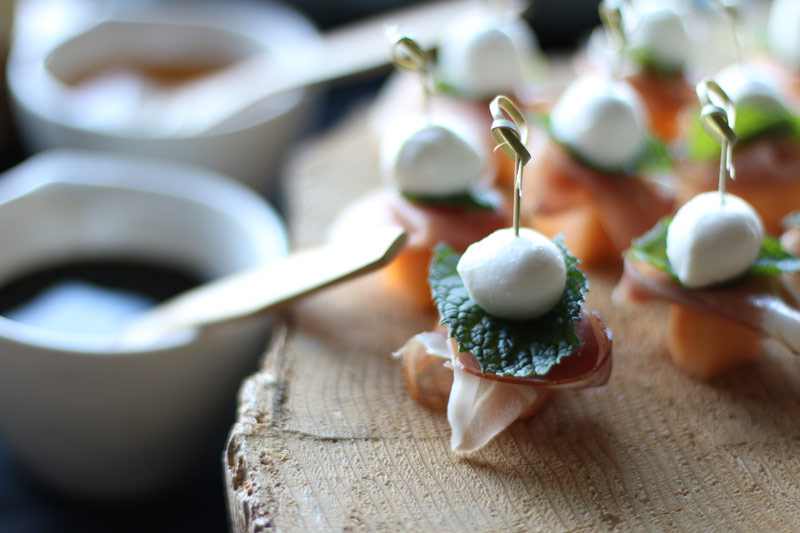 What you'll need for Brisket Lettuce Wraps
2 cups of cooked brisket (pre-cooked brisket is a great time saver)
3 heads of endives (heads of lettuce will work as well)
1 cucumber (peeled)
1 sweet potato
1/2 lb. goat cheese
With a julienne peeler, julienne the sweet potato into thin strips and roast the julienne pieces in a medium pan with a splash of olive oil and a pinch of salt and pepper until crispy. Set aside and allow them to cool.
Julienne thick strips of cucumber and set aside.
Peel the individual leafs from the endives and layer each ingredient into the leafs. We placed small strips of brisket as the bottom layer, added the cucumber, then crumbled the goat cheese on top of the cucumber and topped the wrap with the crispy potato strips.
What you'll need for the truffle
1 package phyllo dough
4 tablespoons butter (melted)
What you'll need for homemade macaroni and cheese
8 ounces of macaroni noodles
2 cups sharp cheddar cheese (shredded)
1/2 cup parmesan cheese (grated)
3 cups milk
1/4 cup butter
2 1/2 tablespoons flour
2 teaspoons truffle oil
Boil the macaroni until noodles are soft, drain, and set aside. In a saucepan melt the butter over medium heat. Stir in the flour to make a roux then slowly add in the milk. Continue stirring as you add in the cheeses. Turn the heat on low and stir until the cheeses are completely melted. Pour over the macaroni and stir together.
Preheat the oven to 375.
For the truffle, brush the melted butter onto the phyllo dough and layer 3 sheets on top of each other. Be sure to butter between each sheet of dough. Cut the sheets into 4″ squares and press into a muffin tin. Bake for 8 minutes.
Add the truffle oil to the macaroni and cheese. This is for the flavor of the truffle oil which compliments the finished dish. Spoon the macaroni and cheese into the baked sheets of dough in the muffin tin and bake for another 10 minutes. Remove your truffles from the muffin tin and serve as individual truffle mac and cheese cups.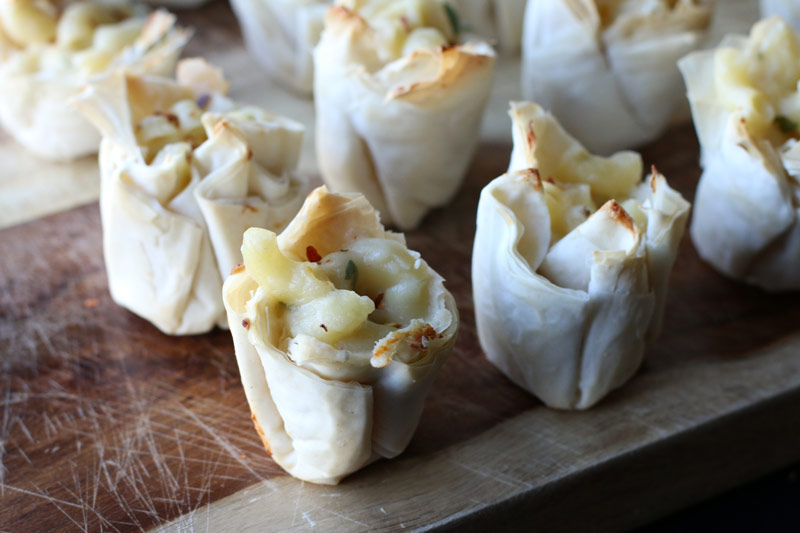 Enjoy your beautiful spread of fine finger foods!