Say hello to the cake we affectionately refer to as "Tom." Yes, this is our take on the infamous Tom Cruise cake. Apparently, the actor sends a cake to some of his celebrity friends for Christmas. And while we are sure the original is amazing, we are never going to make it on that list. So, we decided to come up with our own version of this white chocolate coconut cake made with some Ghirardelli white chocolate powder and Callebaut Belgian White Chocolate Callets mixed into the batter.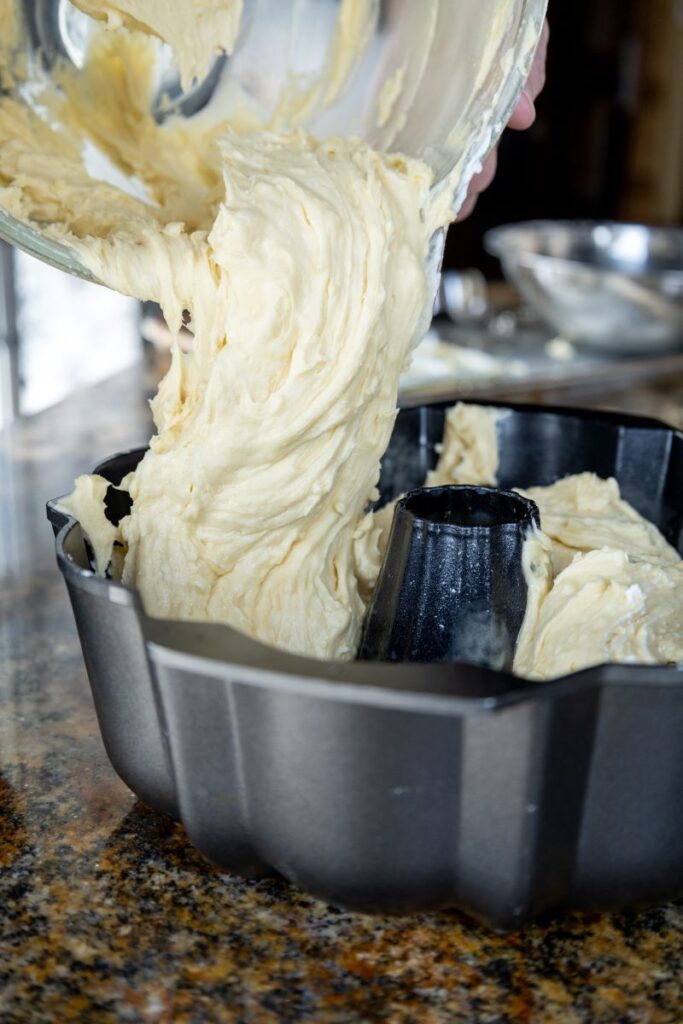 This is a hefty boy. The batter comes out real thick–just how we wanted it. But that means it takes quite a long time to finish baking. It came out a lot like a pound cake, and to make sure it didn't overbake and brown too much we were sure to put some foil over it for the last few minutes of the bake time. We also pressed some toasted coconut into the base of our cake so we could play up the taste and texture of different types of coconut.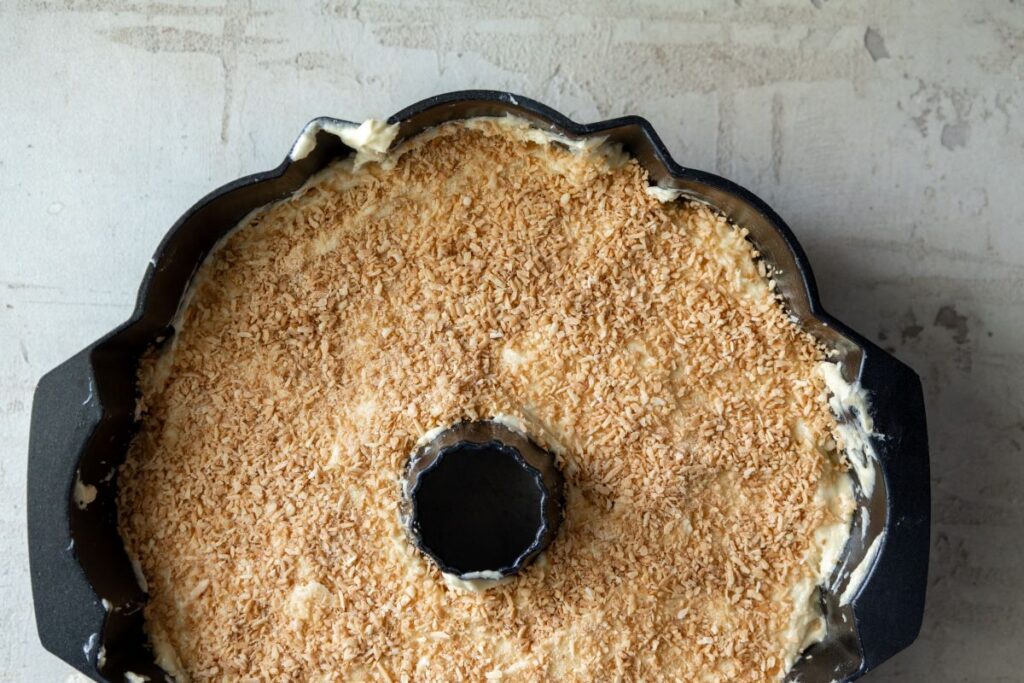 To put our own spin on this cake, we decided to cut our Bundt in half and layer in some cream cheese frosting, toasted coconut, and some crumbled white chocolate. Then we added some frosting to the top layer and sandwiched it back together. To finish we topped it with more cream cheese frosting and to keep it completely white we added two types of coconut–coconut chips and shredded coconut. Not only did it come out beautifully, but it was absolutely delicious. Of all the Bundt cakes we made, this was hands-down a crowd favorite.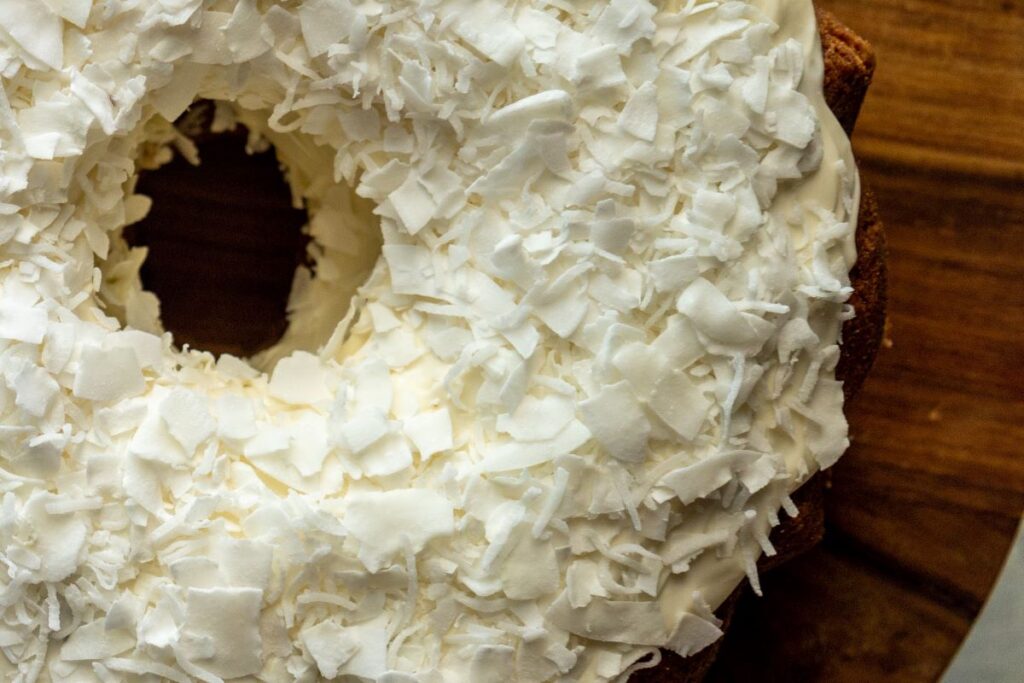 What do you think? You want to try your hand at our version of this white chocolate coconut Bundt cake? We highly recommend that you do!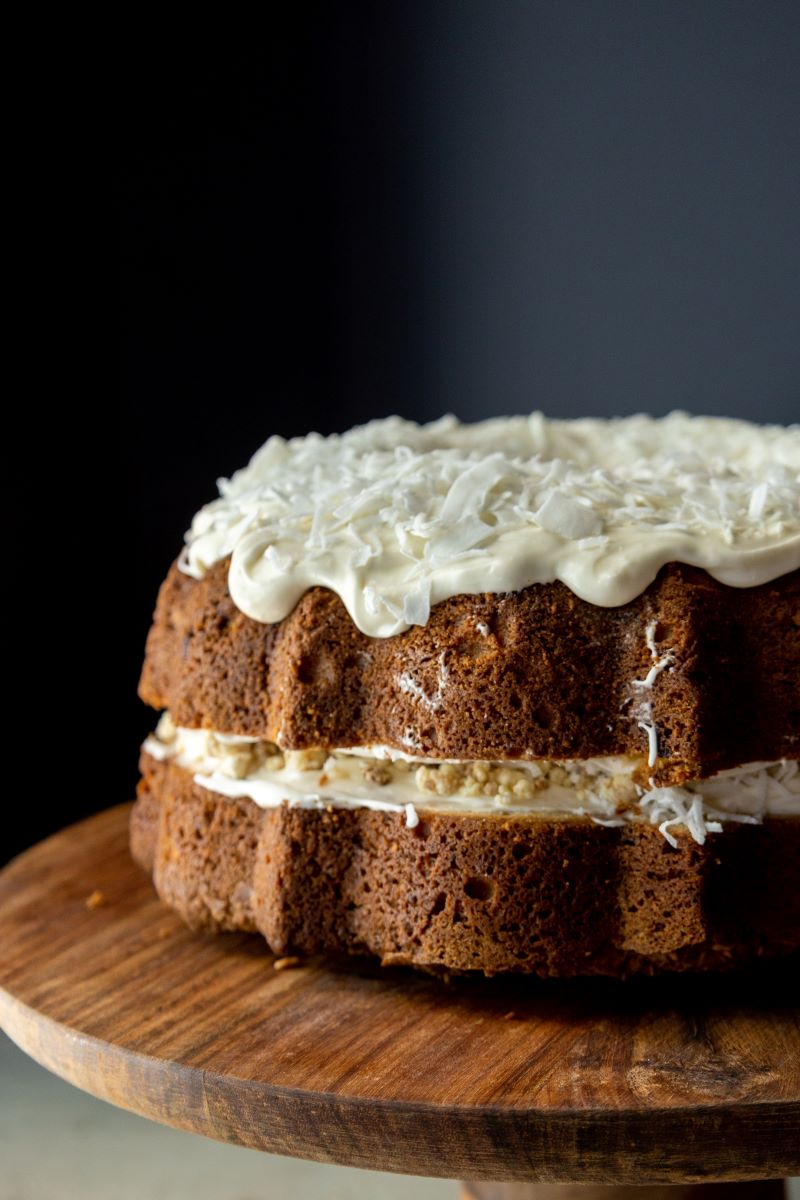 Print Recipe
White Chocolate Coconut Bundt Cake
Ingredients
For the cake:
3 cups all purpose flour
1 (3.4-oz) package instant coconut cream pudding
½ tsp salt
¼ tsp baking soda
1 ½ cup butter (room temperature)
1 ½ cup granulated sugar
1 ¼ cup Ghirardelli white chocolate powder
2 tsp vanilla extract
1 Tbsp coconut emulsion
6 large eggs
1 (8-oz) container sour cream
¾ cup Callebaut Belgian White Chocolate Callets (chopped)
1 cup toasted shredded coconut
For the filling and icing:
Caramelized White Chocolate Crumble
1 1/8 cup (200g) Callebaut Belgian White Chocolate Callets (chopped)
1/2 cup (50g) powdered sugar
1/3 cup (40g) powdered sugar
For the cream cheese icing:
½ cup butter (softened)
1 (8-oz) package cream cheese
2 tsp vanilla extract
4 cups powdered sugar
For topping:
Fancy Shred Coconut
Coconut Chips
(available at gygi.com)
Instructions
2

Preheat oven to 325℉. Prepare a 15-cup Bundt pan. Set aside.

3

In separate bowl sift flour, salt, and baking soda. Set aside.

4

In mixing bowl, cream together butter, sugar, white chocolate powder, vanilla, and coconut emulsion. Beat 2-3 minutes until light and pale yellow.

5

Add eggs one at a time, beating well after each addition and stopping to scrape sides of bowl as needed. Add pudding mix to batter and mix until combined.

6

Reduce the speed of mixer and alternating adding the dry ingredients and sour cream. Mix until fully combined. By hand, stir in chopped white chocolate.

7

Spoon batter into prepared Bundt pan and smooth the bottom. Sprinkle on the toasted coconut and gently press into the batter.

8

Bake 1 hr 30 mins to 1 hr 40 mins, placing a piece of aluminum foil on top to prevent over browning if needed.

9

Remove from oven and let cool in the pan on a cooling rack for 15 minutes. Remove from pan and let cool completely.

10

For the caramelized white chocolate crumble:

11

In a large frypan over medium heat add in all the white chocolate and 50g of the powdered sugar and stir until melted and combined.

12

Add the remaining powdered sugar (40g) into chocolate mixture, stir until mixture begins to separate and get nice golden in color.

13

Allow the chocolate mixture to form a paste that will caramelize when spread throughout the pan. Watch that closely as it can burn easily.

14

Remove from heat and pour out onto a sheet pan to cool. Once cool, crumble into smaller pieces.

15

For the cream cheese frosting:

16

In large bowl, beat together butter and cream cheese with a hand mixer. Add vanilla and mix. Add in powdered sugar and beat until light and fluffy.

18

Once cake cools completely, wrap it in plastic wrap and place it in the freezer to chill for an hour. While cake is still cold, but not frozen, cut it in half.

19

Spread cream cheese frosting on top of the bottom layer and sprinkle in the caramelized white chocolate crumble and sprinkle fancy shred coconut (about 1 cup)on top of crumble.

20

Then spread cream cheese frosting on the bottom of the top layer and sandwich on top of the bottom layers together. To finish, spread cream cheese on top of the top layer, sprinkle with white coconut chips and shredded coconut.