Blyss knows what is up when it comes to Decorated Chocolate Sugar Cookies. We love having them in our hands-on kitchen sharing all of their tips and tricks. Their class is one of the most fun and most informative. And there are so many things you can do once you get the basics down.
One of the biggest tips from Blyss is the icing consistencies. For piping, you want a toothpaste consistency that is thick and stiff for all the outlining and detail work. For gel icing you want a softer consistency you can use to flood smaller areas without an outline. And for flood icing you want a honey-like consistency that will fill larger areas. Here are the recipes we used during the Chocolate Extravaganza.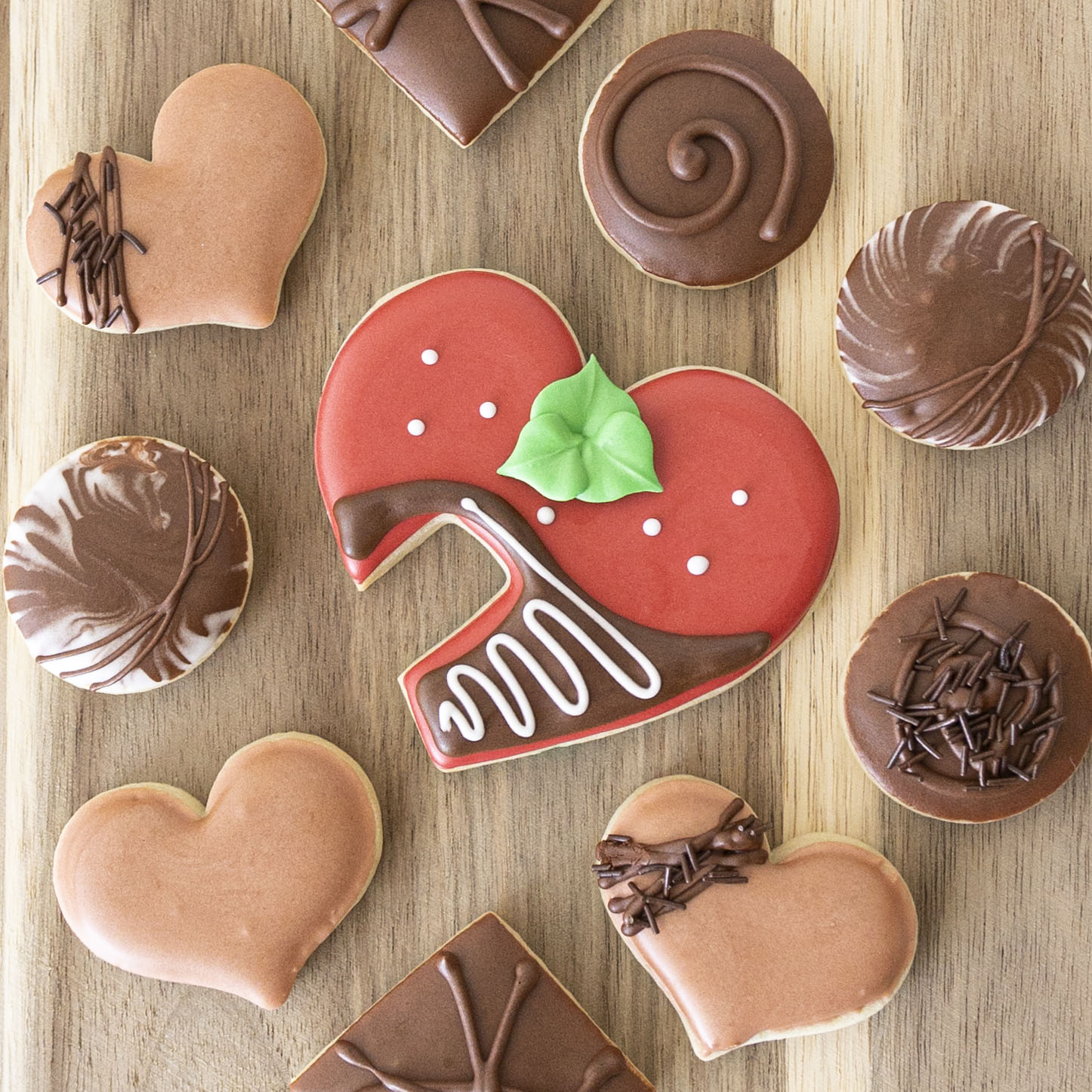 Print Recipe
Decorated Chocolate Sugar Cookies with Blyss
Ingredients
For the Cookie Dough
3/4 cup sugar
1 egg
1 cup unsalted butter, softened
16 oz (by weight) all purpose flour
1 tsp salt
1 Tbsp vanilla
1/2 Tbsp almond emulsion or extract
For the Royal Icing
2 lbs powdered sugar
1/4 cup meringue powder
3/4 cup warm water pinch of salt
2 tbsp corn syrup
1 tbsp clear vanilla
1/2 tbsp butter flavor
1/2 tbsp almond extract
Instructions
2

Cream butter and sugar together in stand mixer with paddle attachment on medium speed for 2 minutes.

4

In a small separate bowl, crack the egg and lightly whisk.

5

Add egg to the mixer bowl and mix on medium speed for 1-2 minutes. Ingredients should be evenly combined.

6

Stop the mixer and scrape down the sides of the bowl. Turn mixer on low and slowly add the flour.

7

Mix only until ingredients have combined. Dough should pull away from the edges of the bowl.

8

Divide dough into 2 equal parts. Using 1/4" guides, roll one half of the dough out between sheets of wax paper. Do not add more flour.

9

Sheets of rolled dough can be stacked on a cookie sheet and chilled in the fridge for 1 hour or in the freezer for 20-30 minutes. Dough should be firm when cold.

10

Preheat oven to 375 degrees while dough is chilling.

11

Remove dough from fridge one sheet at a time. Allow it to sit at room temperature for 5 minutes before trying to cut shapes.

12

Cut and bake shapes while dough is still cold. Place cut shapes on parchment lined baking sheet. Bake 9-12 minutes (depending on your oven) rotating the baking sheet once halfway through.

14

Combine warm water, flavorings, salt and meringue powder in mixer bowl and mix on low speed with paddle attachment until mostly dissolved, 1-2 minutes. Mixture will be foamy.

15

Stop the mixer and add the powdered sugar all at once. Start the mixer on low speed. As the dry and wet ingredients are coming together, drizzle in corn syrup.

16

Once everything has combined, stop the mixer and scrape down the sides of the bowl.

17

Turn the mixer up to medium/high speed and beat for 5 minutes. Icing will form stiff peaks when it's ready. Store icing in an airtight container until ready to use.