Courtney has been teaching at the Chocolate Extravaganza for seven years. Yes, seven! We can't believe it either. Feels like just yesterday we started this whole thing. But it's true. And to commemorate the anniversary, she decided to share her Most Delicious Chocolate Cake recipe. It makes a soft, dense cake that is full of deep chocolate flavor.
When she first started making cakes from scratch, Courtney used the pans she had on hand. They were just some standard pans she got from the grocery store–nothing special. And while her cakes would come out ok, she has come to see how the tools can make all the difference.
Now she relies on cake pans from Fat Daddios. These sturdy anodized aluminum pans provide an even bake. Other tools recommended by Courtney include the Ateco Revolving Cake Stand, the acrylic cake disk, an icing spatula, an offset spatula, and a flat cake scraper. And one of her favorite ingredients to get that delicious, deep flavor is the Callebaut Extra Brute Cocoa Powder. With that, you should have all you need to make the most delicious chocolate cake.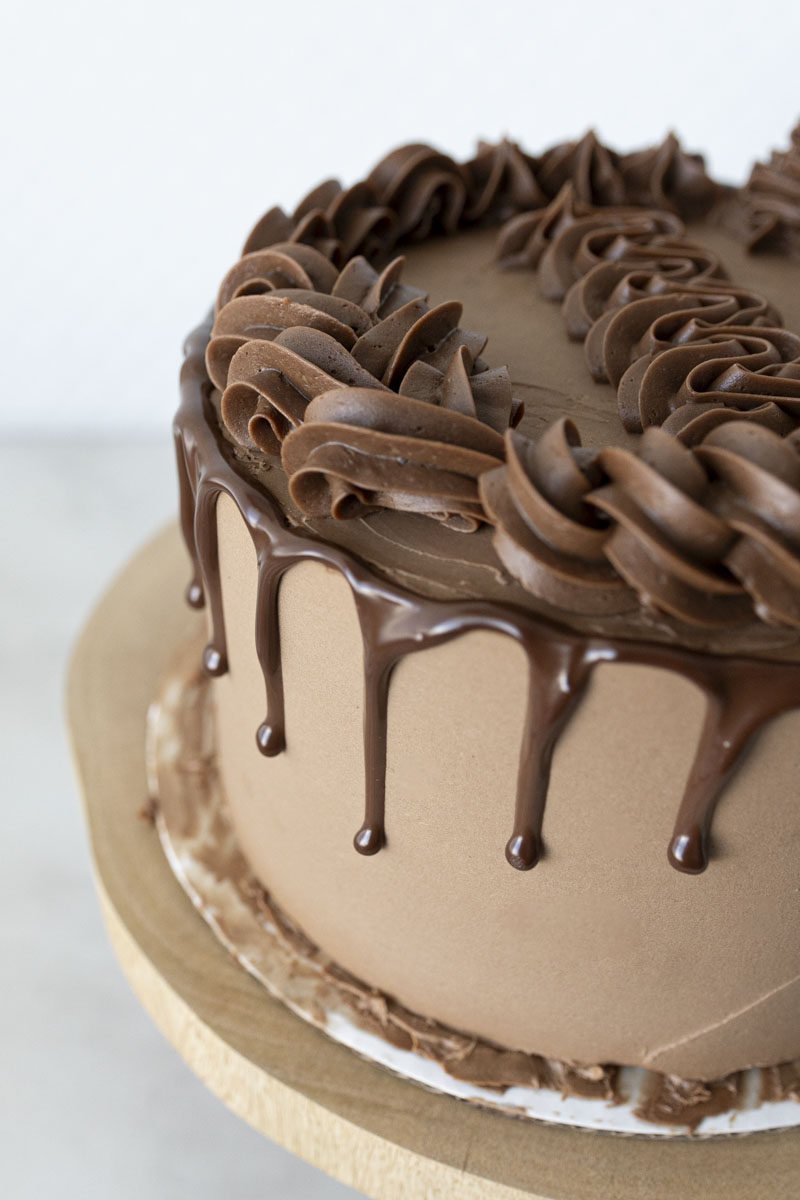 Print Recipe
Most Delicious Chocolate Cake from Cake by Courtney
Ingredients
For the Cake
2 cups (240 g) all-purpose flour
1 ¾ cups (350 g) granulated sugar
¾ cups (88.5 g) dark cocoa powder
2 teaspoons (8 g) baking soda
¾ teaspoon (3 g) baking powder
1 teaspoon (5.6 g) salt
1 cup (240 g) buttermilk at room temperature
1 cup (236.6 g) hot water
½ cup (109 g) vegetable oil
3 large eggs at room temperature
1 teaspoon (4.2 g) pure vanilla extract
For the Buttercream
⅓ cup ( 77 g) heavy whipping cream
10 oz. dark or semi-sweet chocolate chips
2 cups (452 g) unsalted butter slightly chilled
5 cups (625 g) powdered sugar measured then sifted
1 tablespoon (4.2 g) pure vanilla extract
Pinch of salt
*This buttercream recipe makes enough to fill and cover your cake. If you want to add additional piping you'll want to make an extra ½ batch.
Instructions
2

Preheat the oven to 325*F. Spray two 8-inch round cake pans with non-stick spray, line with parchment paper, and spray again. Set aside.

3

Combine the flour, sugar, cocoa, baking soda, baking powder, and salt into the bowl of an electric mixer fitted with a paddle attachment and mix on low speed until combined.

4

In another bowl, combine the buttermilk, water, oil, eggs, and vanilla.

5

With the mixer on low speed, slowly add the wet ingredients to the dry, scraping the bottom of the bowl with a rubber spatula.

6

Divide the batter between the two pans and bake for 30 to 35 minutes, or until a toothpick inserted in the center of the cake comes out with a few moist crumbs on it.

7

Cool in the pans for 10 minutes, then turn them out onto a cooling rack and cool completely.

8

Wrap in plastic wrap and freeze until ready to use.

10

In a microwave safe bowl, heat the chocolate chips and the cream for about one minute. Stir until mixture is smooth. Allow to cool slightly.

11

In the bowl of a stand mixer fitted with the paddle attachment, beat the butter for about 2 minutes on medium-high speed.

12

With the mixer on low speed, add the ganache. Scrape down the sides and bottom of the bowl and then mix on medium-high speed for about a minute, until the mixture is smooth.

13

Gradually add the powdered sugar, one cup at a time, followed by the vanilla and salt.

14

Buttercream can be store in an airtight container in the refrigerator for a week.

15

When you're ready to frost the cake, bring the frosting back to room temperature and mix by hand with a wooden spoon to push out all of the air pockets.

17

Place the first cake layer, top side up, in the center of a cake board or cake stand.

18

Evenly spread 1 cup of buttercream over the cake layer.

19

Place second cake layer, top side down, on top of the buttercream.

20

Cover the entire cake with a thin layer of buttercream. Freeze the cake for 10 to 15 minutes to set the crumb coat.

21

Once the crumb coat is set, finish frosting the cake with the remaining buttercream and decorate.