Josh from Guittard always comes with recipes that have different components with multiple purposes. And that is exactly what you can expect from this recipe for Passion Fruit Posset. It features a delicious base that is kind of like a custard. Then you top it with a luxurious milk chocolate cremeux, which is almost like a mousse. And the finishing touch is the chocolate streusel which you crumble over the top. Every piece of the recipe is delicious and could easily stand alone. Best of all there are several different ways to use each component. But also, the combined flavor is unbelievably good.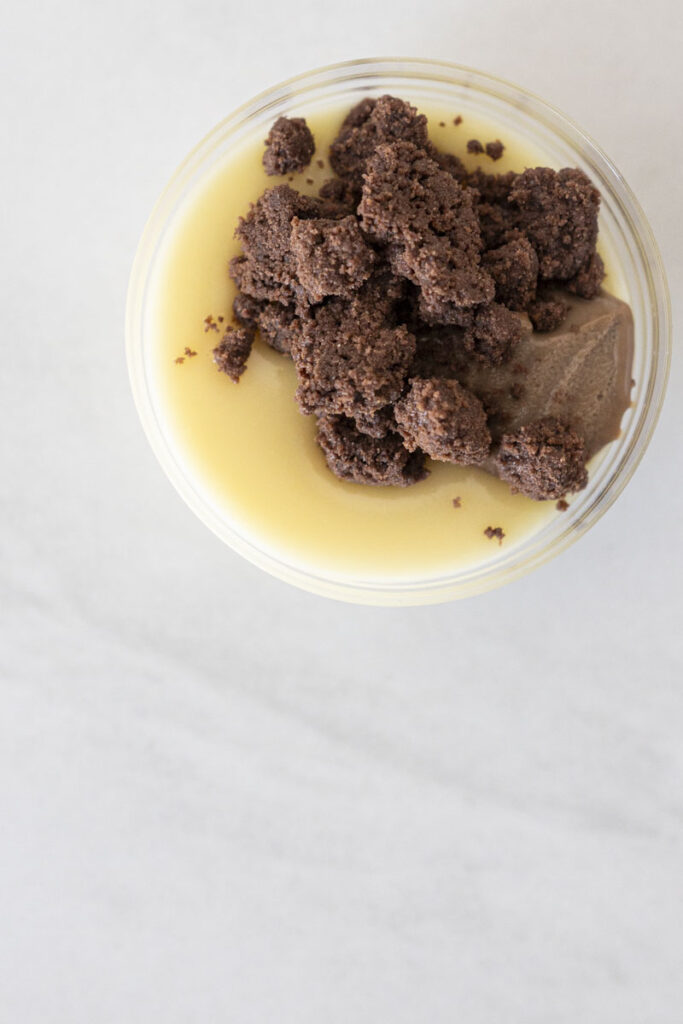 Josh knows his chocolate. For this recipe he used the 38% Soleil d'Or chocolate wafers for the chocolate cremeux. It is light, fluffy, and just the right amount of delicious milk chocolate flavor. And for the chocolate streusel crumble he used the Cocoa Rouge cocoa powder for the deep, earthy flavor as well as the rich color.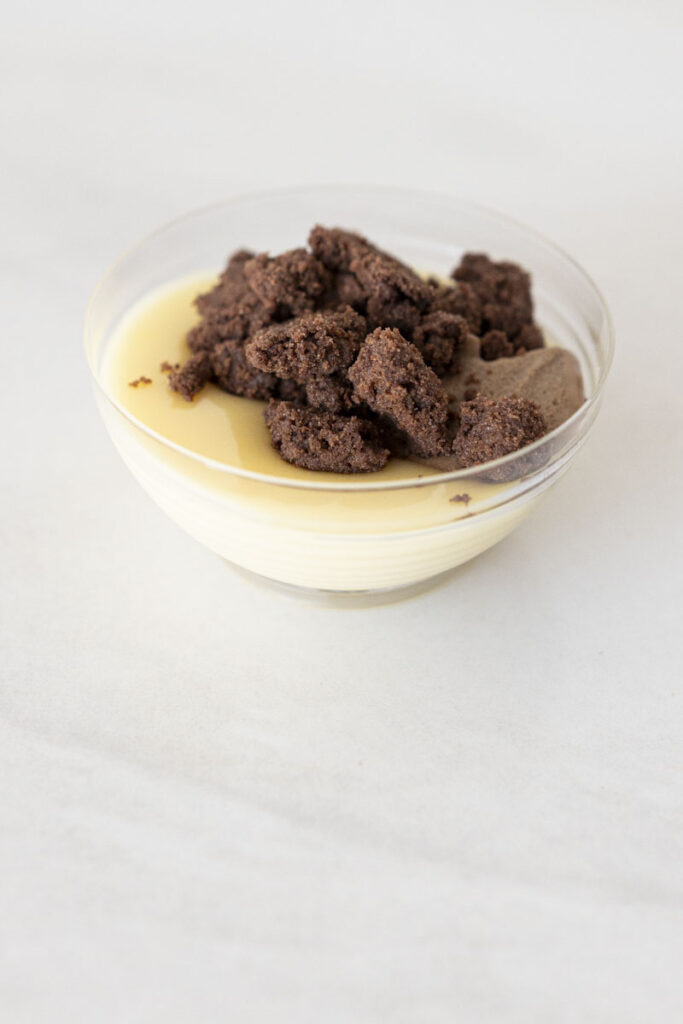 He served this passion fruit posset in little cups, but you could easily flip the recipe and use the streusel as a crust, fill it with the posset, and finish with the cremeux. We can't wait to see all the fun things you come up with when making this recipe at home.
Print Recipe
Passion Fruit Posset with Josh from Guittard
Ingredients
For the Milk Chocolate Cremeux
3.5 g gelatin
14.5 g Water
150 g whole milk
150 g heavy cream
60 g egg yolk
180 g milk chocolate wafers (Guittard 38% Soleil d'Or)
For the Chocolate Streusel
210 g all purpose flour
121.8 g sugar
26 g cocoa powder (Guittard Coco Rouge)
0.7 g salt
125 g cubed butter (room temp)
For the Posset
300 g cream
40 g sugar
1 ea zest from one lemon
18 g white chocolate wafers (Guittard 35% Soie Blanche)
55 g passion fruit puree
8 g lemon juice
Instructions
1

For the Chocolate Cremeux

2

Bloom gelatin with water and set aside

3

Combine milk, cream, and egg yolk in a saucepan, cooking to anglaise.

4

Remove from heat and add bloomed gelatin, stir to melt.

5

Pour mixture over chocolate and allow to sit for 1 minute.

6

Stir to combine. Emulsify with hand blender.

7

Store in cooler until fully set.

8

For the Chocolate Streusel

9

Combined dry ingredients. Add cubed butter and cut until pea sized pieces form.

10

Spread mixture evenly onto parchment lined baking sheet.

11

Bake at 340℉ for 18-20 minutes. A test piece should be crunchy when it cools.

12

For the Passion Fruit Posset

13

Combine cream, sugar and lemon zest in a saucepan. Bring to a simmer.

14

As soon as mixture reaches simmer, add white chocolate. Stir well to melt chocolate.

15

Return to simmer for 5 minutes over medium heat.

16

Remove from heat, add passion fruit puree and lemon juice. Steep for 10 minutes.

17

Strain mixture and divide into serving dishes.

18

Chill in cooler until set.

20

Top the serving dishes of posset with a dollop of the chocolate cremeux and sprinkle some of the chocolate streusel on the top.