We love a meal that brings people together. Especially one that feels extra special without extra effort. Enter: FONDUE. Decide on a flavor: sweet or savory (or both!). Decide on your "dippers". Call in the troops, and enjoy a fun meal with very minimal prep, which means you actually get to enjoy the meal. When all is said and done, there's hardly any servingware, which means there won't be many dishes! Plus, this meal tends to keep people hanging out at the table- a great chance for conversation and connection. There's even an old tradition that if your fondue forks cross in the pot, you give each other a kiss on the cheek. We're not saying you've got to take it that far, but we have seen fondue bring some serious amounts of love to a kitchen, and that's something we can support with full confidence!
But what if you've never done fondue, and it feels daunting to get started with the whole process. What equipment do I need? I don't want to mess with an open flame, seems too risky? How do I control the heat to keep my cheese and chocolate smooth? Let us introduce you to the ELECTRIC FONDUE POT! We couldn't be more excited about this little treasure.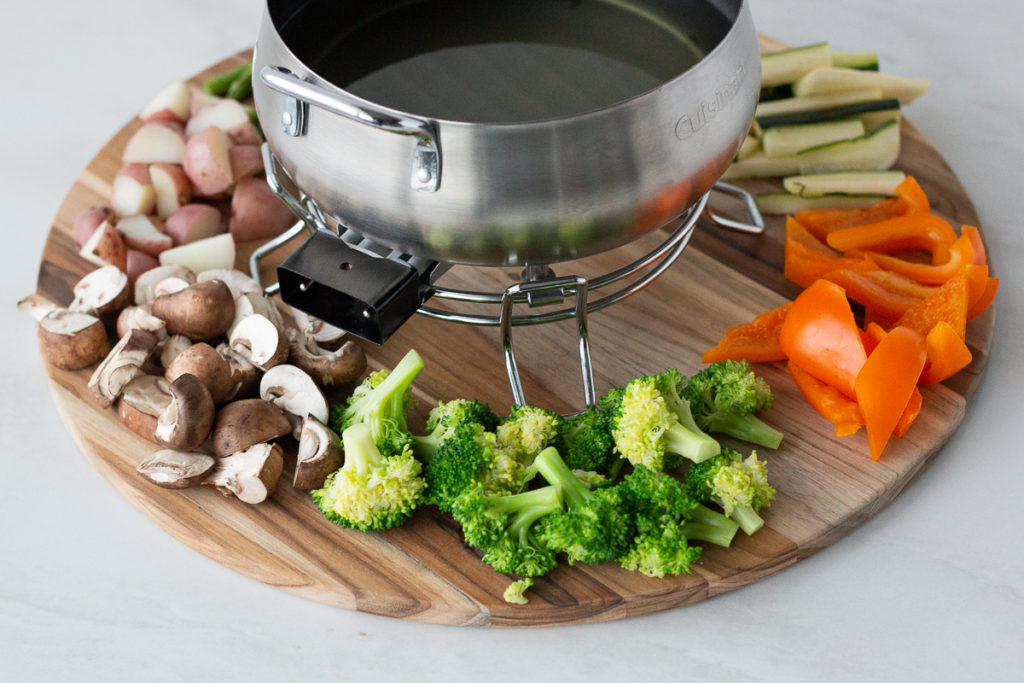 The electric fondue pot takes away all the guesswork and stress of the traditional fondue experience. With an adjustable thermometer, you can monitor your heat the whole time. The heating is quick–getting oil to 375 degrees F takes between 10 and 15 minutes. Best of all, you can change the temperature setting with a simple turn of the dial to adjust for different ingredients or the passage of time.
The plug is removable, allowing you to clean the pot easily, which means you can do cheese and chocolate on the same night!
Already have a fondue pot at home? It's time to dust it off and pull it out. We believe everything in the kitchen should work for its keep, so let's get you using that pot. And we hope you'll learn something new in the process.
---
So what should you put in that pot? In classic Gygi style, we've tried out the four most popular fondue recipes (cheese, chocolate, broth, oil) and have learned a couple things to take the risks out of your experience. Use your favorite recipe, or borrow one of ours. The most important thing to remember is to bring the fun to the table! So whichever recipe seems simplest to you, start with that one for your first time, and go from there.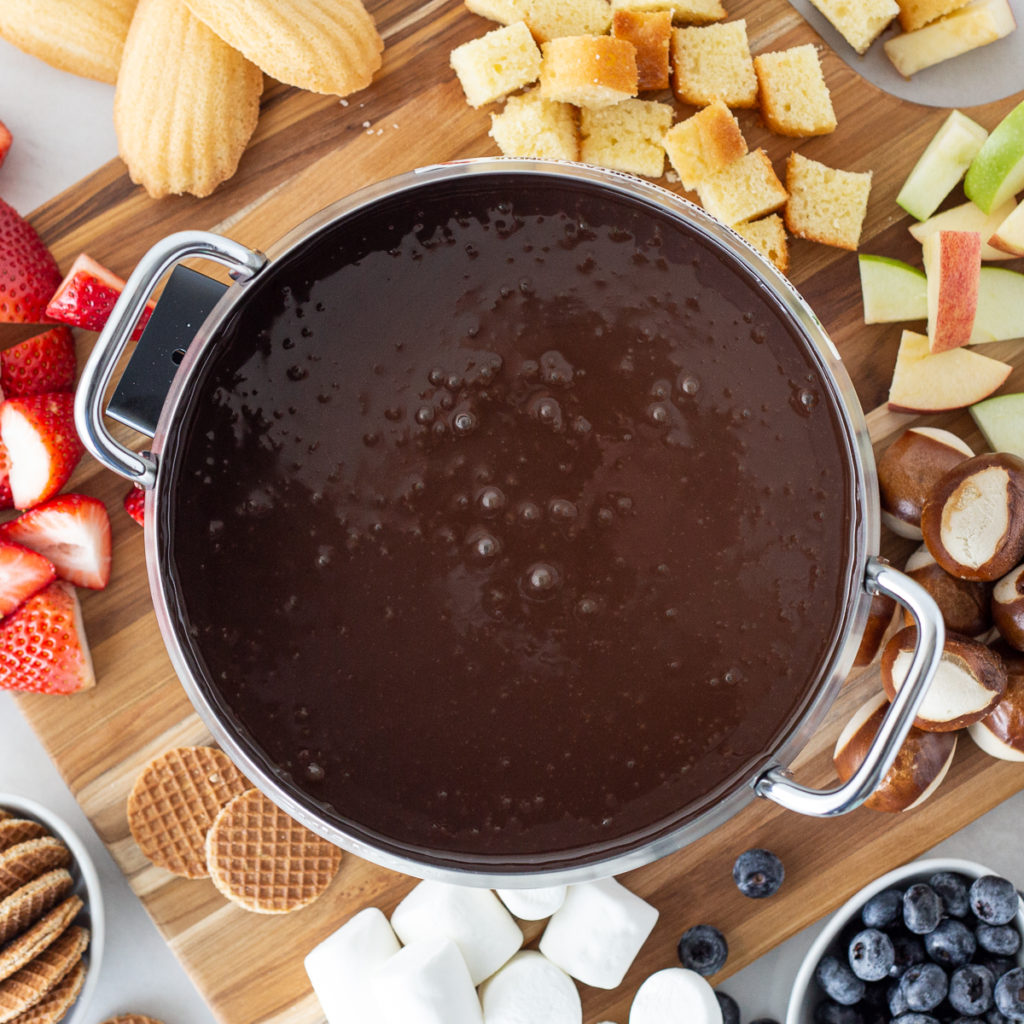 5 Tips for the Best Chocolate Fondue
When it comes time to make your fondue, pick the highest quality chocolate you can. This is the time for the best ingredients to make the best flavor. Semi-sweet (dark) will give you a deeper, slightly more bitter flavor. Using milk chocolate will be creamy and richer.
To help the chocolate melt evenly, we suggest you warm the cream in the fondue pot before adding in the chocolate. We're making a ganache in the fondue pot, so this tried and true method helps make a really smooth sauce.
Once the chocolate is melted and smooth, turn your fondue pot to a low setting to keep the chocolate from getting too hot- the chocolate is best if used up after 30 minutes in the pot. If you're worried about burnt chocolate (yuck!) you can take the chocolate fondue off the heat and it will stay warm for about 20 minutes.
Dippers: fruit- strawberries, bananas, raspberries, oranges, apples. Also try out some day old cake, cookies, and even brownies.
Make sure that the fondue fork is for dipping into the chocolate only, and your guests aren't eating off of them. Provide a plate for them to put their food on, and possibly and kitchen fork to eat with. This helps keep things safe and clean!
CHOCOLATE FONDUE RECIPE
INGREDIENTS
INSTRUCTIONS
Heat the cream and salt in electric fondue pot, medium heat. Do not let boil. Once cream is simmering, pour in chocolate and then let sit for about one minute. Whisk together chopped chocolate and cream with nonstick whisk, stir until combined. Keep fondue warm, making sure heat doesn't get too high.
---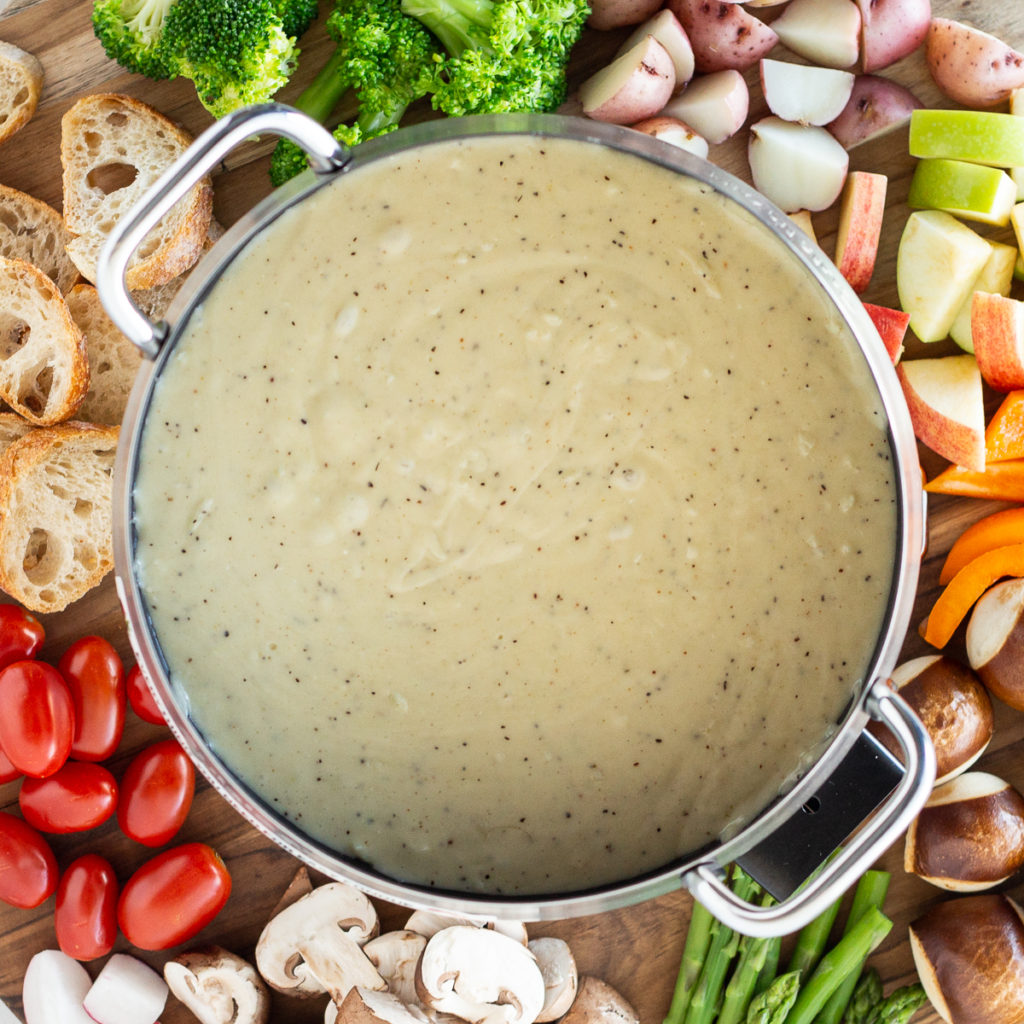 5 Tips for the Best Cheese Fondue
Add a variety of cheese to create the most depth of flavor, for example: swiss (tart undertones), sharp cheddar (strong flavor), pepperjack (adds some heat), creamy cheeses (gruyere, fontina, gouda)
Coating your grated cheese in a little cornstarch before melting can help stabilize the cheese, and keep it from separating once it's melted. While you're dipping, if the cheese starts to over cook, or get too thick, add a tsp of lemon juice to smooth it out. If it looks greasy, stir in a little cornstarch.
Use a figure-8 dipping motion to keep your "dippers" on the fork while getting covered with cheese.
If you want to add more seasoning to your fondue, mix them in with the chicken broth- there are some fun options depending on flavor profile: dry mustard, curry powder, cayenne powder, paprika.
Dippers: crusty bread, par-cooked veggies, pretzels, apple slices
CHEESE FONDUE RECIPE
Serves 4-6
INGREDIENTS:
2 cups grated Gruyere (about 8 oz)
1 1/2 cups grated Swiss cheese (about 6 cups)
2 Tbsp Cornstarch
1 cup chicken broth
1/8 tsp lemon juice
1 Tbsp finely minced garlic
1/4 tsp ground pepper
1/4 tsp nutmeg
Dash Paprika
INSTRUCTIONS:
Place both the Gruyere and the Swiss cheese in a gallon-sized resealable bag with the cornstarch and shake until evenly coated.
In a stovetop-safe fondue pot (or in a regular saucepan or electric fondue pot), add the chicken broth, lemon juice, and garlic and bring to a simmer. Reduce the heat to medium-low. Add the cheese, a small handful at a time, stirring constantly, but not briskly. It works best to use a wooden spoon and and stir in an S-shaped motion, making sure to scrape the bottom of the pot so it doesn't burn.
Once the cheese is melted and begins to just barely simmer, add the remaining spices and move it immediately to the table on the fondue stand with the sterno flame below. It should be the consistency of warm honey. Add more or less cheese for perfect consistency and additional salt and pepper to taste if needed.
Serve with your favorite fondue dippers: steamed broccoli and/or cauliflower, carrots, apples, chicken sausages, bread (and more bread!), lightly sauteed mushrooms, tender potatoes – the options are endless! Don't forget if you drop your food into the fondue pot, lean over and give your neighbor a kiss!
---
5 Tips for the Best Broth Fondue
Play with the type of broth you use: beef, chicken, vegetable
Use a low-sodium broth, as it boils the flavor gets more concentrated, which can make it quite salty!
Keep your broth hot! Turn your fondue pot to the hottest setting to keep the food cooking fast.
Keep the broth flavors simple. A great way to add more flavor afterward is with a variety of dipping sauces or individualized spices to sprinkle on when the food comes out of the pot.
Dippers: veggies (mushrooms, sliced carrots, potatoes, zucchini, shrimp, thinly sliced meat: beef or chicken)
BROTH FONDUE RECIPE
INGREDIENTS
32 oz beef broth
1 head garlic, sliced in half
1/2 cup water
1 Tbsp soy sauce
1 bay leaf
1 tsp ground black pepper
INSTRUCTIONS
In a fondue pot, combine all broth, garlic, water, soy sauce, bay leaf, and black pepper. Bring to a simmer.
Dip dippers and leave in broth until cooked thru.
You can sub beef for chicken sausage, sub out beef broth for chicken broth. For a vegetarian version- just use veggie stock and omit meat dippers.
---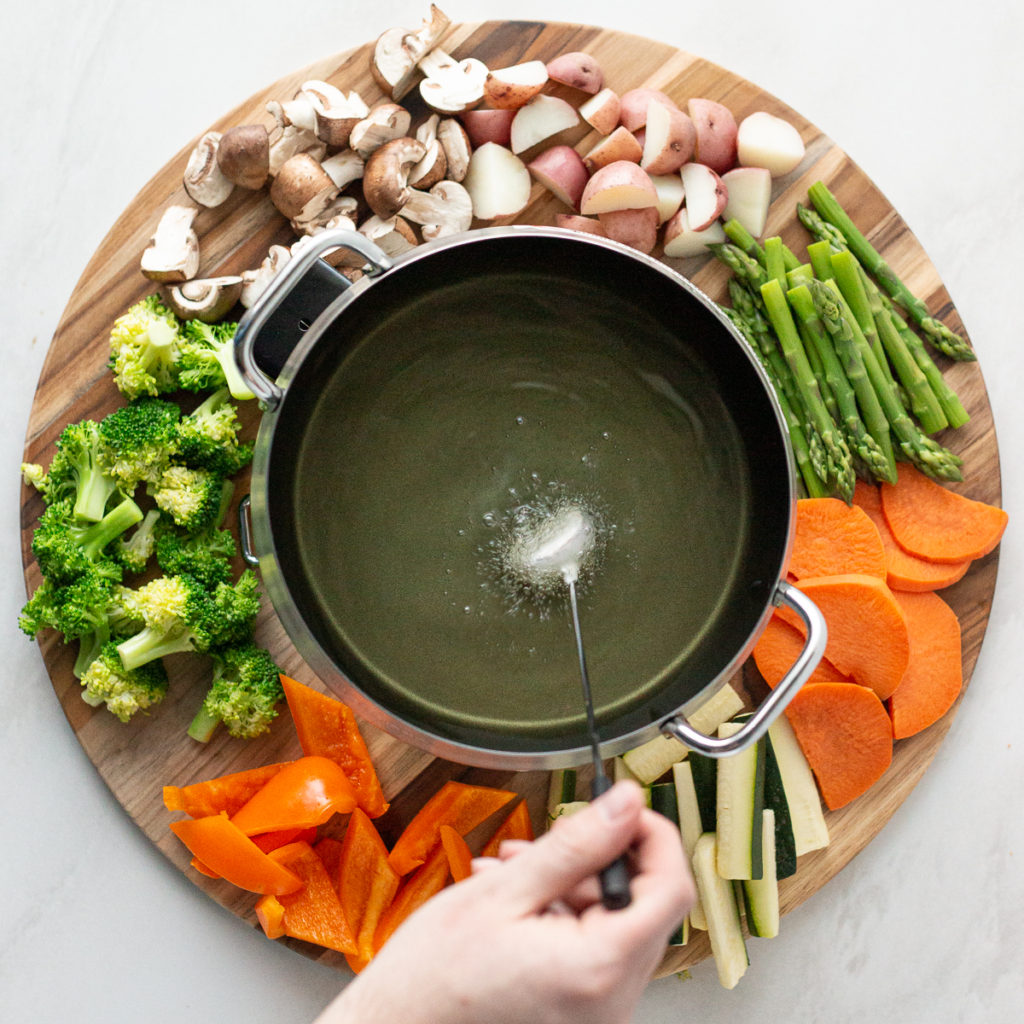 5 Tips for the Best Oil Fondue
There's a variety of oil you can pour into your pot. Canola/vegetable is going to be most accessible. Peanut oil gives you a more traditional fried flavor (but be careful with peanut allergies), and sesame oil is a fun option if you have some on hand. Don't use olive oil, as the smoke point is much lower and can alter the flavor if the oil is too hot.
Use a thermometer to check the temp of your oil. If it is too hot, turn the oil down. You want to cook around 375 degrees.
Keep your pot from getting too full, if there are too many foods in the oil at one time, the oil can cool quickly and cause your food to be much more greasy as it takes a longer time to cook.
Use a chilled batter for the best results. We love this tempura mix, but any homemade recipe works great. Just keep the batter cooled.
Oil can be used for both sweet and savory! So fun. Sweet Dippers: fruit, Oreos, brownie bites, squares of chocolate. Savory Dippers: thinly sliced meat, shrimp, sweet potatoes, asparagus, broccoli. carrots, onions, mushrooms.
BONUS: when it comes time to clean up of your oil, make sure to keep it out of your drains. We like to use a fine mesh strainer to clean the oil and use it again later. If you need to throw it away, put it in an old bottle and throw it in the garbage.
OIL FONDUE RECIPE
INGREDIENTS
INSTRUCTIONS
Heat oil in electric fondue pot over medium heat. Decide if you're going to have a savory or sweet palette for your "dippers"
Mix your tempura or batter. Begin by dipping your food in the batter, then carefully lower in the oil. Cook until the batter is browned. Be careful not to overcrowd the fondue pot. that will cause the oil to cool, and your batter will take much longer to cook, resulting in a really greasy finished product.
---
There you have it. Once you start doing the fondue, you'll see the sky's the limit. With the 3 qt. non-stick bowl, you'll be cleaned up in no time. We have a feeling fondue could make its way into your monthly meal rotation!