When you bite into a chunk of white chocolate topped with crushed peppermint can you hear the herald angels singing? How about the jingle bells ringing? This is a epitome of classic holiday treat. So often it is whipped up with some quickly melted "almond bark" or "white chocolate chips" found at the grocery store, which leave your mouth feeling waxy and your festive heart falling just a tiny bit. Your white chocolate bark can be delicious and creamy and festive! We want to help you make this classic holiday treat irresistible. How you ask? By using the most delicious, creamy white chocolate possible.
The only thing holding you back is learning to temper your chocolate so you can use the highest quality couverture chocolate. Couverture chocolate uses pure cocoa butter as opposed to a more stable vegetable solid (sunflower oil, palm kernel oil) which gives it the most authentic taste and the best mouthfeel, but cocoa butter is finicky. It is the least stable oil, which is why it requires stabilization- that's the tempering process.
We used to be intimidated by tempering, and just always stuck with the trusty reliability of compound chocolate, but as we braved the world of tempering we found the process to be really straightforward, and it is the gateway to the best flavor and texture possible! Read this post to learn more about tempering.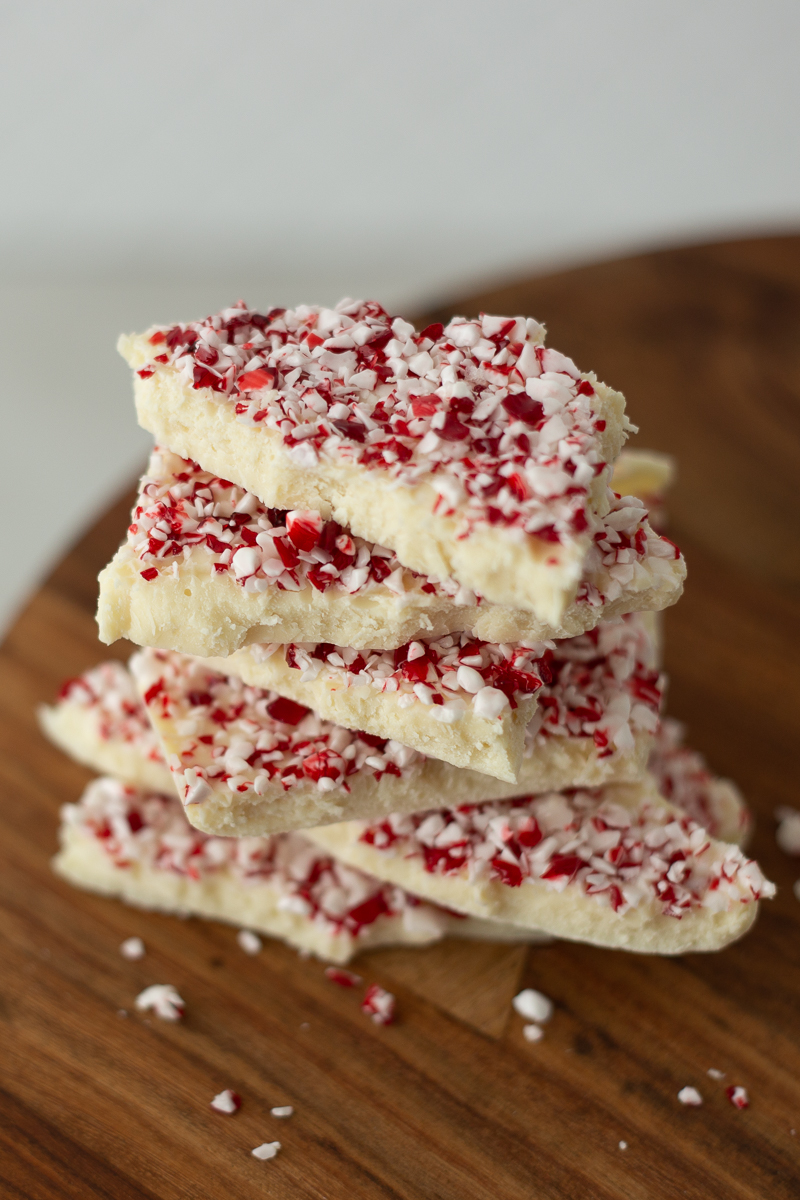 Print Recipe
White Chocolate Peppermint Bark
Ingredients
High Quality White Chocolate (couverture)
Ground Peppermint Pieces
Peppermint oil
Instructions
1

Line a baking sheet with parchment paper.

2

Melt your chocolate and add optional peppermint oil if you want a stronger peppermint flavor.

3

Follow the guidelines for tempering using your preferred method.

4

Spread the chocolate in an even layer on the parchment paper.

5

Sprinkle peppermint pieces over the chocolate.

6

Allow the chocolate to harden, then use your hands to break it into pieces.
Join with us as Ludy Hamilton teaches us how she tempers her white chocolate with a product called mycryo. You can also use this same recipe and use the seed method, or mush method to temper your chocolate.
. . . . . . . . . . . . . . . . . . . . . . . . . . . . . . . . . . . . . . . . . . . . . . . . . . . . . . . . . . . . . . . . . . . . . . . . . . . . . . . . . . . . . . . . .
Read our Troubleshooting guide to help you if you run into some problems with your chocolate.
Want to learn more about chocolate? Read our Chocolate 101 post.
All of this sound like too much work? We also love using COMPOUND chocolate- which doesn't require tempering. Learn more about this fail-safe way to dip with chocolate.
This post is a part of our 2020 Chocolate Extravaganza. To see a list of all the classes, click here.