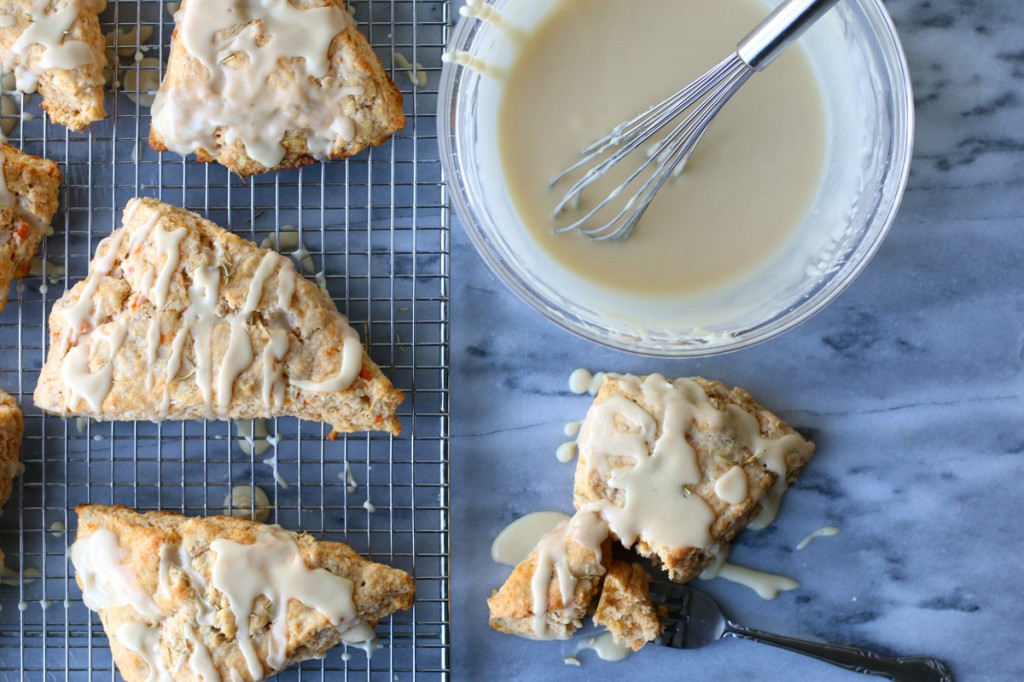 After your tryptophan-induced food coma wears off, bake this easy treat using sweet potato leftovers from Thanksgiving dinner. This tasty treat pairs perfectly with your warm beverage of choice, a cozy blanket by the fire, and a book. If your family's tradition is burying your potatoes in a layer of marshmallows, all you need to do scrap off that part and your set.
What you'll need for the Rosemary Sweet Potato Scones
Makes 12
3/4 pound cold leftover sweet potatoes (3/4 cup to a 1 cup of mashed sweet potatoes)
4 cups of all-purpose flour
2/3 cup granulated sugar
4 1/2 teaspoons baking powder
1/4 teaspoon salt
1 1/2 teaspoons of pumpkin pie spice
1 cup of cold butter in 1 tablespoon cut slices
3/4 cup of heavy cream
3/4-1 cup of buttermilk
1 1/2 tablespoons of rosemary
What you'll need for the Maple Glaze
Makes about 1/2 cup
2 cups of powdered sugar
1/4 cup of pure maple syrup
1/4 cup of heavy cream
pinch of kosher salt
Preheat oven to 425º F. Line two baking sheets with parchment paper.
In a large bowl, mix the flour, sugar, baking powder, salt, and pumpkin pie spice. Use a pastry blender to cut in the butter to the dry ingredients. You should form pea-size lumps in the dough.
Add cold sweet potatoes and rosemary to mixture. Incorporate the buttermilk and cream a 1/4 cup at a time. Do not overwork the dough.
On a lightly floured surface, gently knead the dough a few times until it's cohesive. Pat the dough into a rectangle that's about 3/4-inch thick.
Cut the dough into 6 squares and then cut diagonally to make triangles.
Transfer to baking sheets with parchment paper. Bake for 15-20 minutes (until the crust looks golden brown). Transfer to wire rack to cool.
Meanwhile, make the glaze by whisking the ingredients in a medium bowl. Thin to desired consistency for drizzling. Drizzle the icing over the scones and serve!