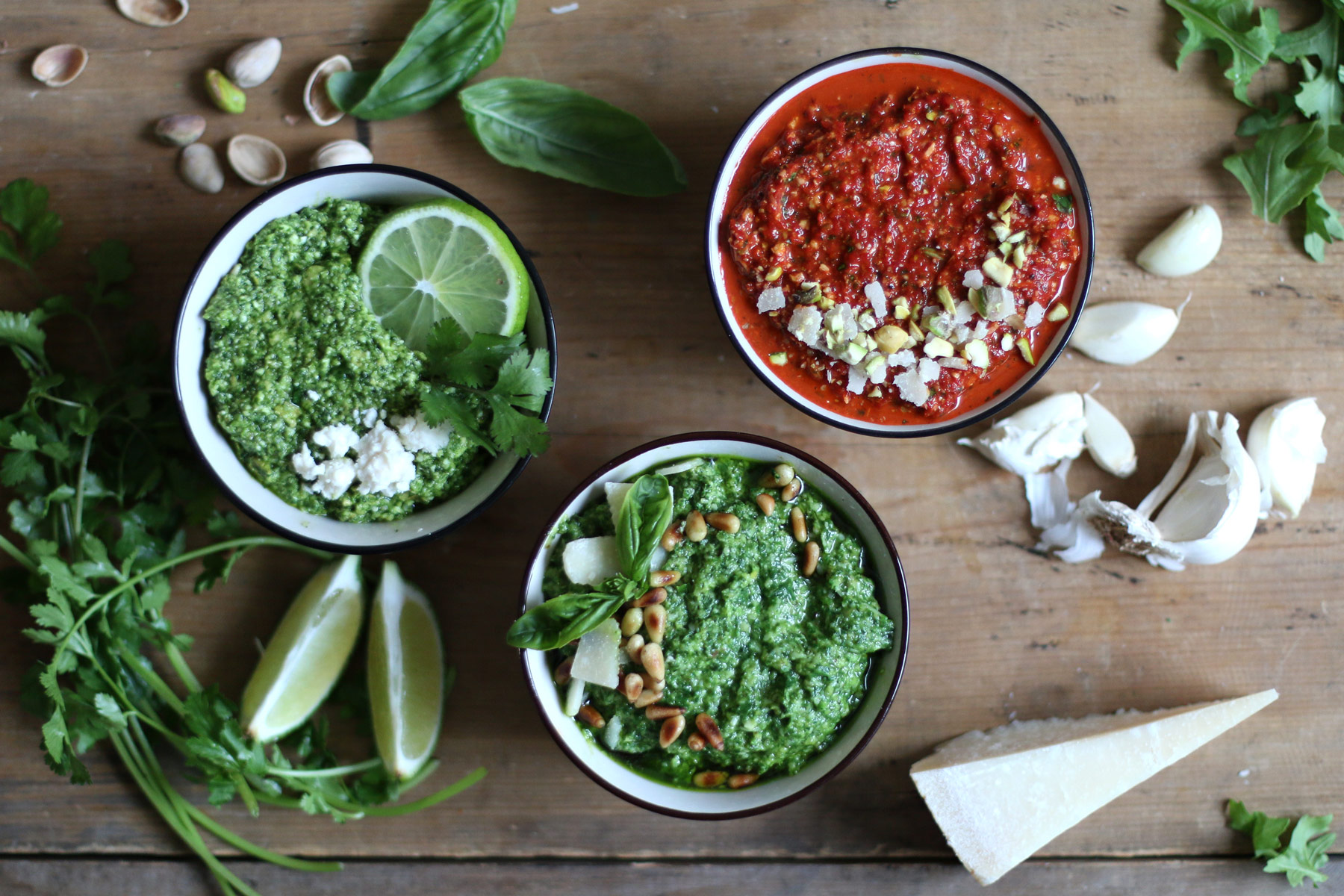 Pesto is a sauce that originated in northern Italy and traditionally consists of 5 basic ingredients: basil, olive oil, garlic, pine nuts, and parmesan cheese. However, understanding the base of pesto can open up a world of pesto possibilities and a wide range of pesto variations.
What you need to know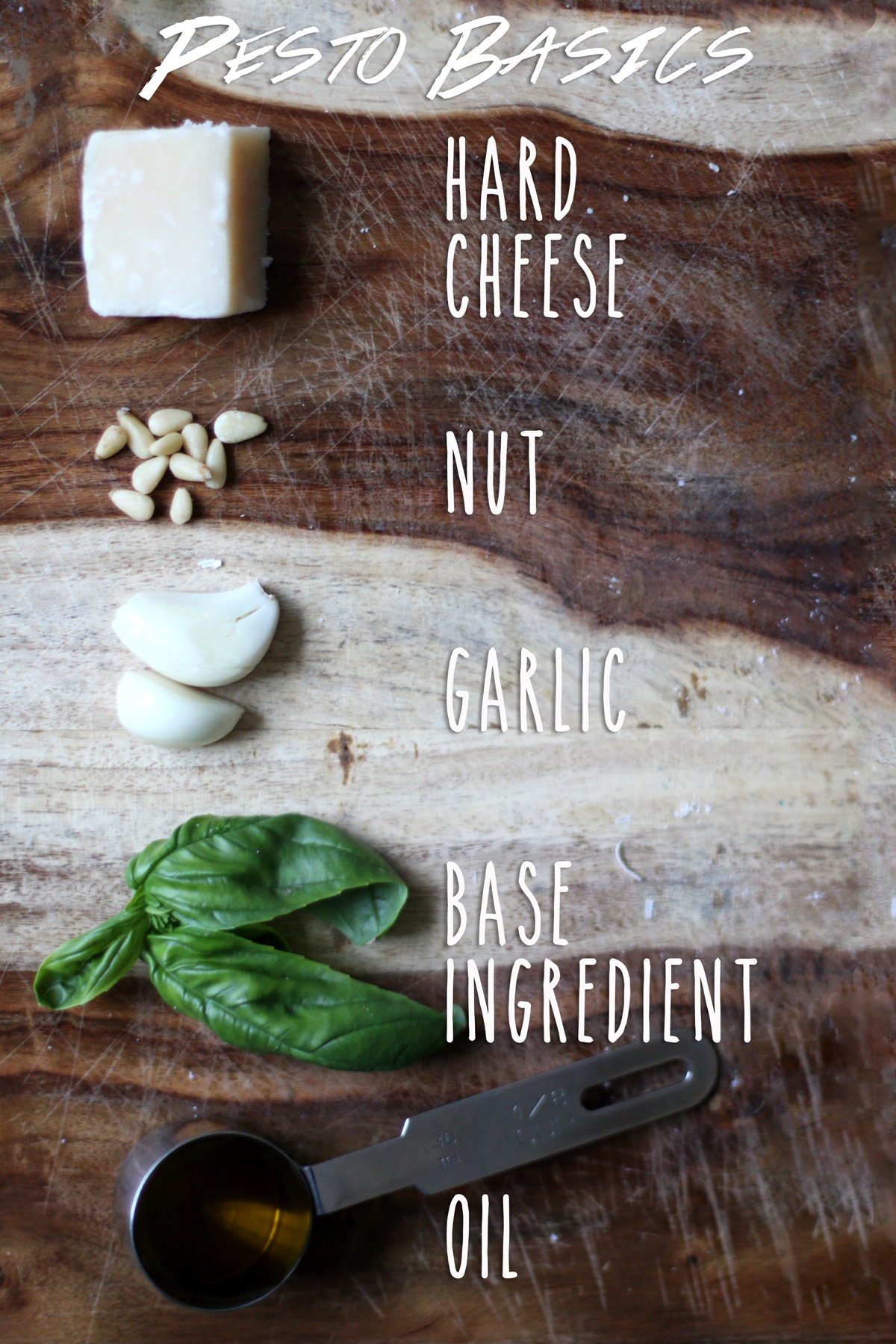 The base of any pesto
Hard cheese: 1/4 – 1/2 cup
Nut: 1/4 cup
Garlic: 2-3 cloves
Base ingredient: 2-4 cups
Olive oil: 1/4 – 1/2 cup
Delicious additions: lemons, limes, peppers, spices, various herbs, salt, or whatever else agrees with your pallet. Master this, and you'll be able to pesto any combo of ingredients.
Here are our three favorite pesto recipes that are a must try.
The Classic
1/2 cup parmesan cheese (hard cheese)
1/3 cup pine nuts (nut)
2 garlic cloves
4 cups fresh basil leaves (base ingredient)
1/2 cup olive oil
A dash of sea salt
To ensure your basil keeps its bright green color, you'll want to blanch and shock it before making the pesto. Start by placing the basil leaves in boiling water for 10 seconds then, using a slotted spoon, place them immediately into an ice bath to cool. Remove from the ice bath and pat them dry before placing them in a food processor.
Combine basil leaves, olive oil, pine nuts, and garlic in a food processor. Blend until a paste forms. Add the cheese and salt, blend until smooth. Pesto can usually stay fresh up to 5-7 days in the refrigerator, or 6 months in the freezer.
The South Of The Border
1/4 cup cotija cheese (hard cheese)
1/4 cup pumpkin seeds (nut)
3 garlic cloves
2 cups packed fresh cilantro (base ingredient)
1/4 cup olive oil
Additions
1 serrano pepper (seeded and roughly chopped)
1 tablespoon fresh lime juice
a dash of sea salt
Place the cilantro and pumpkin seeds in a food processor and pulse until they are both finely chopped. Add the garlic and serrano pepper and pulse until combined with the cilantro. Continually scrape down sides to ensure a smooth paste. With the food processor running, pour the oil into the mixture slowly. Keep the food processor running until the mixture is smooth. Add cotija cheese, lime juice, and salt. Blend until you've reached desired consistency.
The Roasted Red Pepper
1/4 cup parmesan cheese (hard cheese)
1/4 cup pistachios (nut)
2 garlic cloves
2 large red bell peppers, or 1 pound (base ingredient)
1/4 cup olive oil
Additions
1/2 cup arugula
1/4 teaspoon crushed red pepper
A dash of sea salt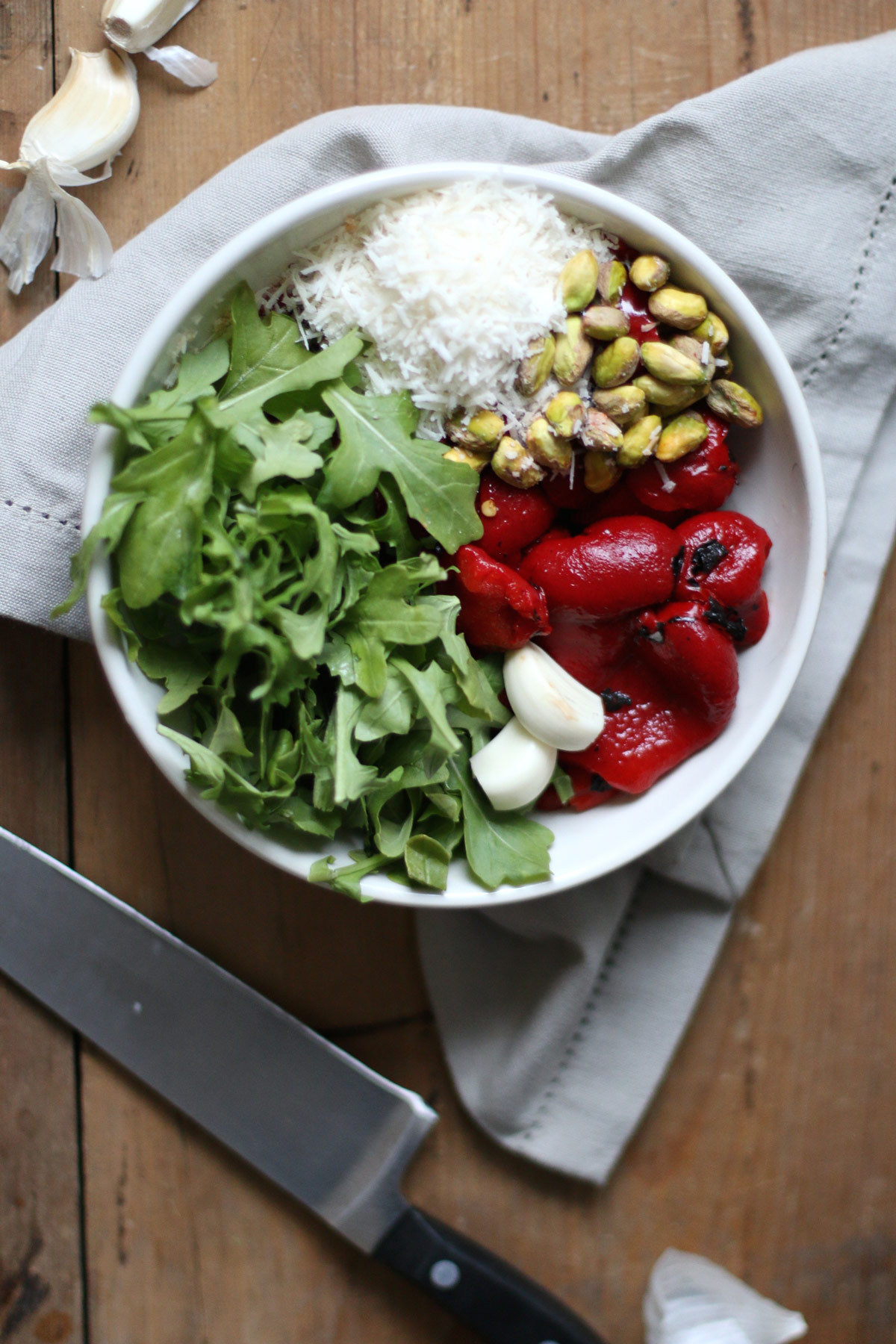 Preheat your oven to 400 degrees. Chop your red peppers into thick slices, place on a baking sheet, and sprinkle with a tablespoon of olive oil. Roast the peppers for 1 hour, turning them over at the 30 minute mark. Remove from oven and allow them to cool for roughly 15-20 minutes. Remove the white membrane from the peppers and set aside.
With a food processor, add the garlic and pistachios. Pulse until they are finely chopped, resembling something like a coarse meal. Add the roasted red peppers, 2 tablespoons olive oil, arugula, parmesan cheese, and crushed red peppers. Pulse until the mixture is a smooth paste. Add a dash of salt, to taste.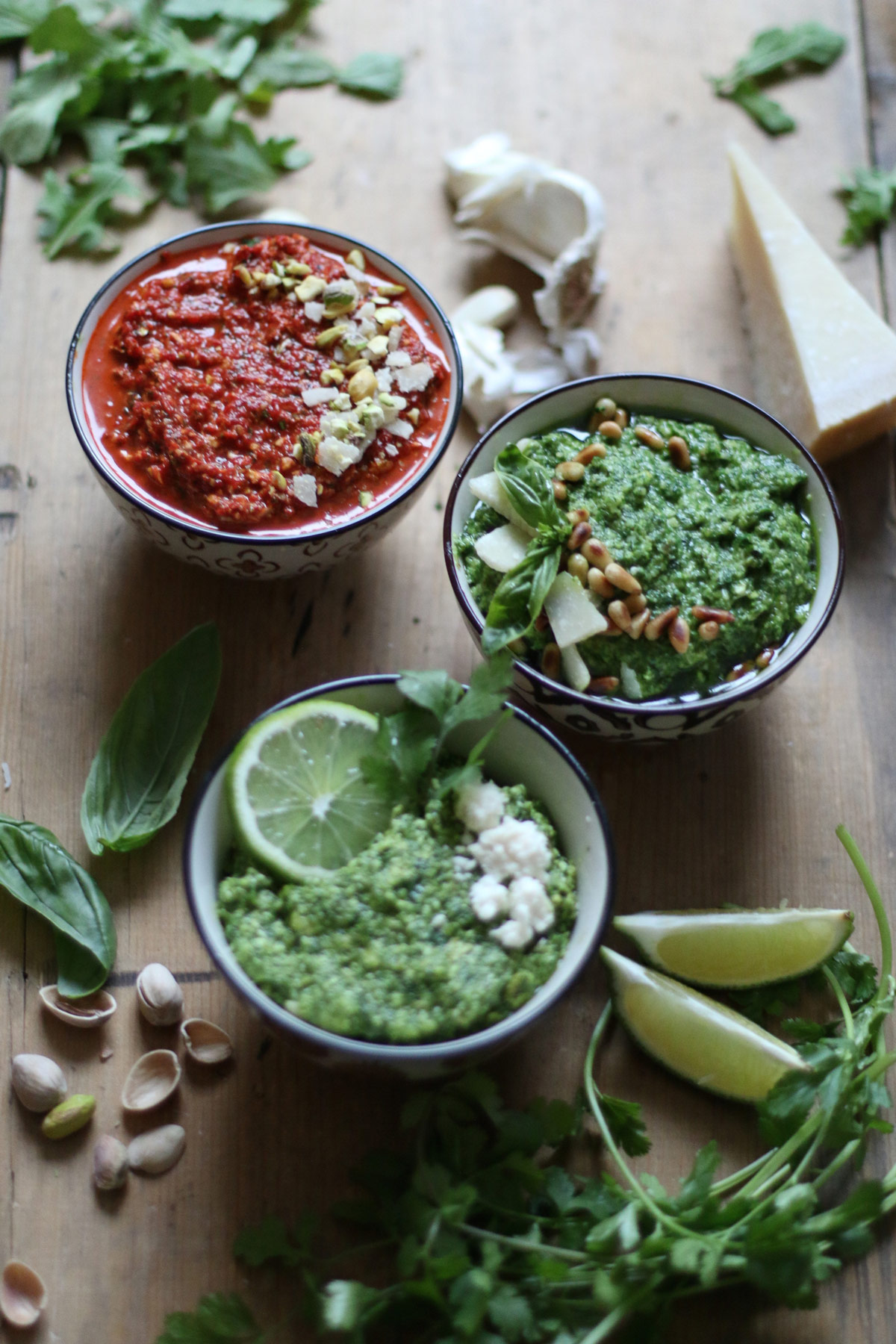 Enjoy!