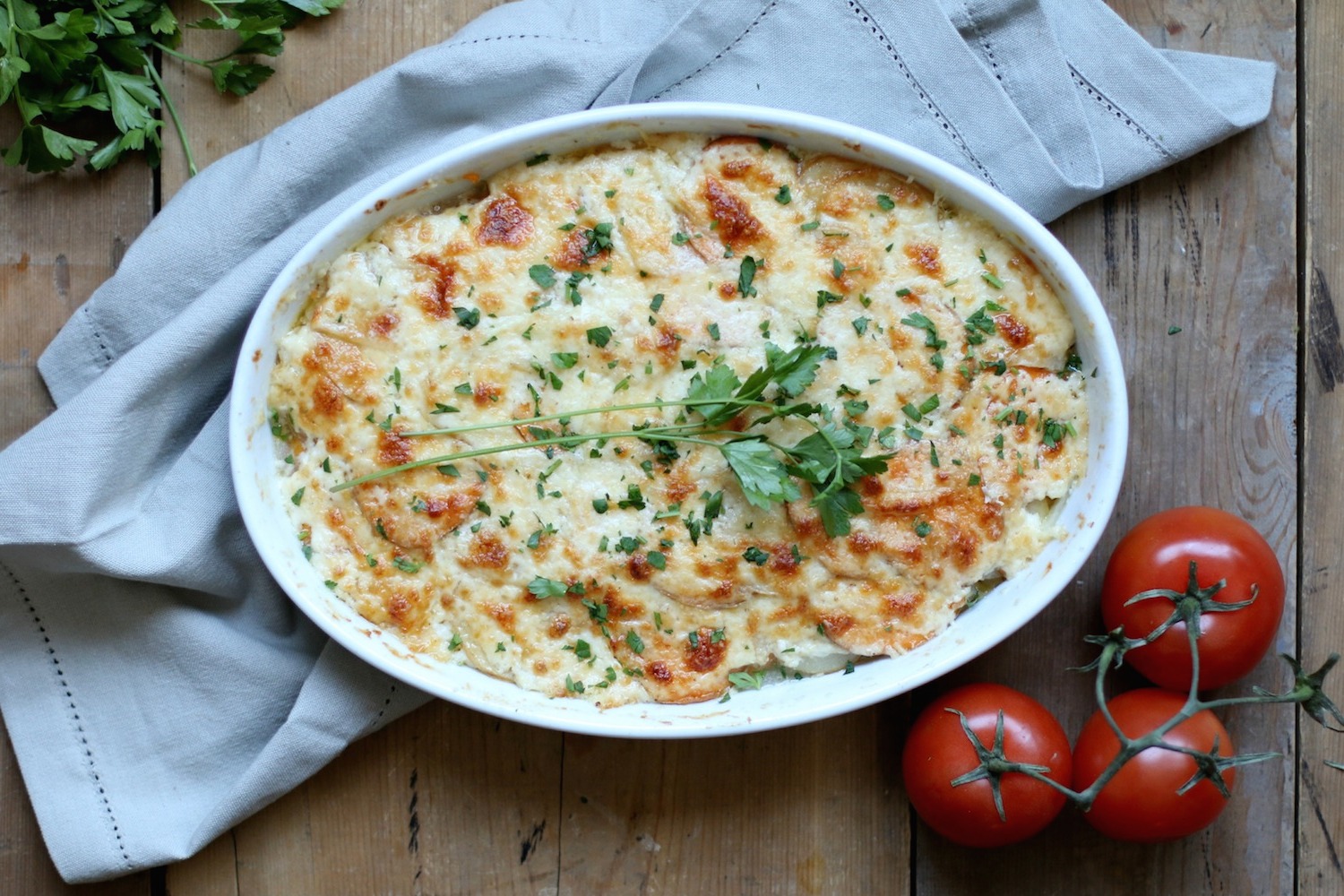 Now that you've mastered the roux, why not put your skills into a recipe that will impress guests and make your family ask for seconds, with this root vegetable au gratin. The cheesy goodness complements the tender vegetables, and the best part is, the creaminess of the dish will have everyone fooled that they are even eating a dish full of vegetables.
What you'll need
2 cups half and half
3 cloves garlic (peeled and lightly smashed)
3 tablespoons butter
6 tablespoons flour
8 ounces Havarti cheese (shredded)
1 medium sweet potato (thinly sliced)
2-3 medium turnips (thinly sliced)
4 medium parsnips (thinly sliced)
Handful fresh parsley (minced)
Makes 8 servings
Preheat oven to 350 degrees Fahrenheit. Generously butter a 1.5-quart casserole dish and set aside.
In a medium saucepan, heat half and half and garlic over medium heat until bubbles just begin to form around the edges. Remove from heat, cover, and let steep for about 10 minutes. Remove garlic cloves and discard.
Meanwhile, thinly slice root vegetables (a mandolin makes this step a snap). Toss root vegetables in a large bowl and set aside. Slice onion and set aside.
In another medium saucepan, start the roux by melting butter over medium heat. Once melted, add flour and whisk well to incorporate. Allow roux to bubble for a few minutes to cook out the flour taste. Slowly pour in steeped half and half, whisking constantly. Continue stirring as sauce thickens. Once sauce has thickened, add shredded Havarti and stir to combine. Lower heat and continue stirring occasionally until cheese has completely melted. Remove from heat.
Layer about a quarter of the root vegetables in the bottom of the casserole dish. Scatter about a quarter of the onions. Salt and pepper the layer, then spread about a quarter of the roux over the vegetables and top with about a quarter of the parmesan. Continue layering three more times.
Place casserole dish on a baking sheet just in case it bubbles over. Place in the preheated oven and bake for about 45-60 minutes, until vegetables are tender. Allow dish to cool for about 5-10 minutes. Mince fresh parsley and sprinkle over the top of the gratin.