Learning how to make homemade pasta is an essential skill. The taste and texture are superb and you feel great knowing the exact ingredients in your food. Better yet, homemade pasta is a breeze to make and gives any dish an artisan appearance.
With only 2 ingredients, there is no reason you shouldn't at least try to make your own homemade pasta! Watch our short and simple video, or follow our step-by-step process for how to make easy, homemade pasta.
This dough can be made into any variety of pasta. Cut it thinly for spaghetti, thicker for fettuccine, or squares for ravioli and bow tie pasta. Rolling and cutting by hand results in a beautifully rustic noodle. But you can also use a pasta machine to roll and cut the dough. Learn how here.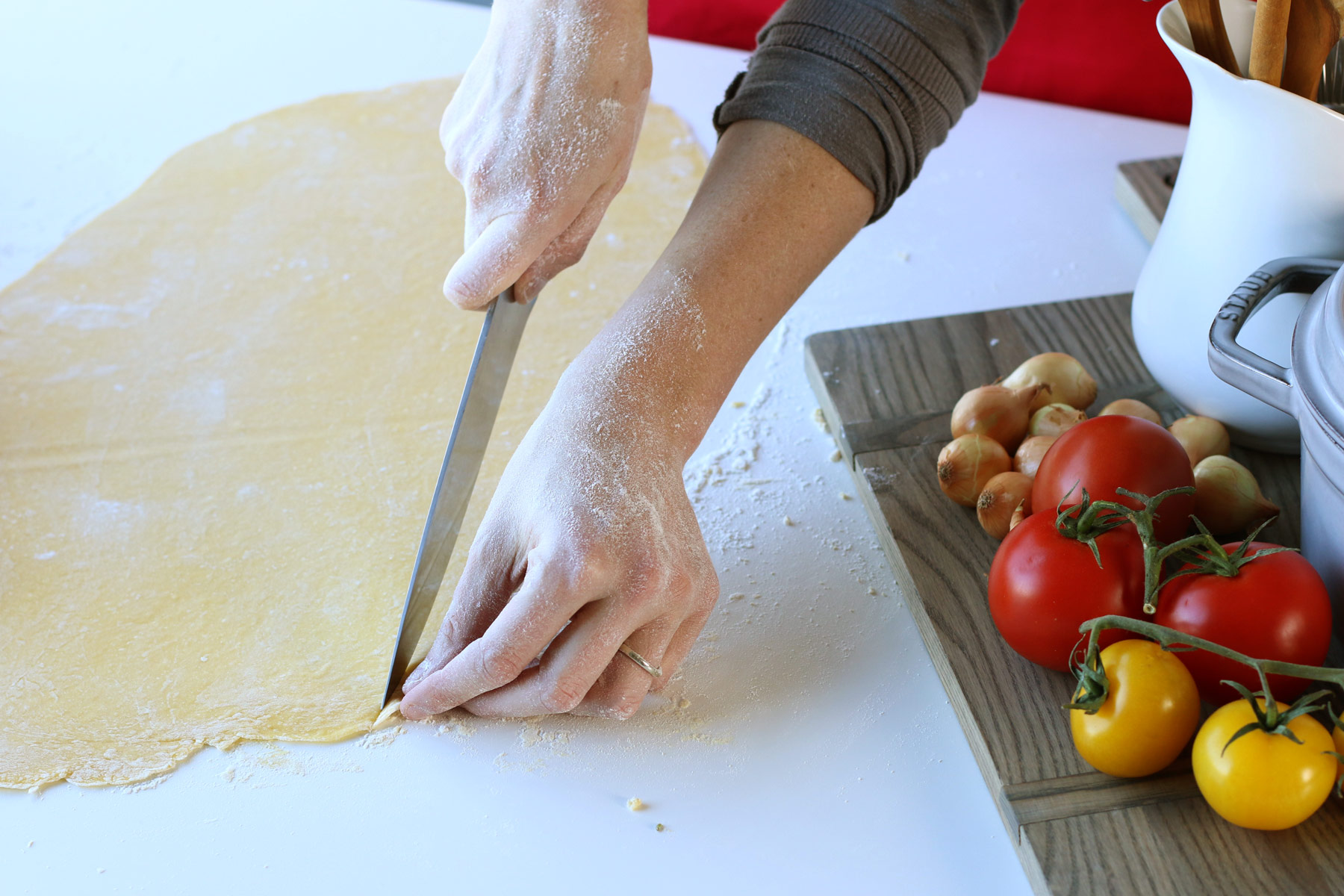 Print Recipe
Ingredients
1 1/2 cups flour
3 eggs
3 tablespoons kosher salt
3 tablespoon olive oil
Instructions
1

Pour the flour into a mound on a smooth surface. Make a crater in the center.

2

Crack three eggs into the crater.

3

Mix the flour and egg together with a fork. If the eggs run away, just drag them back to flour and continue incorporating.

4

When the dough starts to form, becoming too hard to mix with a fork, begin kneading with your hands, until it forms a firm and solid ball of dough.

5

Cover the dough with plastic wrap and let rest for 10 minutes, allowing the flour to completely hydrate.

6

While the dough rests, prepare a pot of water. Fill a large stock pot half way full with water. Add 3 Tablespoons of salt and 3 tablespoons of oil. Bring to a boil.

7

Dust a smooth surface with flour and roll out your dough until you achieve the desired thickness. Keep in mind that the dough will expand a bit when it is cooked. (If you are hoping to achieve very thin dough, roll it out as much as you can, cover it with plastic wrap, then let is rest for 10 minutes before rolling it out again. This allows the gluten to rest and the dough will roll even thinner.)

8

When the water is boiling, add the noodles one at a time.

9

Cook for 3-5 minutes, or until cooked completely throughout.