Ever crave a rich, decadent, melt-in-your-mouth, chocolate ending? This molten lava cake recipe will have your taste buds thanking you with each bite! Top with berries, ice-cream, or a dollop of cream for a perfect ending to the perfect dessert.
What you'll need
1/2 cup unsalted butter
8 ounces bittersweet chocolate
3 tablespoons flour
2 large egg yolks
2 large eggs
1/4 cup + 2 tablespoons light brown sugar (packed)
1 teaspoon vanilla extract
pinch of salt
Makes six small molten lava cakes.
Preheat oven to 450 degrees. Generously butter six 6-ounce ramekins (make sure to cover the inside of the ramekin well, but evenly. Too much butter will leave a hole in your cake). Place ramekins on a baking sheet.
In a medium bowl, melt 1/2 cup butter. Quickly add the chocolate and stir until smooth. You may need to reheat mixture for a second, be careful not to burn your chocolate. Start with 30 seconds, then stir again. Repeat until smooth. Add in flour and stir to incorporate all the flour. Set aside.
In a mixer bowl, beat eggs, egg yolks, brown sugar, vanilla, and salt. Mix on high until thick and light yellow in color (it's quite pretty what this can turn into!). This process should take about 5 minutes in the mixture.
Add the melted chocolate/flour mixture to the egg mixture and fold with a rubber spatula until combined. Scrape the bottom and sides as you fold.
Pour the batter evenly into the prepared ramekins and bake for 10 minutes. Once the cakes are set and puffed over the edges of the ramekins, remove them from the oven and let the cakes cool in the ramekins for 1-2 minutes. Holding the hot ramekins with a dish towel, carefully invert the cakes onto dessert plates.
The molten lava cakes should pop right out, but you can run a thin-bladed knife around the edges if they are a little stuck.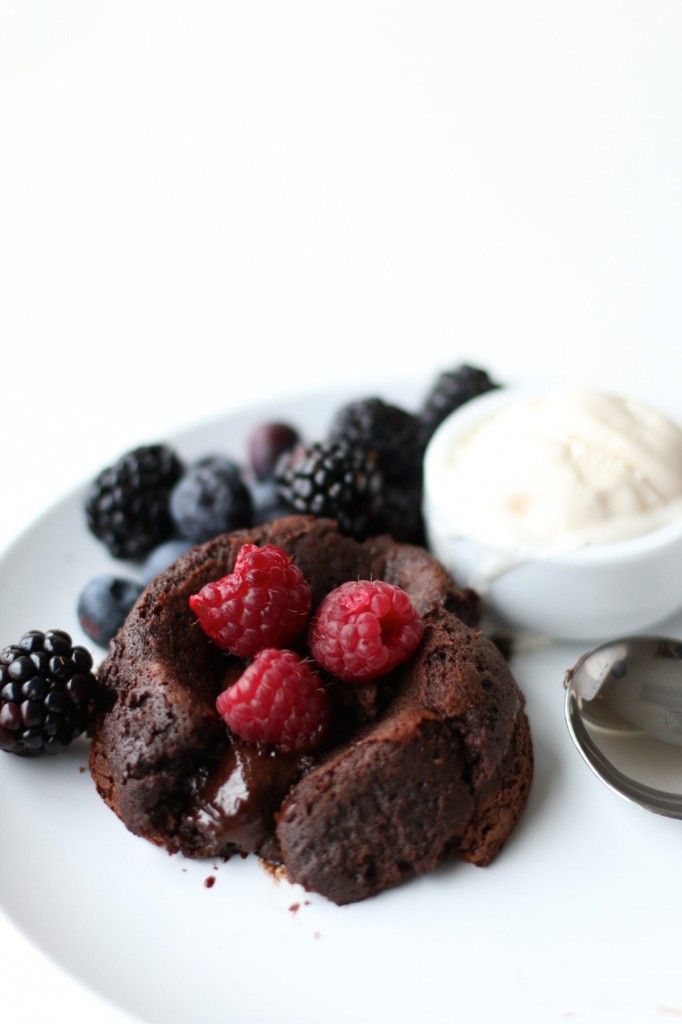 Enjoy (and you're welcome)!