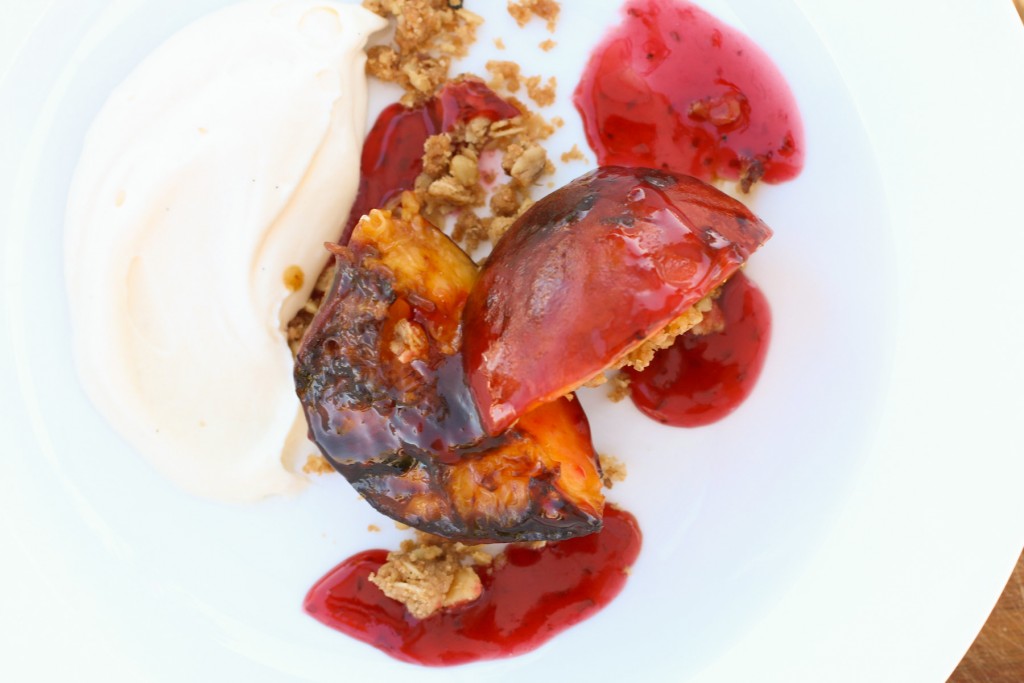 Grilled peaches? Delicious. Mascarpone? Mouth-watering. Freshly made raspberry sauce? A sweet addition. Combine all three and you have a delectable summer dessert.
What you'll need for the grilled peaches
3 tablespoons butter
1 1/2 tablespoons dark brown sugar
6 medium peaches
Preheat the grill to medium heat. Melt the butter together with the brown sugar in a small skillet over medium heat. Cut the peaches in half and remove the pits. Remove the skillet from the heat and brush the peach halves with the melted butter mixture. Grill until tender, about 5-8 minutes. Serve warm and with some mascarpone and raspberry sauce.
What you'll need for the mascarpone
1 lb. mascarpone cheese
6 oz heavy cream
1 oz sugar
In an electric mixer whisk together the mascarpone cheese briefly to soften it. While whisking, gradually add the cream and sugar. Continue to whisk until stiff.
What you'll need for the raspberry sauce
2 1/4 cups lightly packed fresh raspberries
3 tablespoons water
3 tablespoons sugar
1 tablespoon lemon juice
Puree the fresh raspberries along with the water in a food processor until the puree is smooth. Strain the raspberry puree through a fine mesh strainer and discard any solids, such as seeds. Stir in the sugar and fresh lemon juice until they are well combined. Refrigerate until ready to serve.