Stuffing is the iconic partner to the Turkey for Thanksgiving dinner. This stuffing really accentuates the warm flavors of fall and uses all the right herbs to make you feel back in Grandma's kitchen. Fresh rosemary, thyme, sage and parsley. But we've mixed it up with large pieces of sausage, crsipy pieces of bread, and of course the perfect amount of smokey flavor from our favorite Traeger Grill.
Smoked Sausage, Mushroom, and Carrot Stuffing
Ingredients
1 lb ground sausage, sage flavored
1 lb white bread, torn into 1" pieces
1/2 cup butter
2 1/2 cups yellow onion, diced
1 1/2 cups celery, sliced 1/4" thick
1 1/2 cups carrot, diced
2 lbs mushrooms (great with cremini, mini-portobello, shiitake)
1/2 cup flat leaf parsley, chopped
2 Tbsp sage, chopped
1 Tbsp rosemary, chopped
1 Tbsp thyme, chopped
2 tsp kosher salt
1 tsp ground pepper
1 1/2 cups chicken broth
1/2 cup heavy cream
3 large eggs
Directions
Preheat Smoker (or Oven) to 350 degrees.
Dry out bread chunks by leaving them on a cooking sheet overnight, or by baking them in the oven at 300 degrees for about 30 minutes, stirring every 10 minutes, until the bread is dry and crispy. When cooled, place in a large bowl.
Brown sausage in large skillet, and heat until cooked through. We like big chunks of sausage, so limit stirring to get larger sized sausage pieces. Remove sausage from pan and drain
Butter a 9 x 13 pan and set aside.
In large skillet, melt butter. Add the onions, celery and carrots. Cook until onions are translucent. Then add in mushrooms and cook until they start to wilt, but are still firm.
Add vegetables to the bowl with the bread pieces, then stir in the fresh herbs. Allow time for this to cool down.
In a medium bowl, whisk together the broth, cream and eggs.
When the bread mixture has cooled, pour liquid over the top while stirring to ensure the bread soaks the liquid equally. You don't want any super soggy pieces.
Transfer mixture to prepared pan and place directly in smoker or oven. Bake until center reaches a temperature of 160 degrees, about 30-40 minutes. Serve warm. And enjoy!
Recipe adapted from Traeger.com
This stuffing could easily be done in the oven, and it would still be "knock your socks off" good. I felt like there was a slight smokiness to the flavor that definitely enhanced the earthy herbs, but it was not the star of the smoking show. If you've only got room in your oven for one twenty-pound turkey, then throw your stuffing on the smoker to give you some extra cooking space.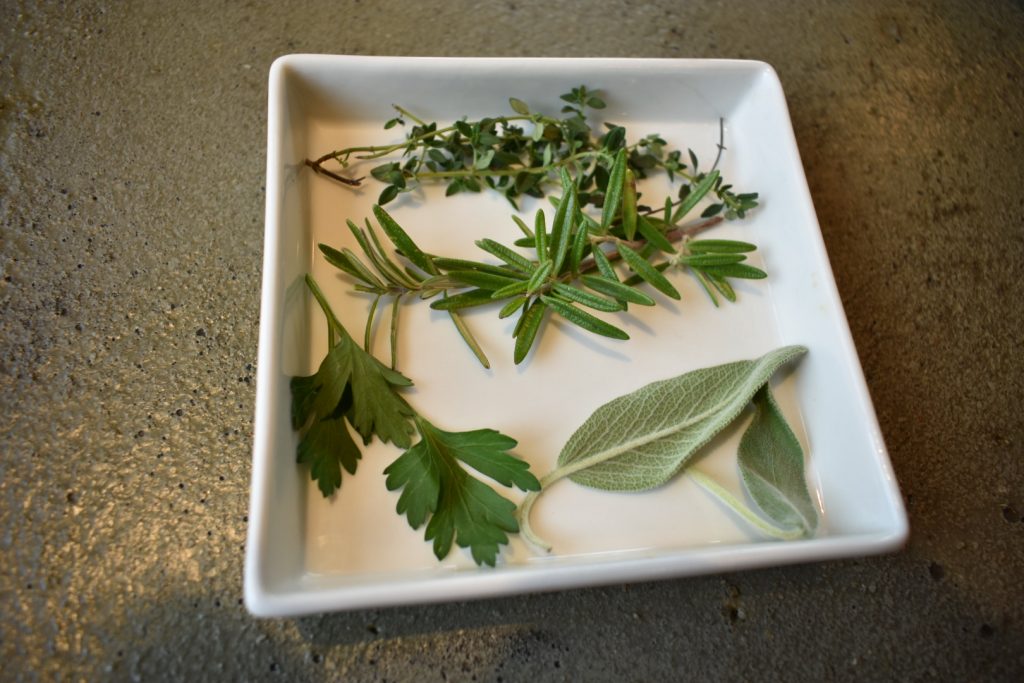 Look at these glorious, fresh herbs: parsley, sage, thyme and rosemary all make the stuffing sing!
Check out our other Smoked Dinner Thanksgiving Posts.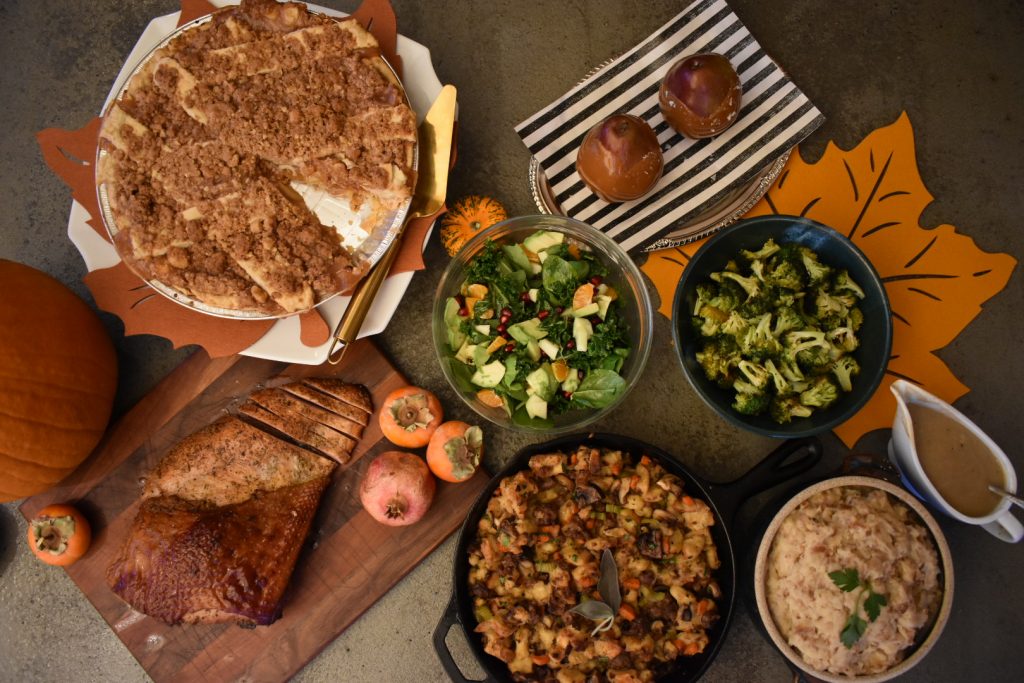 [masterslider id="11″]