Add this baked bean recipe to your repertoire! You'll love the classic flavor of baked beans with the addition of smoked bacon!
A good baked bean recipe is essential in every cook's recipe box. Whether you're serving it with your favorite cut of BBQ meat or on top of toast for brunch, baked beans make any meal hearty and satisfying.
This recipe from Chef Todd Leonard elevates classic baked beans with the addition of smoked bacon. Plus, the bourbon adds depth and variety! Just give yourself a little time to get your beans soaked the night before! This labor of love will be worth every bit of work.
Serve your beans with Baby Back Ribs & Andouille Sausage! Visit this post for more recipes from our 2019 Grilling Gala.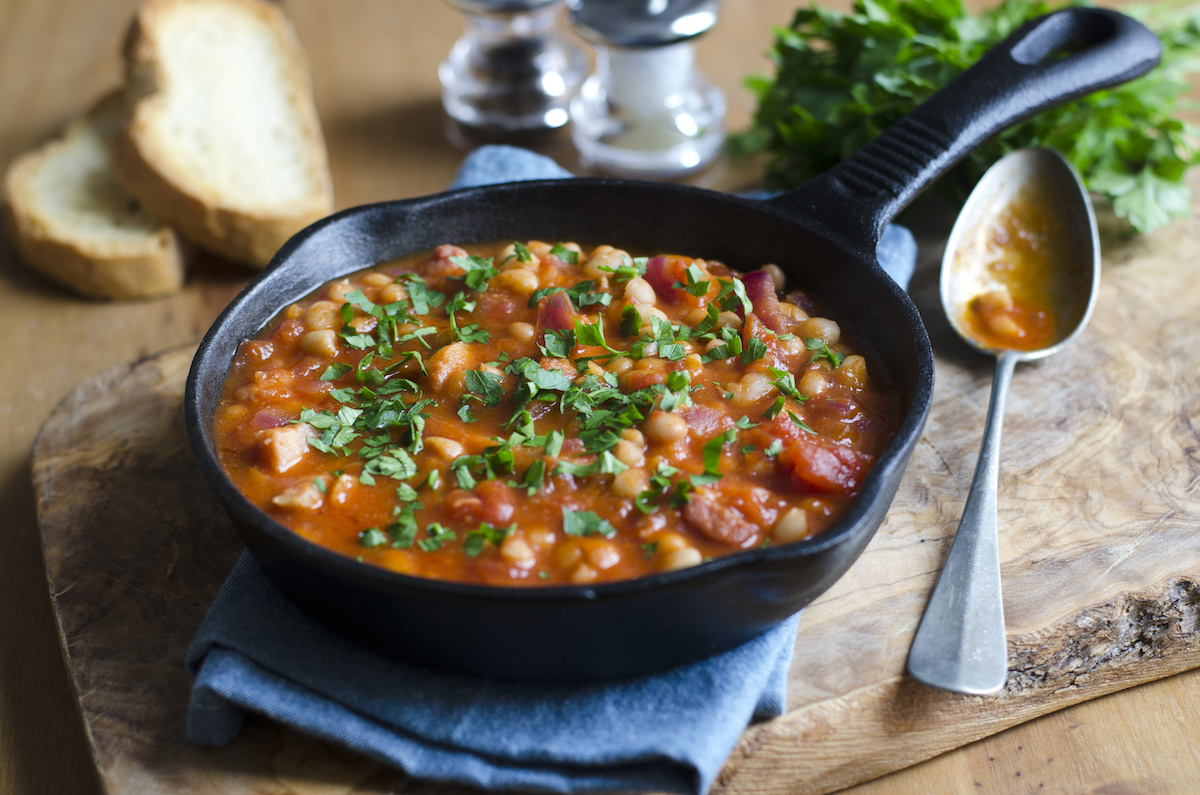 Print Recipe
Chef Todd's Rooty Toot Baked Beans
A great way to celebrate. Serve with your favorite BBQ meats or as a great side dish.
Ingredients
2 cups pinto beans, soaked over night
4 ounces smoked bacon, small diced
1 each yellow onion, small diced
2 tablespoons garlic, minced
1 teaspoon jalapeno, minced
1/2 cup red pepper, small diced
1/2 cup green pepper, small diced
1 1/2 cups Kentucky Bourbon
3 cups chicken stock
1 1/2 cups Baby Ray's BBQ sauce
2 tablespoons yellow mustard
1/2 cup ketchup
1 1/2 cups tomatoes, roughly chopped
1/4 cup cilantro, chopped fine
salt, pepper, hot sauce, lime juice to taste
Instructions
1

Pre-soak then par cook the beans to aldente in salted water.

2

In a preheated pot, caramelize the onions, pepper, jalapeños, and garlic until well browned and pan is well seasoned.

3

Deglaze with the bourbon and reduce by half. Add the stock and bring to a simmer.

4

Add the remaining ingredients except the cilantro and tomatoes. Stew until beans are tender.

5

Move pot to a oven heated to 350 degrees. Bake in oven for 45 minutes.

6

Add the cilantro and adjust seasoning to finish.